Deception and deprivation of liberty in the plant world. / Täuschung und Freiheitsberaubung im Pflanzenreich.
English
Deception and deprivation of liberty in the plant world.

Plants try to ensure pollination of their flowers in different ways, for instance by smelling of nectar or even carrion[1] to attract insects.
A particularly sneaky mimicry[2] strategy, however, applies the 'fountain flower' (Ceropegia sandersonii[3]), native to southern Africa, to ensure its pollination, which was examined by PhD candiate A. Heiduk at the University of Bayreuth with an international team. The results were presented in the journal 'Current Biology' in October 2016.[4]
'Death scent' of bees attracts flies.

The pollinating insects of Ceropegia sandersonii are mainly flies of the genus Desmometopa[5], which are magically attracted by the smell of bees attacked by spiders or other predators. The flies try to suck up liquids escaping from the prey while it is eaten by the actual attacker.
In biology, the behavior of not hunting yourself, but instead profiting from the hunting of others and stealing a portion of the prey is called 'kleptoparasitism'.[6]
Caught in the fountain flower.

The 'fountain flower' takes advantage of this by imitating the scent of dying bees to attract the flies that pollinate them. Attacked bees produce a mixture of chemical substances, so-called 'alarm pheromones' (more about their specific effect can be found in the linked study) by means of various glands (for example mandibular and poison glands). A. Heiduk and her colleagues proved that 33 of these messenger substances released by bees are also synthesized by Ceropegia sandersonii. The result is a flowery scent so deceptively similar to that of bees struggling to survive that flies fall for it and fly into the cauldron-shaped flowers of the plant where they expect to find their favorite food.
In the flower, however, the flies find neither bees nor nectar or pollen. Instead of receiving a reward, they get arrested in the flower for about 24 hours. In an effort to search for food and escape captivity at the same time, they do an excellent pollination job. Back in freedom, the hungry flies easily succumb to the mimicry scent of neighboring flowers ... and soon will be trapped again ...
Methods and results.

The analysis of the bee and flower scent was done by gas chromatography mass spectroscopy (GC-MS). Electroantennographic detection (EAD) was used to measure the reactions of flies to various components of the plant fragrance. A mixture of the four components geraniol, 2-heptanone, 2-nonanol, and (E)-oct-2-enyl acetate proved particularly attractive for flies: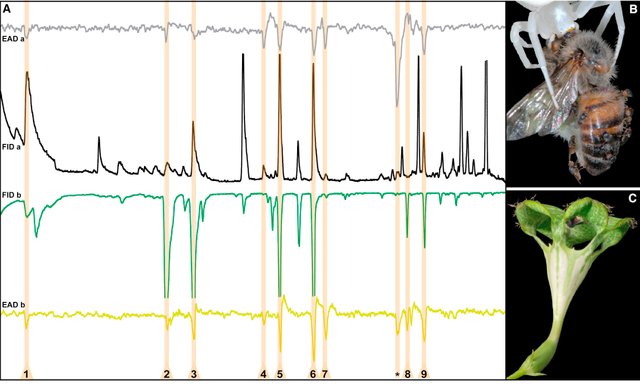 Source
Above is shown the antennal reaction of female flies (species: Desmometopa sordida, EAD a) to components of the odor of bees exposed to simulated attacks (FID a) and below of female flies (EAD b) to the same components contained in the scent of the plant Ceropegia sandersonii (FID b). The numbers correspond to the following EAD-active substances[4]:
1: 2-heptanone, 2: (E)-oct-2-en-1-ol, 3: 2-nonanol, 4: hexyl butyrate, 5: (E)-oct-2-enyl acetate,
6: geraniol, 7: geranial, 8: geranyl acetate, 9: (E)-2-decen-1-yl acetate.
∗: unknown compound.
Sources:
---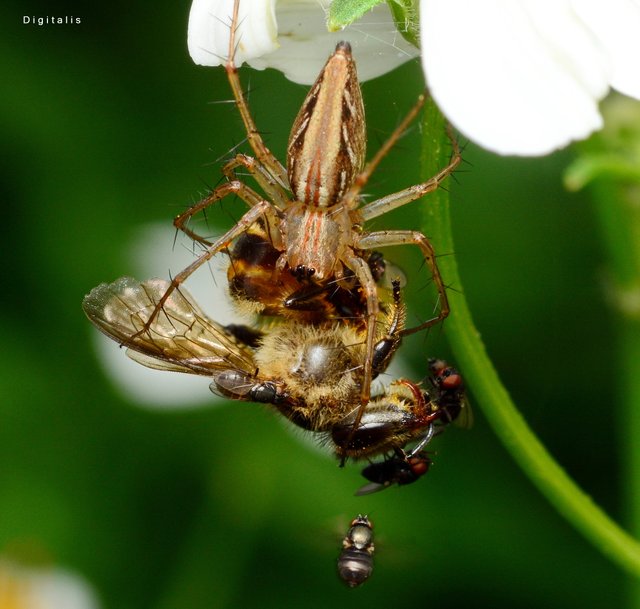 ---
Deutsch
Täuschung und Freiheitsberaubung im Pflanzenreich.

Pflanzen versuchen auf verschiedene Art und Weise die Bestäubung ihrer Blüten sicherzustellen, z. B., indem sie z. B. nach Nektar oder sogar Aas[1] duften, um Insekten anzulocken.
Eine ganz besonders raffinierte Mimikry[2]-Strategie wendet jedoch die im Süden Afrikas beheimatete 'Kletternde Leuchterblume' (Ceropegia sandersonii[3]) an, um ihre Bestäunbung zu gewährleisten, welche die Doktorandin A. Heiduk an der Universität Bayreuth zusammen mit einem internationalen Team genauer untersuchte und ihre Ergebnisse im Fachmagazin 'Current Biology' im Oktober 2016 präsentierte.[4]
'Todesduft' der Bienen lockt Fliegen an.

Als bestäubende Insekten von Ceropegia sandersonii dienen hauptsächlich Fliegen der Gattung Desmometopa[5], die vom Geruch von von Spinnen oder anderen Räubern attackierten Honigbienen magisch angezogen werden und versuchen, aus der Beute austretende Flüssigkeiten aufzusaugen, während diese vom eigentlichen Angreifer verspeist wird.
In der Biologie wird das Verhalten, nicht selbst zu jagen, sondern stattdessen von der Jagd anderer zu profitieren und einen Teil der Beute zu stehlen, als 'Kleptoparasitismus' bezeichnet.[6]
Gefangen in der Leuchterblume.

Die 'Kletternde Leuchterblume' macht sich das zunutze, indem sie den Duft sterbender Bienen imitiert, um die sie bestäubenden Fliegen anzulocken. Angegriffene Bienen produzieren mittles verschiedener Drüsen (z. B. Mandibel- und Giftdrüsen) ein Gemisch chemischer Substanzen, so genannte 'Alarm-Pheromone' (mehr über deren spezifische Wirkung ist der verlinkten Studie zu entnehmen). A. Heiduk und Mitarbeiter konnten nachweisen, dass Ceropegia sandersonii 33 dieser auch von Bienen abgegebenen Botenstoffe synthetisiert. Daraus ergibt sich ein Duft, der demjenigen ums Überleben ringender Bienen so täuschend ähnelt, dass die Fliegen darauf hereinfallen und in die kesselförmigen Blüten der Kletterpflanze in der Erwarung hineinfliegen, dort ihr Lieblingsessen vorzufinden.
In der Blüte finden die Fliegen dann jedoch weder Bienen noch Nektar oder Pollen. Statt eine Belohnung zu erhalten, werden sie für ca. 24 Stunden in der Blüte festgesetzt. Im Bestreben, zugleich nach Nahrung zu suchen und der Gefangenschaft zu entrinnen, leisten sie vorzügliche Bestäubungsarbeit. Wieder in Freiheit erliegen die hungrigen Fliegen leicht dem Mimikry-Duft benachbarter Blüten ... und sitzen bald erneut in der Falle ...
Methoden und Ergebnisse.

Die Analyse des Bienen- und Blütendufts geschah mittles Gaschromatographie-Massenspektroskopie (GC-MS). Um die Reaktionen der Fliegen auf verschiedenen Komponenten des Pflanzendufts zu messen, kamen elektroantennographische Untersuchungen (EAD) zur Anwendung. Besonders attraktiv für die Fliegen erwies sich ein Gemisch aus den vier Komponenten Geraniol, 2-Heptanon, 2-Nonanol und (E)-Oct-2-enyl Acetat: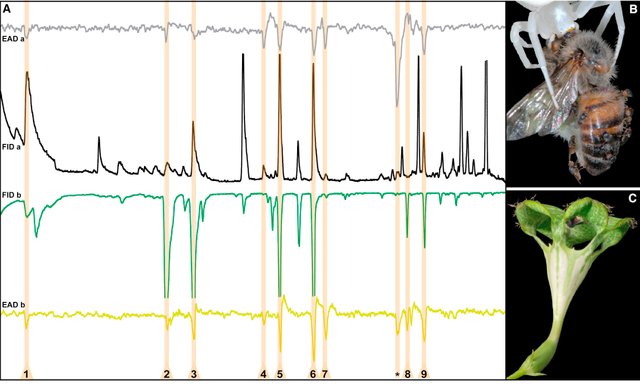 Source
Dargestellt ist oben die antennale Reaktion weiblicher Fliegen (Art: Desmometopa sordida, EAD a) auf Komponenten des Geruchs simulierten Angriffen ausgesetzter Bienen (FID a) und unten weiblicher Fliegen (EAD b) auf dieselben, im Duft der Pflanze Ceropegia sandersonii enthaltenen, Komponenten (FID b). Die Nummern entsprechen folgenden EAD-aktiven Substanzen[4]:
1: 2-Heptanon, 2: (E)-Oct-2-en-1-ol, 3: 2-Nonanol, 4: Hexyl Butyrat, 5: (E)-Oct-2-enyl Acetat,
6: Geraniol, 7: Geranial, 8: Geranyl Acetat, 9: (E)-2-Decen-1-yl Acetat.
∗: unbekannte Komponente.
Quellen: