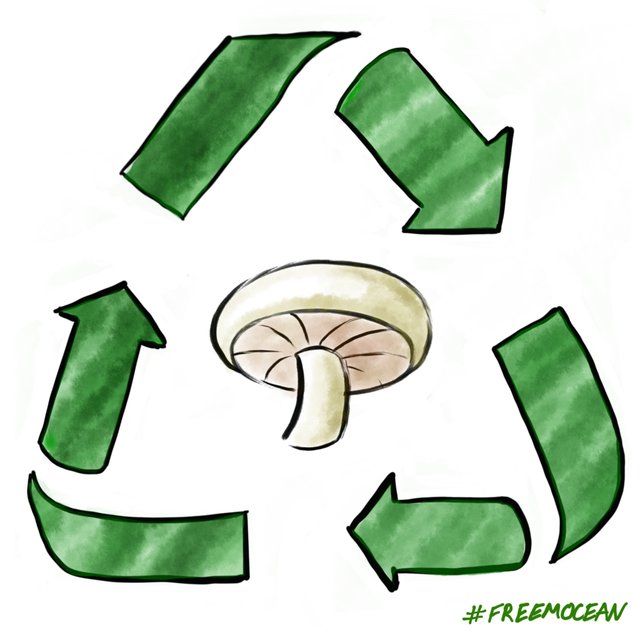 Fear and Fungus
To me, fungi is the recycling group - it removes the relationship of life and prepares the base components to be reassimilated back into the organ/ism systems of the greater biology. (In economics the ability to share base units is called fungability).
Interesting that cancer is so much like fungus* - its like saying - "time up, if your not going to use that organic matter in effective relationship, give it back".
No offense intended, we all know those who suffer in the cycle.
Fungus swap minerals for sugars in the root zone of plants, the relationship between beneficial bacteria and fungus is critical to the health of the more complex organisms up-stream.
Cancer cells have oxidized mitochondria, so can not use oxygen to break apart fats and sugars. So they must ferment sugar or steal/trade fuel from elsewhere.
In humans, since Cancer cells are not using the oxidative process to free energy, they are not allocated as much precious glutathione (a master antioxidant used to clean left over oxygen particles that damage healthy tissues).
This makes cancer cells susceptible to increased oxidative stress - such as applied by radiation therapy, and possibly some kinds of Chemo.
Chemotherapy treatments often make people so sick, they can not eat, this pushes them into fat adaptation and starves the sugar/glucose from the cancer cells. This is not the only way chemo works, but it is a factor that is often over-looked.
Would it be cheaper, less harmful and possibly more effective to simply "fast",( remove carbohydrates and burn body fat) and take hyperbaric oxygen?
Perhaps Hyperventilation and static apnea,(breath holding) techniques such as Wim Hoff,(the iceman) uses may be more effective and certainly cheaper than hyperbaric oxygen?
One day we will know these things, but so long as symptom cures are sought for systemic problems, (BCH anyone?)The resources and awareness available to move the needle on our understanding will be miss appropriated.
Balance is nothing at all to do with throwing random inputs into an intelligent system and then trying to correct the mess with medicine, or alleviate the discomfort with addictions.
Balance is getting out of the way, (removing noise) allowing the organism to sense its environment directly, without our fears and attachments creating non functional tensions and the realease of inappropriate hormones, endorphins and Neurotransmitters.
To understand balance is to understand and allow biology as a flow.
Inappropriate tension and enzyme production ruins our ability to feel and respond to gravity. It is impossible to use energy well if we are not aligned optimally to gravity.
In the wild, animals that do not move well do not feed, let alone breed. Humans have domesticated each other as well as much of the remaining biology, but in doing so, have set the stage for fungus to thrive?
We are all on the spectrum of wellness and dysfunction. The fungus/bacteria relationships within our bodies and the environment they exist in, will ultimately decide when its game on, or game over.
Is intelligence an emergent property of complex biology or opposite ?
Is complex biology an emergent property of functional relationships?
Is it not the action of enzymes that determine the degree of complexity in the arrangement of carbon based molecules?
What determines the expression of enzymes, complex biology? or is there order that precedes and intercedes?
What we call chemistry and physics are descriptions of the behavior of fields and particles.
From the point those packets of energy become "self aware" and select for non graceful expression, (resistance to the flowing behavior of energy known as fear) fungus begins to reallocate them?
Deep shit, hope you dont mind testing the grey matter with me :)