Philosophy of Dialogue
Peace will prevail in the world only when the human mind will become calm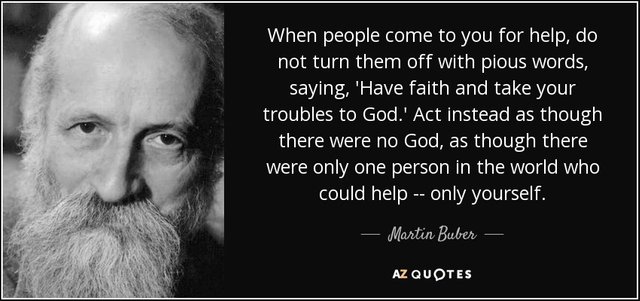 Picture source
Martin Buber
Born - 5th February 1878 and Death- 13th June 1965
Australian born Israeli Jews was a great philosopher and well known for his work "Philosophy of dialogue".
Ten-time nomination for Nobel Prize and Seven-time for Nobel Peace Prize, By this nominations we can see that how big name he is in literature. He was one of the great philosopher and thinker. For complete information about him, Wikipedia is there. Because In this post, I just wanted to point out some of his great quotes or philosophy in my own simple words from his well-known book "Ich und Du" original in the German language later it translated into English as "I and Thou" in 1937.
When people come to seek help from you, do not be discouraged them by just giving consolation, but help them, like there is no God and there is only one person in the world who can help him, and it's you.

When the relationship between two people depends on faith and humanity, then God energizes this relation with regards.

The real fight is not between East or West, Capitalism or secularism, but for education and it's propaganda.

I did not adopt any eventual law to survive, assumptions cannot tell what is going to happen in the future life, as life goes our perceptions can be changed, It should be changed, We should live in search, Be prepared for everything, should constantly be examined and Should take experiences.

In life, every situation has a new face, like every child born with a new face, as never seen before and never will see again, it wants a reaction from you, which can not be prepared beforehand, it doesn't want anything from your past, it wants your present, it wants responsibility and it wants you.

Every person born into this world represents a new one, which has never happened before, something special and real.

Every travel has a secret destination, the passenger also remains unaware of it.

Everything depends on the internal change, when that happens, only then the world changes.

If God has created different types of people, then how can he allow only one style of worship?
For more about Philosophy of Dialogue should read Martin Buber's book I and Thou.
Thanks for reading.,
Stay tuned HERE for good reading.