English
Harmless BTS deposit?

It started with a seemingly quite harmless deposit on August 1st of just somewhat over 10000 BTS from my Bitshares account to the Binance exchange. As requested I entered the 'memo number' - followed by a very short text (there was no explanation that ONLY the number should be entered) - in the corresponding form. This additional text is probably the reason why my deposit didn't work.
At first the customer service asked for the transaction number, which I was able to find in a block explorer, and the Binance address to which the money was to be deposited. Furthermore I should name the exact amount.
Customer service requires a video!

After I had delivered that, I received another e-mail, that that wasn't enough. In addition they needed my e-mail address (which they had anyway), the transaction number (which I had already indicated as well), but in particular I also had to record a video (! - screen shots weren't enough) showing the entire login process into my Bitshares account, the URL of the website and the transaction history to prove that I really made that transaction.
It was also pointed out that my problem could only be solved if I carried out at least the level 2 verification. So I had to send my passport as a file and also a picture of myself, on which I was holding a note with the name of the exchange and the date into the camera.
The first video was rejected because my face was not visible on it, I recorded it with 'SimpleScanRecorder'. So my wife made another video using the mobile phone camera on which the screen and I could be seen.
Whew, was it finally done? Not by a long chalk!
It was all for nothing!

Once again, I received an e-mail that generally repeated what had to be included in the video, e.g. the URL of the website. Now I am slowly running out of ideas, the website URL is clearly recognizable in second 12 of the video, and instead of saying what EXACTLY they need, I am only getting text modules regarding the requirements of the video. Should I now send ten more videos in the hope that one of them will happen to meet the requirements? Probably next they'll ask me to do pushups and barking like a dog while logging into my Bitshares account?
They're just crazy! And I was (and still am) so fed up that, unfortunately, I have told them that truthfully, which certainly didn't increase the chances of ever getting my BTS back.
Luckily I sent them a comparable low amount and nothing else!
Binance may be good ... as long as there aren't any problems.

I believe the numerous positive evaluators on the Internet that Binance is a good exchange - as long as no difficulties arise. However, in case anything unforeseen happens, they make it extremely difficult for the user to get his money back, so that in the meantime I wish I had never deposited there at all.
If anyone has any suggestions about what to do now, or even knows someone at Binance I could turn to, I would be grateful. I will keep you informed ...
---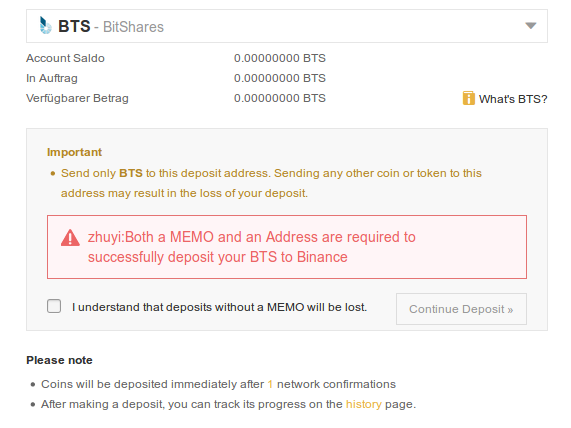 | | |
| --- | --- |
| I didn't know that the memo must be a number only. | Ich wusste nicht, dass das Memo nur die Nummer sein darf. |
---
Deutsch
Harmlose BTS Einzahlung?

Es begann mit einer eigentlich ganz harmlosen Einzahlung am 01.08. von etwas mehr als 10000 BTS von meinem Bitshares-Account auf mein Binance-Exchange-Konto. Wie verlangt trug ich die 'Memo-Nummer' in das entsprechende Formularfeld ein - allerdings gefolgt von einem sehr kurzen Text (es stand ja nicht dort, dass man NUR die Nummer eingeben darf). Dieser zusätzliche Text ist wohl der Grund dafür, dass meine Einzahlung nicht funktionierte.
Der Kundenservice verlangte nun zunächst die Transaktionsnummer, die ich in einem Blockexplorer auch finden konnte sowie die Binance-Adresse, auf die das Geld eingezahlt werden sollte. Außerdem den genauen Betrag.
Der Kundenservice verlangt ein Video!

Nachdem ich das angegeben hatte, erhielt ich eine weitere E-Mail, das reiche nicht, man benötige meine E-Mail-Adresse (die hatten sie doch eigentlich sowieso), außerdem wurde wieder nach der Transaktionsnummer gefragt (die ich ebenfalls bereits angegeben hatte). Darüber hinaus sollte ich ein Video aufnehmen (! - Screenshots reichten nicht), das die Transaktionshistorie meines Bitshares-Accounts zeigt, auf dem die Transaktion zu sehen ist sowie auch den gesamten Login-Prozess und die URL der Webseite.
Außerdem wurde darauf hingewiesen, dass mein Problem überhaupt nur dann bearbeitet werden könne, wenn ich mindestens die Level 2-Verifizierung durchführen würde. Ich musste also meinen Reisepass als Datei senden und außerdem ein Bild von mir, auf dem ich einen Zettel mit dem Namen der Börse und dem Tagesdatum in die Kamera halte.
Das erste Video wurde abgelehnt, weil mein Gesicht darauf nicht zu sehen war. Ich hatte es mit dem 'SimpleScanRecorder' aufgenommen. Also machte meine Frau ein Video mit der Handy-Kamera, auf dem Bildschirm und ich selbst zu sehen waren.
Uff, war es jetzt endlich geschafft? Bei Weitem nicht!
Alles war umsonst!

Erneut erhielt ich eine E-Mail, in der ganz allgemein noch einmal stand, was im Video enthalten zu sein hätte, z. B. die URL der Webseite. Jetzt bin ich mit meinem Latein langsam am Ende, die Webseiten-URL ist in Sekunde 12 des Videos eindeutig zu erkennen, und statt konkret zu sagen, was GENAU sie noch haben wollen, erhalte ich nur Textbausteine bezüglich der Erfordernisse des Videos. Soll ich nun zehn weitere Videos hinsenden, in der Hoffnung, dass eines zufällig den Anforderungen genügt? Wahrscheinlich werden sie als nächstes verlangen, ich solle während des Einloggens in meinen Bitshares-Account gleichzeitig Liegestütze machen und wie ein Hund bellen?
Die haben doch einen Knall! Und das Ganze k..... mich so an, dass ich ihnen das leider auch wahrheitsgemäß so geschrieben habe, was die Chancen, meine BTS jemals wieder zu erhalten, sicher nicht gerade erhöht hat.
Zum Glück habe ich nicht mehr dorthin geschickt!
Binance mag gut sein ... solange keine Probleme auftreten.

Ich glaube den zahlreichen Positivbewertern im Internet, dass Binance eine gute Börse ist - solange keine Schwierigkeiten auftreten. Wehe aber, es tritt mal ein Problem auf. Dann machen sie es einem maximal schwer, wieder an sein Geld zu kommen, so dass ich mir inzwischen wünsche, ich hätte niemals dort eingezahlt.
Falls jemand Vorschläge hat, was jetzt am besten zu tun sei, oder gar jemanden bei Binance kennt, an den ich mich wenden könnte, wäre ich dankbar. Ich werde euch auf dem Laufenden halten ...