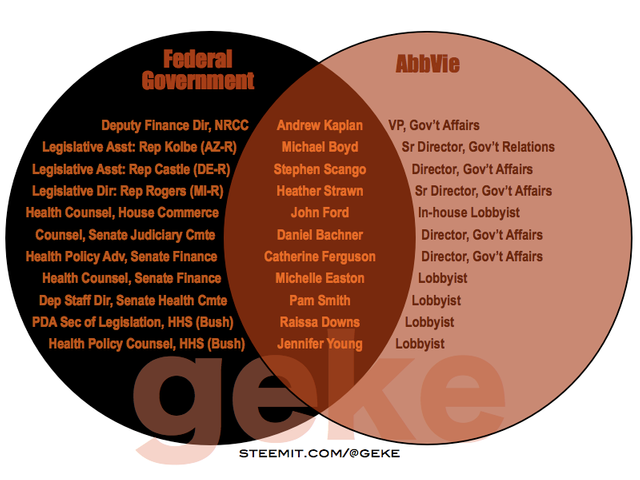 Yesterday we looked at the overlap of government with Abbott Laboratories. Today, we'll look at its spin-off, AbbVie, a biopharmaceutical company also based in Lake Bluff, Illinois. The company was formed in 2013 when Abbott separated its pharmaceuticals from the medical device, diagnostic equipment, and nutrition products side.
Its best known product is probably the drug Humira, which made news in the past year because of 16 deaths linked to the use of Humira with Venclexta (another AbbVie drug). However, the company reported only five of these deaths to the FDA. The agency later found AbbVie's reporting procedures to be "inadequate."
Bigger but older news is the fact that right after its spin-off, AbbVie sought to reincorporate in Britain to enjoy their lower 2014 corporate tax rate -- a move known as an inversion. AbbVie also parks most of its Humira patents in Bermuda, a country with a zero tax rate on corporate profits, according to a Reuters analysis of 88 Humira patents.
At the time of AbbVie's inversion (2014), Treasury Secretary Jacob Lew called for new legislation that would stop inversions retroactively. However, Senator Orrin Hatch objected to the idea of retroactive penalties.
In 2014, Senator Hatch was the ranking member of the Senate Finance Committee. From 2011 to 2013, Hatch's senior health policy advisor was a woman named Hayden Rhudy Kennedy. She left her position with the senator to take a job in AbbVie's Government Affairs department in late 2013. Might her relationship with the senator have prompted his objection to the retroactive inversion penalty that would have harmed her current employer?
abbvie image
Oddly, the OpenSecrets website fails to list Kennedy in its list of lobbyists with the badge denoting a "covered" government position (a prior job in government covered by the Lobbying Disclosure Act of 1995).
NRCC = National Republican Congressional Committee
PDA = Principal Deputy Assistant
HHS = Department of Health and Human Services