Dear Friends,
---
Mondays brings the opportunity to plan your week. I beseech you by the mercy of God to plan Bible Daily Reading with your schedule so as to fulfill the commandment of God of Meditating day and night so that you may have good success.
---
Don't be too busy for your Bible.
---
Wise word for today according to Brainy Quote... Tell me I'm clever, Tell me I'm kind, Tell me I'm talented, Tell me I'm cute, Tell me I'm sensitive, Graceful and wise, Tell me I'm perfect - But tell me the truth. - Shel Silverstein
---
This Three Years Bible Reading Plan is a beautiful plan to study the Bible at your pace.
---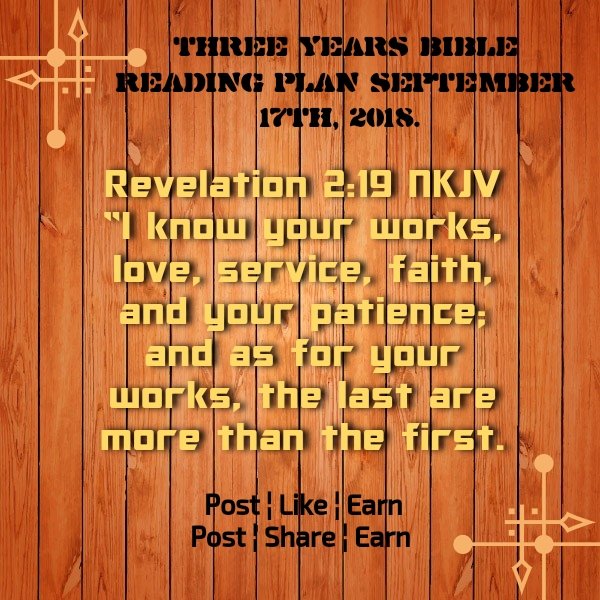 ---
The Bible is supernatural than physical.
---
What does the Bible teach?
---
The Bible teaches that we should study to show ourselves approved a work man needing no tools rightly dividing the word of truth.
---
Let the Bible be your best friend.
---
The Three Year's Plan for today:
Revelation 2:19 NKJV
"I know your works, love, service, faith, and your patience; and as for your works, the last are more than the first.
---
Start the work of the ministry with beautiful vision and enthusiasm and never let it quench till the end.
---
Thank you for reading and may God give you the right understanding to know the word of God in depth in Jesus name Amen.
---
---
More from the author: Follow us on;
---
For queries and questions. Join our Discord Group above.
---
I remain Steven Moses.
---
See you next time. Remained blessed of God.
---
Image created by me and Bible Copyright Reference: New King James Version, My Holy Bible.
---


Join #flaminghelpers trail with @flamingbot and add @flaminghelpers to your auto vote for more curation rewards.
---

Support
@flaminghelpers
for christianity post free curation services.
---

Support
@christian-trail
. They have been so wonderful helping the Christian community and Christian writers. More blessing.
---

Support
@itestify
for curating testimony post. Wonderful initiative it is.
---