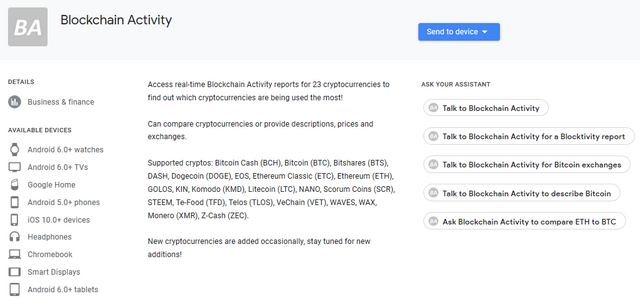 Blockchain Activity Google Assistant Action Updated!
Since the last update I've been working on extending the functionality of the Blockchain Activity action on the Google Assistant platform.
Google has authorized the deployment of version 13 to the public, you can now interact with the new version by saying "Talk to Blockchain Activity" to your Google Assistant compatible device.
Updates
Changes to the listing page, specifically an elaboration of the supported crypto names instead of just ticker strings. This will improve the SEO of the action.
Added support for Lisk and Tron.
Added new intents (features):

Compare two cryptocurrencies: "Compare TRX to BTC"
Ask about supported cryptocurrencies
Ask about how to integrate new cryptocurrency
Ask for a single crypto's rank
Ask for a single crypto's blocktivity values
Ask for the top ranked crypto from blocktivity values, sorting by activity/7days/record/mcap.
Ask what you can do next - if you're confused what the next step is in the conversation.
Ask to repeat last said - will trigger the last interacted intent.

Improved the 'Training phrases' in several Dialogflow intents, the remaining phrases more accurately represent the intent's intended functionality.
TODO
Further improve the 'Training phrases' in the dialogflow intents
Further improve the 'repeat' intent, ensuring all parameters survive the followup event.
Add extra exchanges for the supported cryptocurrencies.
Seek funding for development

Bitshares worker proposal?
EOS based patreon?
Other/Sponsorship..

Improve the conversational design, introducing personality and conversational variance to the action, so as to not sound like a robotic voicemail interface.
Market the action more, so as to acquire an userbase.
Produce a better banner & icon.
Integrate i18n, translate dialogflow training phrases, entities and static Firebase function strings to multiple languages.
Add 'popularity vote' intent, allowing users to vote on which cryptocurrency they like the most.
Screenshots
---
---
---