Investors now understand blockchain technology now more than at this time last year, with this development has led to use cases in various businesses, developers and now building applications on-top of blockchain networks to decentralize their operations and benefit from the tools and infrastructures brought about by blockchain technology.
In my blog entries, I educate people on the fundamentals of blockchain projects and today I will focus on the fundamentals of a blockchain project that has caught my attention. This new blockchain project is BEXAM which promises a new consensus algorithm called proof of rounds.
The desire for commercial solutions is growing.
══════════════════════════════════
Bexam technology is the next blockchain technology that promises high speeds, scalability, and security. The primary targets of Bexam blockchain technology are clients looking for a stable blockchain technology with scalability, speed, and security, this includes businesses with high-frequency transactions that can tap the large-scale nature of Bexam technology.
Traditionally businesses have been using centralized networks that have proofed not to be able to tap the modern industry where glottalization has led to high-frequency transactions, blockchain technology promises decentralized systems that fill the gap and enables businesses to speed up their operations, scale their activities as they tap global markets, secure their services and automate their processes.

BEXAM promises quick transactions of up-to 0.2 to 40 million transactions per second, and this technology can help enterprises with high-frequency transactions through the use of a flexible network that can scale and automate their operations. Bexam is targeting business wishing to integrate blockchain technology on their services where it can be used for day to day operations.
BEXAM Blockchain And What Will Make The Technology Mainstream.
══════════════════════════════════

BEXAN has developed a new blockchain that uses proof of rounds (PoR), this new technology was developed by a group of Japanese experts that has improved the algorithm and is now ready to be used by businesses. The algorithm uses master nodes towards governance of the system where the categories are classified into supernodes and normal nodes which work on a hierarchical structure.
BEXAM master node ownership program will also be available in master nodes and supernodes categories. The master nodes will be frozen to enjoy the benefits of owning master nodes which includes governance and BXA tokens earning as a reward for transactions verification.
BEXAM native utility token (BXA).
══════════════════════════════════
BEXAM Tokens (BXA) is the native networks tokens that will be used on the platform as fees payments and using this tokens will enable the user to enjoy up to 50% of transactions costs compared to those using other mediums of fees payments. Holders of BXA Tokens will also be able to cast their votes when making strategic decisions concerning the platform development and management.
The BEXAM Exchange Wallet Alpha is Open.
══════════════════════════════════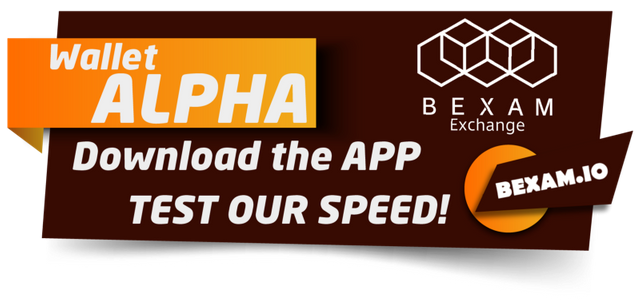 I was able to test the alpha wallet on myself, and the wallet is beautifully designed with all the vital elements in place, Testers are welcomes to test the wallet, and the links to the application is on the reference section below. Users will be able to test the wallets speed and stability where they will be sending dummy tokens between each other and will be able to communicate on a dedicated telegram chat group where they can voice their discoveries.
══════════════════════════════════
For more information about BEXAM, please check out the platform website, whitepaper and social media channels on the reference table below.
══════════════════════════════════
★ Author: jamesndungu
★ BitcoinTalk Profile: https://bitcointalk.org/index.php?action=profile;u=1856049
★ All Images credited to BEXAM OFFICIAL WEBSITE