RAKE Tokens - BetTronLive's Own Native Cryptocurrency
BetTronLive is a live dealer casino based on the TRON network blockchain that uses a cryptocurrency - RAKE token -as a reward token for players and participants and takes user experience in iGaming to the next level.
RAKE TOKEN
RAKE — our own native currency — plays a central role in the creation of this new DApps ecosystem. It will power the BetTronLive platform, reward users, and incentivise players by keeping wealth redistribution a priority.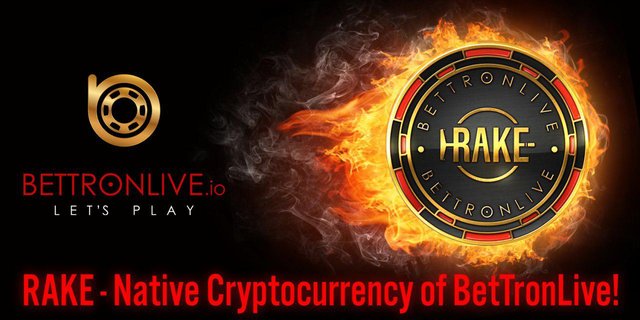 PROPERTIES
RAKE is a TRC-20 token.

RAKE tokens can be mined by playing certain games on the BetTronLive platform and by watching video ads before the live dealer games begin.

Blockchain technology gives players complete freedom to transfer RAKE tokens between each other or just hold them in a safe place.

RAKE will be traded on several decentralised exchanges (DEX)

Players don't need to install or run any additional software or hardware to mine RAKE.

It can be stored on hardware wallets that support the TRON blockchain, such as Ledger, Nano S, and Trezor.
RAKE TOKEN QUANTITY AND VALUE
The BetTronLive platform uses two currencies — TRX and RAKE. Both tokens have the TRC-20 format, and the RAKE token is a registered name. To further drive the value of the RAKE token, only 100,000,000 tokens will be minted, and that number will never be increased.
Users can also store their tokens on the integrated third-party wallet BetTronLive offers. You can create your TRON wallet here: http://bit.ly/2XHjBYo
Using an integrated wallet will increase stability with a new improved interface for make more efficient usability.
RAKE holders will be the core of the BetTronLive platform. Every DApp that is deployed on the BetTronLive platform will share a portion of their mining pool and dividend pool with RAKE holders. Another benefit for RAKE holders will come from simply holding onto their RAKE tokens, which will further drive the valuation of the tokens.
For more information about our project:
Join our community: https://t.me/BetTronLive
Keep updated on announcements: https://t.me/BetTronLiveANN
Visit our Website: https://bettronlive.io/
Whitepapers & Summaries (Multilingual):
https://bettronlive.io/documents.php
Follow us in our social media:
Twitter: https://twitter.com/bettronlive
Reddit: https://www.reddit.com/r/BetTronLive
Facebook: https://www.facebook.com/bettronlive/
Instagram: https://www.instagram.com/bettronlive/
Medium: https://medium.com/@bettronlive
Pinterest: https://www.pinterest.co.uk/bettronlive/
Youtube: https://www.youtube.com/channel/UCxNpc_WniZ7iFYSTW1ppJ7g
Watch our video: