BetTronLive Power Pick Draw: Biggest TRX Prize Giveaway Ever!
BetTronLive — a live dealer casino based on the #TRON network #blockchain is set to launch soon! Before launching, we are doing a promotion called the POWER PICK DRAW for early adopters who register before the launch. It is the biggest TRX giveaway to date.
Since the project is based on the TRON network blockchain, our team is encouraging the community to each create a wallet with the Chrome extension using this link: http://bit.ly/2XHjBYo
For those who pre-register, #BetTronLive is offering you the chance to bag the 1ST PRIZE of 2,000,000 TRX as a thank you for being an early adopter. POWER PICK DRAW is the biggest TRX giveaway ever and we are giving every users not only 1 but 2 chances of winning one of the 3 prizes. Yes, you read it right. Every one is allowed to register 2 TRON addresses per 1 IP.
POWER PICK DRAW will be open for registration until the time of launch. Once the platform is launched, pre-registration will be closed but TRON wallet registration will remain open for regular platform registration. Time is of the essence as we are soon to launch, so hurry and visit our website to register.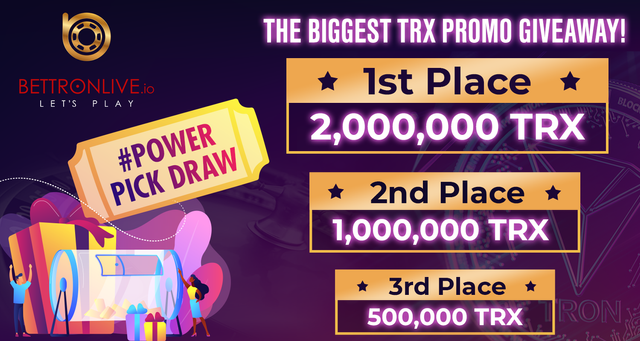 POWER PICK DRAW TERMS:
IT'S FREE TO JOIN!
Create your wallet here: http://bit.ly/2XHjBYo
Visit our website: https://bettronlive.io/
Enter your TRON address on the box provided and click REGISTER.
You will see a note that you have succesfully registered before you get redirected to our telegram where we encourage you to join for more updates.
Drawing will take place 10 days after the BetTronLive casino launches.
Three random winners will be picked from all participants.
If a participant registered more than 2 addresses, only the first 2 registered wallet will be accepted,
The prize will be issued directly into the winner's wallet.
A TOTAL OF 3,500,000 TRX TOKENS ARE UP FOR GRABS.
There will be 3 winners who will be randomly picked to win the following prizes:
1st Place — 2,000,000 TRX
2nd Place — 1,000,000 TRX
3rd Place — 500,000 TRX
We will be launching soon, so hurry and pre-register now to join the BettronLive POWER PICK DRAW!
Join our community: https://t.me/BetTronLive
Keep updated on announcements: https://t.me/BetTronLiveANN
Visit our Website: https://bettronlive.io/
Whitepapers & Summaries (Multilingual):
https://bettronlive.io/documents.php
Follow us in our social media:
Twitter: https://twitter.com/bettronlive
Reddit: https://www.reddit.com/r/BetTronLive
Facebook: https://www.facebook.com/bettronlive/
Instagram: https://www.instagram.com/bettronlive/
Medium:https://medium.com/@bettronlive
Pinterest: https://www.pinterest.co.uk/bettronlive/
Youtube: https://www.youtube.com/channel/UCxNpc_WniZ7iFYSTW1ppJ7g
BTT Ann: https://bitcointalk.org/index.php?topic=5155822
BTT Bounty: https://bitcointalk.org/index.php?topic=5159675.msg51639765#msg51639765