BETTRONLIVE LAUNCHING GAME - LAMBO DICE
After months of creation and development, #BetTronLive's plug-and-play live dealer casino based on the #TRON #network has launched. Behind its launching are:
Five Thousand plus (5,000+) Power Pick Draw registrants
Almost 12,000 community members
Almost 500 players in the first hour of launch and growing
HOW TO CREATE YOUR TRONLINK WALLET
To create your TronLink wallet address on TronLink. First, you need to download TronLink to Chrome, iPhone, or Android here: TronLink
Open the link and add the chrome extension
Key in your password
Create your wallet
Type in your preferred username
How to add your address into the BetTronLive platform:
Visit: BetTronLive Website
Click on the Mine&Play pop-down menu
Choose Lambo Dice
A notice of confirmation will pop-up. Select to add the BetTronLive DApp in your TronLink whitelist to link your address to the BetTronLive platform
Click ACCEPT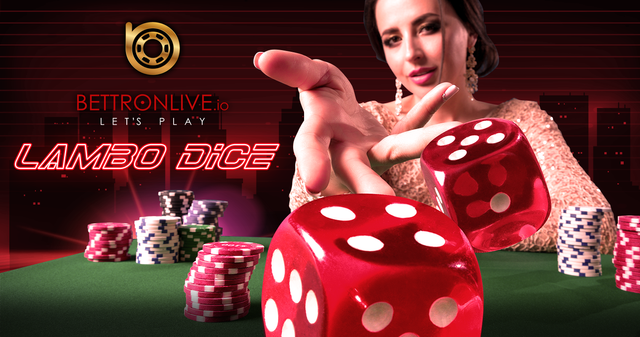 HOW TO PLAY BETTRONLIVE LAMBO DICE
To start playing Lambo Dice, you first need to follow the steps mentioned above. After confirmation acceptance, BetTronLive platform's plug-and-play will kick in.
If you have a positive amount of TRX in your TronLink wallet linked to the BetTronLive platform, you can immediately play Lambo Dice.
LAMBO DICE FUNCTIONS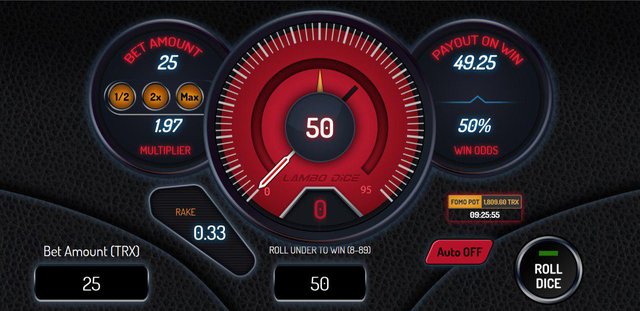 BET AMOUNT (TRX): The amount of TRX that you bet with
MULTIPLIER: The value used to calculate your payout, your betting amount multiplied by your chosen multiplier will determine the payout
PAYOUT ON WIN: The amount of TRX that will be paid out when you win the bet
WIN ODDS: The chance that you will win the bet shown as a percentage
RAKE BALANCE: The amount of RAKE you were able to mine for every bet and dice roll, regardless of whether it's a win or loss. The RAKE you mined is immediately credited after every bet and dice roll.
ROLL UNDER X: With this button, indicate a number between 0 and 96 to place your bet on
FOMO POT: 5% of game revenue will go directly into the pot. This pot will be won by the last person in control of the timer when it hits zero. To qualify to win the FOMO POT, you have to bet a minimum 300 TRX in one go.
ROLL DICE: once you place your bet, you can click this to activate the dice roll
AUTO OFF/ON: Also known as Nitro-Roll, while ON the dice will keep spinning until you click it again to turn it OFF (or until your wallet needs to be refilled).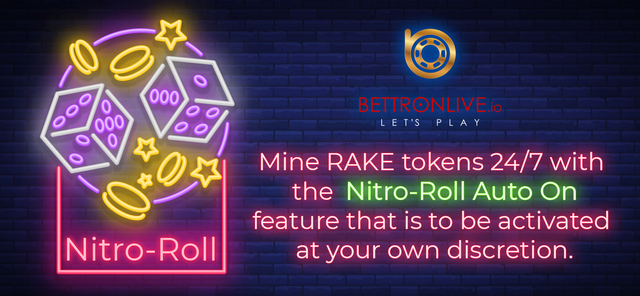 YOUR TRONLINK WALLET
Your TronLink wallet connected to your BetTronLink account will be your source of funds and revenue. When you bet TRX, the amount that you bet and lost will be automatically deducted from your TRX balance. When you win, it will be added automatically to your wallet.
DOUBLE RAKE MINING
As a community-oriented project, we appreciate early platform adopters and active players. Therefore, with our launching game, Lambo Dice, we are offering everyone DOUBLE RAKE MINING for ONLY 48 HOURS after launch.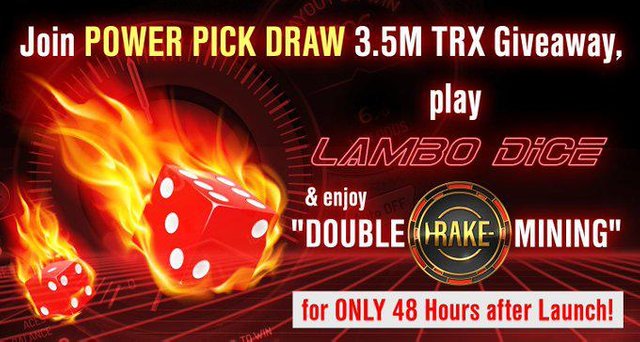 BetTronLive offers a new way to earn and play.
RAKE 'N ROLL with BetTronLive's Lambo Dice.
Let's play and enjoy the game!
Legal Disclaimer
BetTronLive® users must be 18 years of age or older to register and play any of the games on the platform. Participation in games may result in financial losses with players bearing any and all possible risks. Players are advised not to spend more than they can afford to lose within the games on the platform. BetTronLive® involves cryptocurrencies and token mining. When participating in token mining and transacting with cryptocurrencies, players must abide by local and national regulations, restrictions and laws of the jurisdiction they reside in. It is the responsibility of the players to avoid violation of any and all of the applicable laws and regulations. BetTronLive® does not make any form of commitment or guarantee of the intrinsic value and appreciation of the RAKE® tokens.
Join our community: https://t.me/BetTronLive
Keep updated on announcements: https://t.me/BetTronLiveANN
Visit our Website: https://bettronlive.io/
Whitepapers & Summaries (Multilingual): https://bettronlive.io/documents.php
Follow us in our social media:
Twitter: https://twitter.com/bettronlive
Reddit: https://www.reddit.com/r/BetTronLive
Facebook: https://www.facebook.com/bettronlive/
Instagram: https://www.instagram.com/bettronlive/
Medium: https://medium.com/@bettronlive
Steemit: https://steemit.com/@bettronlive/
Pinterest: https://www.pinterest.co.uk/bettronlive/
Youtube: https://www.youtube.com/channel/UCxNpc_WniZ7iFYSTW1ppJ7g
BTT Ann: https://bitcointalk.org/index.php?topic=5155822
BTT Bounty: https://bitcointalk.org/index.php?topic=5159675.msg51639765#msg51639765
#BetTronLive #RAKE #bounty #trondapp #TRON #trx #Trondapps #casino #onlinecasino #gaming #onlinegaming #onlinebetting #sportsbetting #dice #slotmachine #baccarat #bingo #poker #FOMO #jackpot #mining #wager #btc #alts #bitcoin #altcoins #cryptocurrency #blockchain #livedealers #dealers #players #winner #model #dividends #earn #2M #3.5Mtrxgiveaway #prize