BETTRONLIVE ECOSYSTEM
#BetTronLive gaming technology protocol leverages the transparency, security, speed, and efficiency of the TRON network blockchain to power a unique iGaming ecosystem with live dealer games and opportunities for earning revenue from advertising. The platform has been built to effortlessly implement the live dealer experience of online casinos in a decentralized environment.
The #TRON network is currently the top blockchain network. As it is primarily focused on entertainment and gaming products, it is well-suited for decentralized gaming platforms like BetTronlive to deliver a new generation of live dealer casino platforms that are more modern and engaging for players.
For consistency, BetTronLive uses TRX as the standard currency for all betting games. This way, everyone is playing with the same currency — TRX and our native token, #RAKE. TRX is listed on many cryptocurrency exchanges for purchase if players don't already have it.
TRONLINK WALLET
BetTronLive has chosen TronLink wallet with the Chrome extension as the third-party wallet. It is very easy, fast and convenient to use. Being a TRC-20 token, RAKE is well supported by TronLink. Through blockchain technology, we are guaranteed safety, comfort, simplicity of use, and decentralization.
DEPOSIT ON-CHAIN FLOW
#TRX tokens cannot be mined but can be obtained on other exchanges and deposited to users' respective wallets on BetTronLive.
To deposit TRX on the BetTronLive platform, players need to add their TronLink wallet addresses to the system. A pop-up confirmation request notice will ask you to accept the BetTronLive app and add it to your DApp whitelist. Once accepted and updated, players can send TRX to their TronLink wallet address linked to the BetTronLive blockchain wallet and the balance will be updated accordingly. BetTronLive's system tracks the TRX transactions and updates the account balance automatically.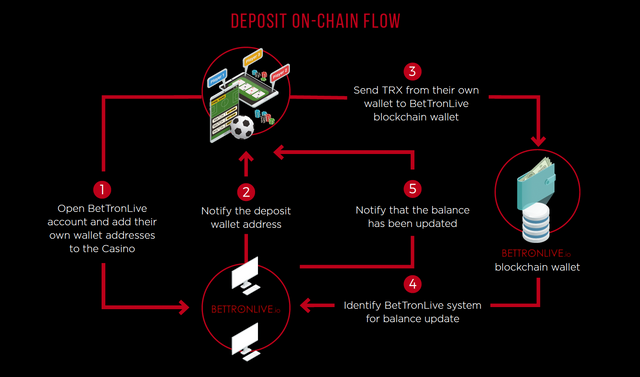 WITHDRAWAL ON-CHAIN FLOW
For withdrawal, users need to make a withdrawal request and the BetTronLive casino will execute the transfer from the blockchain wallet to the user's wallet automatically.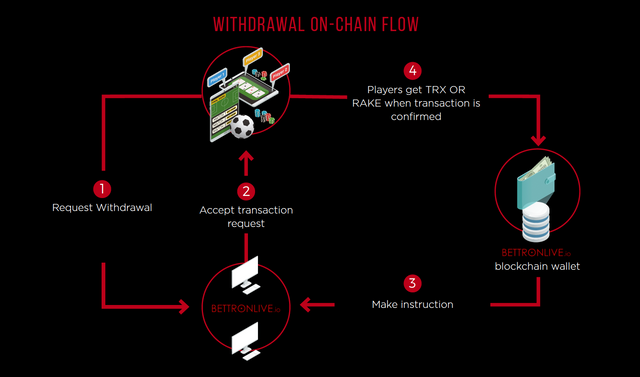 BETTRONLIVE PLUG-AND-PLAY
There is technically no deposit or withdrawal on BetTronLive. The BetTronLive platform uses the intuitive TronLink web browser plugin, which is a trusted third-party web browser extension verified by the Tron team. This way, you never have to worry about BTL stealing your funds or your private key because everything is completed through TronLink. You can download TronLink to Chrome, iPhone, or Android here: TronLink
Then, you'll need to create a TRX wallet on TronLink. Once done, you'll deposit your TRX to your TronLink wallet to start betting and playing.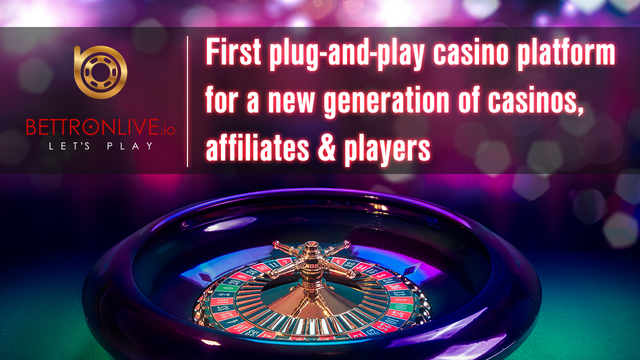 Once you deposit to TronLink, all you need to do is load the BetTronLive platform and the BetTronLive code will automatically detect TronLink. When you select any of the BetTronLive functions, TronLink will ask you to confirm it. Once you confirm, you are locked and loaded and ready to go.
Now that we have launched, BetTronLive is offering early players the DOUBLE RAKE MINING for ONLY 48 hours. So, take advantage of this opportunity while it lasts.
Don't let the Lambo Dice limited offer of doubling your RAKE run away and leave you behind!
Start your engine, and play Lambo Dice with BetTronLive.
Stay updated on announcements: https://t.me/BetTronLiveANN
Visit our Website: https://bettronlive.io/
Whitepapers & Summaries (Multilingual): https://bettronlive.io/documents.php
Follow us on social media:
Twitter: https://twitter.com/bettronlive
Reddit: https://www.reddit.com/r/BetTronLive
Facebook: https://www.facebook.com/bettronlive/
Instagram: https://www.instagram.com/bettronlive/
Medium: https://medium.com/@bettronlive
Steemit: https://steemit.com/@bettronlive/
Pinterest: https://www.pinterest.co.uk/bettronlive/
Youtube: https://www.youtube.com/channel/UCxNpc_WniZ7iFYSTW1ppJ7g
BTT Ann: https://bitcointalk.org/index.php?topic=5155822
BTT Bounty: https://bitcointalk.org/index.php?topic=5159675.msg51639765#msg51639765
#BetTronLive #RAKE #bounty #trondapp #TRON #trx #Trondapps #casino #onlinecasino #gaming #onlinegaming #onlinebetting #sportsbetting #dice #slotmachine #baccarat #bingo #poker #FOMO #jackpot #mining #wager #btc #alts #bitcoin #altcoins #cryptocurrency #blockchain #livedealers #dealers #players #winner #model #dividends #earn #2M #3.5Mtrxgiveaway #prize