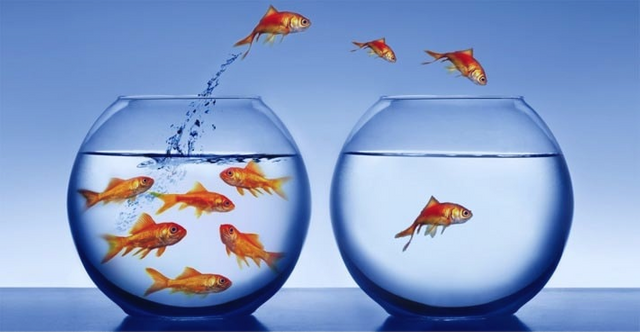 The world's largest online betting platform is losing users, you'll never believe the reason
The world cup at its 'peak', in a few hours Belgium will play against France in the first half-final.
The whole world is excited but, there are some people who are very concerned, those people are the executive managers of the traditional betting platforms, why are they worried?
Better alternative
Let's assume we want to bet, the body begins to produce adrenaline and we're start thinking about what we're going to do with the money of winning, so we turn on the computer and go directly into one of the popular sites for online sports betting.
We open a new account and immediately discover that we can't bet on today's game because our account isn't verified yet and it can take a few days until we'll finally be able to place a bet, so we log-out and disappointed to see our team win and as excepted, sounds familiar? Good, because this is the reason why more and more users are leaving those betting platforms and moving to blockchain-supporting platforms.
Even if you never gambled in your life, you've probably heard about Bet365 - The most popular online betting site. When we see the numbers behind the sports betting industry (Some indicate annual revenues of 400B$), we can figure the unimaginable sums of money that goes into this area - And that's before we calculate the amounts of revenue that comes from other betting services in the site (Such as Poker, Casino and more).
But not everything is perfect.
As we can see in this graph, the interest in bet365 has lately decreased.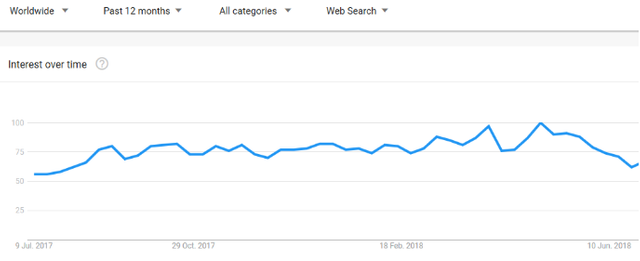 But why? There's no logical reason for a thing like this - We're in the middle of one of the biggest sports events: The World Cup. So how something like that happens?
The answer may lie in one of the most game-changing factors to exist in the last decade: Crypto.
As we all probably know, the crypto currency market is a market that keeps growing on a daily basis, and it's here to stay. When it comes to security and return, the crypto market offered advanced encryption technologies (AKA Blockchain), and yields that summed up to thousands of percents as return of investment. Many big investors saw the opportunity and have decided to invest their money in crypto, decreasing the interest and revenue for several financial, stocks and betting services such as Bet365.
As one can imagine, the crypto market also created various betting platforms that brought the pros of the crypto to the betting worlds - Anonymous usage, using secured blockchain technology, the ability to withdraw, deposit and transfer money quickly than ever made those platforms shine over the classic casinos and various betting sites and services. Some of the most popular ICOs include Xwin, Bethereum, Chilliz and MEvU - And it seems like Bethereum is the most promising one up to date.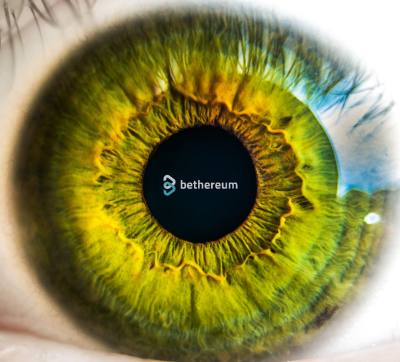 The Bethereum platform is unique in various ways:
The Crypto-betting Foundation: Bethereum serves as a betting infrastructure protocol for other betting services amongst the crypto market.
Peer to Peer Betting: Bethereum allows peer to peer betting between friends, without the need for third party parties such as a bookie or the house, saving unnecessary and sometimes unfair fees.
Smart Contracts: The bets in Bethereum are based on smart contracts (Using oracles from various sources), which allow for a neutral environment for all players to bet in, without any worries. Bethereum is also creating powerful development tools for third-parties that will increase the versatility of the products developed on their platform even further.
Custom Wallet:Bethereum is the only crypto-betting service that offers a unique custom wallet. In addition to strong fund protection and other exclusive features, the wallet will allow players to easily obtain Bether tokens, as the app will be interlinked with third-party exchanges via their APIs.
ERC20 & ERC223 Standards:Bethereum operates according to the highest and newest standards in the industry - One of the main advantages of supporting the ERC223 standard is the fact that digital assets can't be locked anymore in a smart contract (A problematic issue in ERC20).
UI & Gamification elements: Bethereum offers many unique and fun features such as leaderboards, lobbies, group events, alliances, achievements and more along with a user friendly (The betting process can be done in 3 clicks), a fascinating UI that acts smoothly, as similar to various popular smartphone apps.
Development progress: While testing their first decentralized application running on their platform, Bethereum offered a special contest for The World Cup series. An activity that ended up with over 100-thousand blockchain bets placed.
As we can see here, the crypto solution had taken the world by a storm - And there are many reasons why. As we focus our sight to the sports-betting world, we can see a major advantage for the crypto-betting area, and it seems the gap can't be closed. Considering all factors, it seems that many players understood that the future lies in crypto-betting, and there's a major chance that we'll keep seeing the interest in Bet365 going straight forward to the new and exciting crypto-betting market - And you can bet on it.