A few more hours until one more boring local derby between proven losers — Arsenal & Chelsea. There is a chance to find out who is the biggest loser of them all. And we even have some serious odds at BetScorum!


Before the tip, Betman would like to extend gratitude to @stimp1024, who sent a brilliant info on West Ham, and allowed Betman another winning tip:


And today we have this match, with a team whose mere mention takes effect on Betman as a waving red cloth before his eyes — blo*dy Chelsea! After a successful tip in a local derby last week, Betman still wants a revenge against the blue buggers.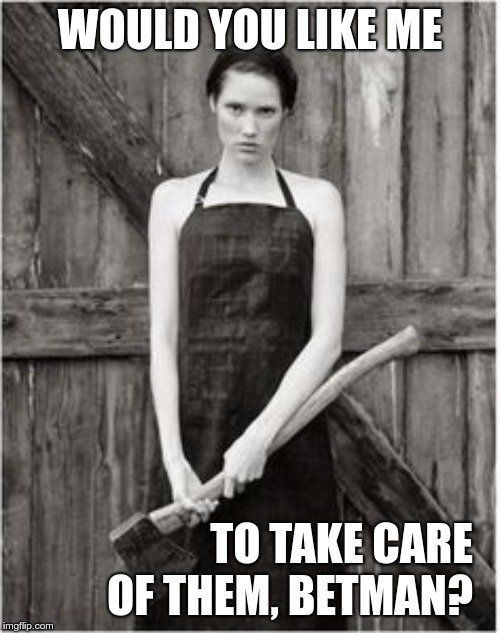 No, thank you, nice psycho lady. Without them, the World would be so much more… hmmmm… wait, be prepared, I may reconsider after the match. And now, Betman will again take a double chance on Chelsea, hoping the bandits will try to bring Betman's tip down. Let them do it:


Betman will be really glad to see them lose the game. It will be very hard against so tragic team as Arse(nal), but they can do it to spite Betman. And Betman will gladly try that, despite the fact he is not qualified for the revived Scorum Loyalty Program (not only) for tipsters with the odds of only 1.384… Who cares. Like SCR will ever grow over $0.004. Let's use it to make Chelsea a Champions of Championship!
Go, Arse(nal)!
Find it all out at Scorum


Universal
Basic Income


Check out ABRA and easily invest in 28 cryptocurrencies or BIT10, an index of the top cryptos. Use this link to sign up and get $25 in free bitcoin after your first Bank/Amex deposit, or 1.5% cash back when you exchange cryptos

1GZQG69sEKiMXKgGw9TcGcUCBoC4sC1ZYp