Mutual Bitcoin Betting at ONEHASH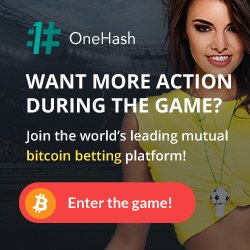 Head over to ONEHASH for mutual Bitcoin betting. No registration required, completely anonymous or you can opt-in your email address to receive bet conformations and results plus bonuses.
Bet on sports, markets, races, e-sports, and special events. Best of all the odds are set by the bettors, yes you of course not the house. So, if you are ready to win big then head over to https://www.onehash.com
Checkout the video below to learn more about mutual bitcoin betting at ONEHASH.