Better life with steem| 2nd of October | Modernity has taken life far away from nature- Sunita Dutta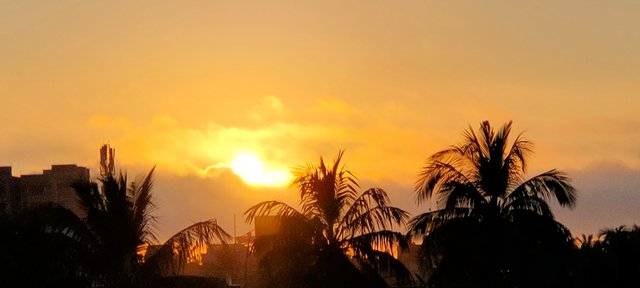 (Start a new day with different way)
Dear friends,
How are you all? I hope you all are safe and doing well.
Before sharing today's thoughts, I wish you all a Happy Gandhi Jayanti.
Today is the 2nd of October;
and we all know the day is celebrated as the birthday of the father of the nation, Mahatma Gandhi.
Yesterday I slept at midnight but didn't know why and how I woke up at 2:15 am. Anyway, I tried to sleep but couldn't do the same.
Actually, from this month to till February;
I had some bad experiences that didn't go out of my mind.
That is the life we can't escape from memories, whether those were good or bad. Some memories I still feel like I felt at that time; it has happened.
So, I spent time watching music channels for a long time. Then around 4 in the morning, I decided to go for the morning walk.
I refreshed and had my vinegar and green tea; and got ready for the walk.

A FEW PICTURES TAKEN TODAY MORNING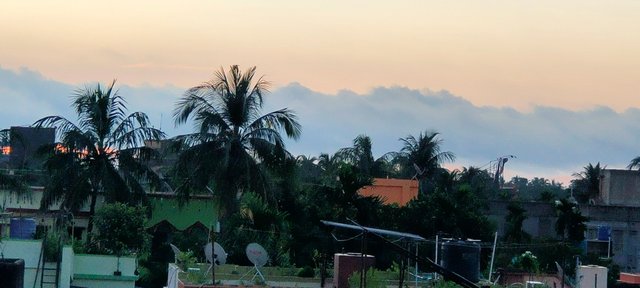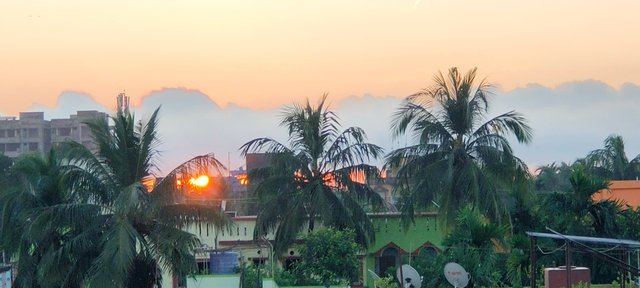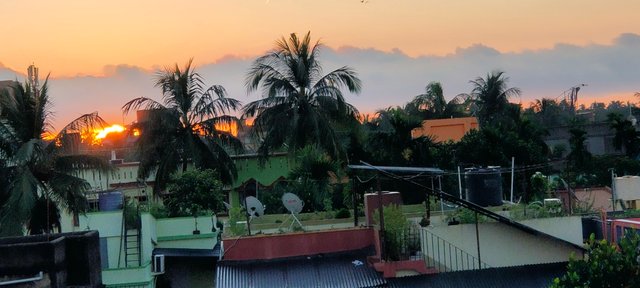 I started walking at 5:30 am on the rooftop of my apartment. While walking, the thought came to my mind;
Because I was observing the mesmerizing sky;
and some memories of my childhood all of a sudden; came alive in front of my eyes.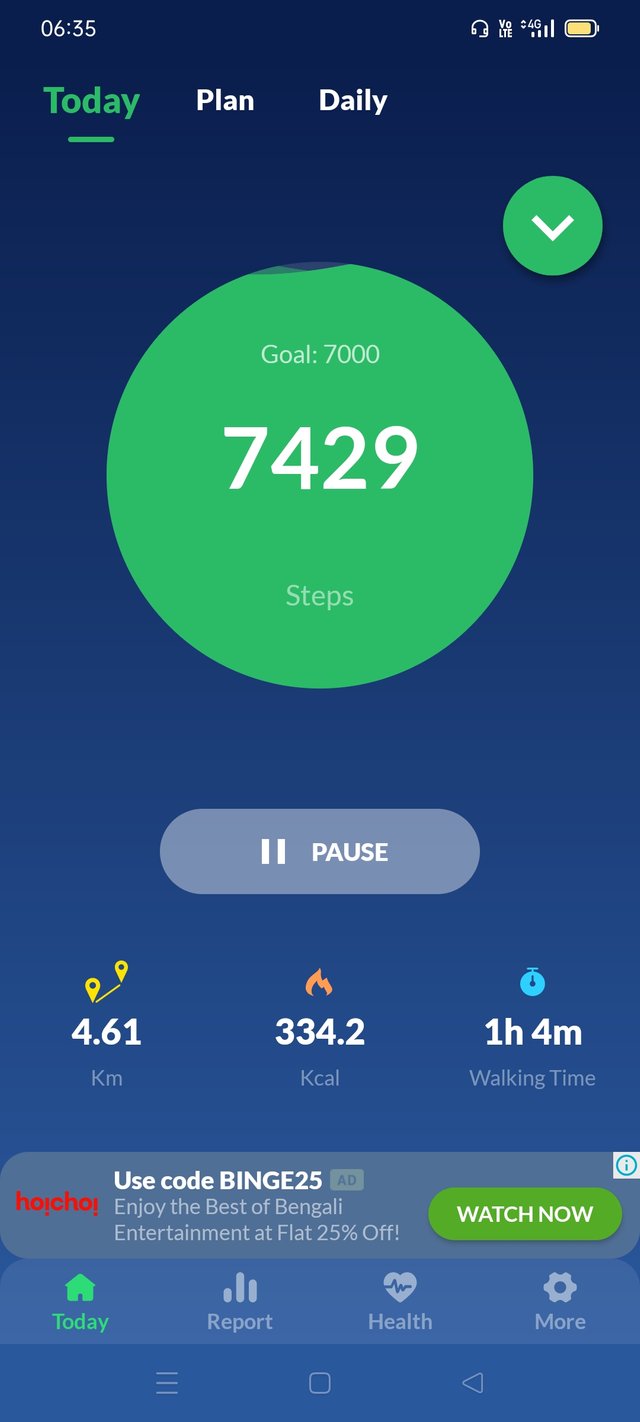 (Today I walked)
In my childhood, if we wished to see the stars and moon, we went to the rooftop or middle of the field;
especially in the summer season.
Because in summer we often faced power cuts and at that time the inverter was not available in every house.
But we didn't miss the power cut because of the moonlight.
My sister and I try to count stars. But now we visit science city and Birla planetarium with our children to recognize them;
the names of stars and introduce the moon.
Time invented many gadgets that are appreciated but unfortunately, that makes us away from nature.

LOOK AT THE SUN IT'S CHANGING POSITION; WE ALSO NEED TO CHANGE A BIT TO OVERCOME MECHANICAL LIFESTYLE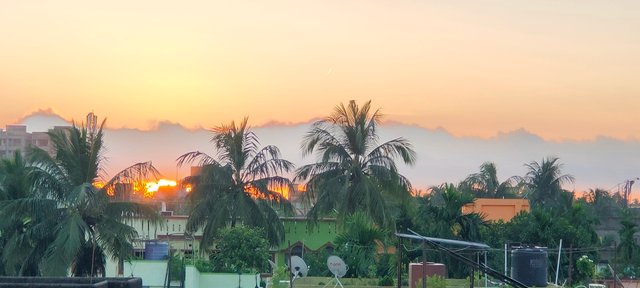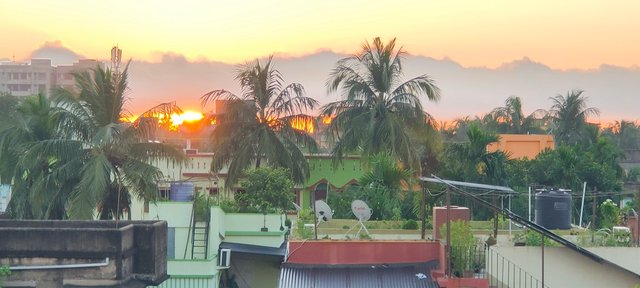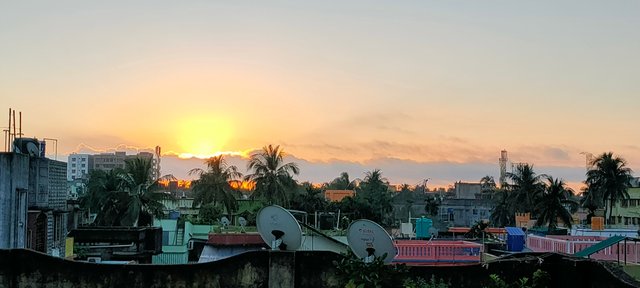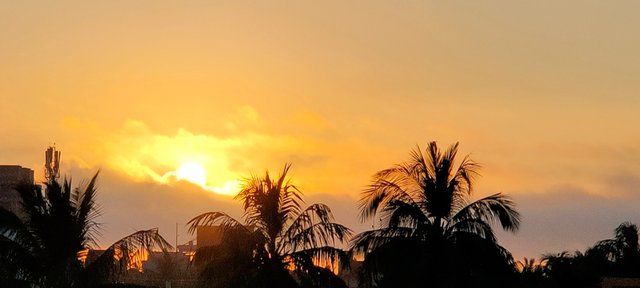 Now our pleasures are seized inside the house and feelings conquered inside the gadgets.
Sitting inside the room, we are trying to introduce our children;
the meaning of the world with the help of the internet.
Day by day, the greenery is getting lost, life has become mechanical.
The discovery of science was not created for addiction, But behind it, we have lost the meaning of real life.
We were happy with several imperfections in our childhood;
But somewhere amid so much power today, all the joy is confined to a limit.
Many things faded today, especially for those who live in the city.
Such as-Running in the field, Bathing in the pond, Sitting together, and sharing the experience of the whole day;
then sharing one's knowledge behind argumentation, going to the market holding father's hand, sitting together and reading of all the brothers and sisters in a single room, sharing a single thing with everyone, etc.
Now everything we do online and love to spend time with gadgets rather than with our family members.
I don't know when people will understand that if the gadget is damaged, it is possible to buy it again;
But it is not possible to recover lost relationships or close people.
Think before it's too late! Stay happy and healthy.