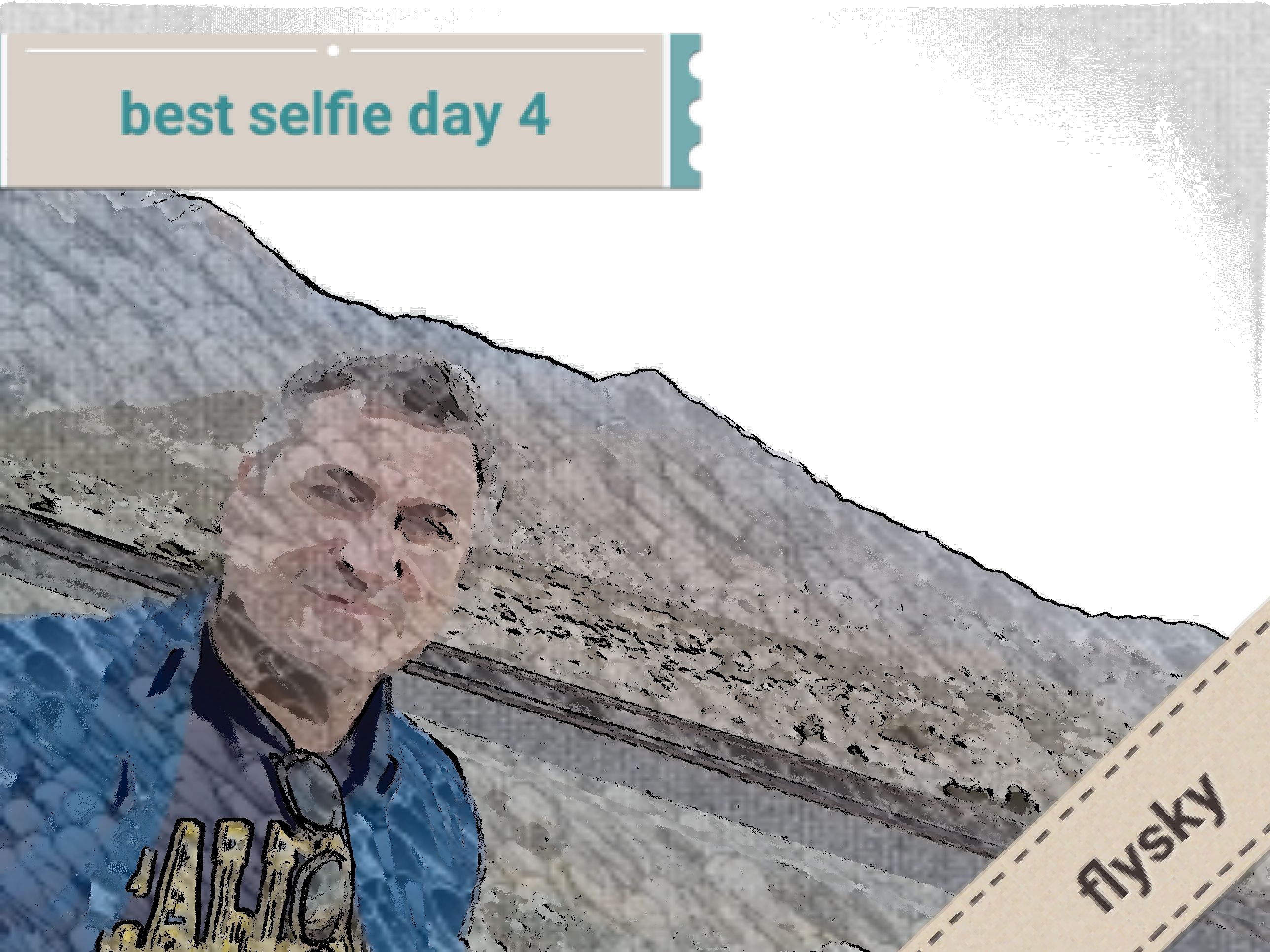 Last day , day 7 for SELFIE MANIA ENTRIES
Nature is calling your name today.
Day 7 Selfie Mania for anyone who loves selfie.
Here it is challenge of all selfies
SELF IN PARK
SELFIE HIKING
SELFIE IN NATURE
This challenge is supportive communications to Steemit.
THANK YOU ALL FOR PARTICIPATION
Rules
Collect all selfies if all your friends in your post and or in your comments
Post with biggest number of selfies of all your friends will win
7 day challenge , 3 sbd
POST EVERY DAY NEW SELFIE IN PARK, HIKING
WE [PROMOTE NATURE AND HEALTHY DAY IN NATURE OF OUR DAY
Invite all your friends to comment your post with as many selfie they can.
Post your steemit post in #selfie channel on discord #steemschools
7 day selfie challenge ,10 sbd for best selfie. DAY 1- STARTS TODAY
https://discord.gg/9dhp49X
It is fun interactive challenge- best selfie
We will try to change task each time so the challenge has deeper and more supportive meaning for social media and selfie interactive movement on steemit.
Please join fun selfie challenge. Invite all your friends too steemschools and steemit so they can learn how to work and potentially make good results for themselves as well.
When I started my first post at steemit I really didn't know how to interact with my new friends, I followed my good mentor @dobartim who had better experience with work here. It took some times to find out what works for me and what kind of media to try out there on Steemit, One thing that I found out was selfie mania and participation was actually one thing that I enjoyed the most
Rules:
-Everyday entry and share link in my post in comment section with uploaded selfie in my comment area
-make invitation to other friends to join vote at discord channel
-put tag #bestselfie and #steemschools
-create post with own sellfie with friends
-input entry post day #..in discord channel
Every day entry needs to be input and I would like you to collect as many selfies in your comment of your post
-post and link with more selfie in comment section will be candidate to win
remember ask all your friends to comment on your post with selfie, so you can collect highest number of selfie comments of all your friends, More friends in your selfie better chance to win
Collect all your 7 selfies in final post and final post will be entry for win
I will be only judge of the final vote for selfie.
Vote will be after 7 days only for everyday participants
Last two day entries will not be in vote but have fun with us, enjoy school here
Join for rules at discord channel
I will vote for one winner
Thank you all for participations
SELFIE OF YOU , 7 DAY CHALLENGE , 3 sbd
ASK ALL YOUR FRIENDS TO COMMENT WITH SELFIE IN YOUR POST
My mission:
I am 47 years old, I like steemit. I decided to create steem schools to assist and help as many new steemit members as we can. I live in Los Angeles Cali. I really like the mission here and entire dynamic of peoples energy to learn and connect with and from each other, When I started on steemit I have zero or no help from older members and best established bloggers. I tried to find fresh air in cloud of clouded minds of older steemans but I was sinking deeper and deeper in a ditch or no feedback arena of the established steemeans. Little by little with help and guidance of the @dobartim I started to make first steps and finally was able to see light at of the tunnel created by lost souls of members who didn't want to help me. With @dobartim help, support and first vote I was able to create space for me and start first post and my steemit work. There it is my re-introduction. I love people and love to work with people from all over the world. My slogan became "live locally, think globally" because I was all of us to be here for each other in our steemit work. All of you are welcome to join me in this journey across wild waves and steep mountains towards calm waters and oasis and valley of love and respect to each other work and mission.
Here it is #steemschools for all new minnows, members, newbies and all willing to work together on the largest Movement on Steemit
Spanish translation from discord bot, disclaimer
Aquí está el desafío de todos los selfies
Reglas
Recoge todos los selfies si todos tus amigos en tu publicación y / o en tus comentarios
Publicar con el mayor número de selfies de todos tus amigos ganará
Desafío de 7 días, 3 sbd
POST CADA DÍA NUEVO SELFIE DE PROPIA MODA
Invita a todos tus amigos a comentar tu publicación con todos los autofotos que puedan.
Publica tu publicación steemit en #selfie channel en discordia #steemschools
https://discord.gg/ZWpsvej
Desafío selfie de 7 días, 3 sbd para la mejor selfie. DÍA 1- COMIENZA HOY
https://discord.gg/9dhp49X
Es divertido desafío interactivo- mejor selfie
Trataremos de cambiar la tarea cada vez para que el desafío tenga un significado más profundo y de mayor apoyo para las redes sociales y el movimiento interactivo selfie en Steemit.
Por favor, únase al divertido reto de selfie. Invita también a tus amigos a steemschools y steemit para que puedan aprender a trabajar y, potencialmente, a obtener buenos resultados también.
Voy a votar por un ganador
Gracias a todos por las participaciones
SELFIE DE TI, DESAFIO DE 7 DÍAS, 10 SBD
PIDA A TODOS SUS AMIGOS QUE COMENTEN CON SELFIE EN SU POST
Mi misión:
Tengo 47 años, me gusta Steemit. Decidí crear escuelas Steem para ayudar y ayudar a todos los nuevos miembros Steemit que podamos. Vivo en Los Angeles Cali. Realmente me gusta la misión aquí y toda la dinámica de la energía de la gente para aprender y conectarse unos con otros. Cuando comencé a trabajar, no tengo ni la ayuda de los miembros mayores y los bloggers mejor establecidos. Traté de encontrar aire fresco en la nube de mentes nubladas de los antiguos steemans, pero me estaba hundiendo más y más en una zanja o en una arena sin retroalimentación de los steemeans establecidos. Poco a poco con la ayuda y la guía del @dobartim comencé a dar los primeros pasos y finalmente pude ver la luz en el túnel creado por almas perdidas de miembros que no querían ayudarme. Con @dobartim> ayuda, soporte y primera votación, pude crear un espacio para mí y comenzar la primera publicación y mi trabajo steemit. Ahí está mi reintroducción. Amo a la gente y amo trabajar con personas de todo el mundo. Mi eslogan se convirtió en "vivir localmente, pensar globalmente" porque todos nosotros estábamos para estar aquí el uno para el otro en nuestro trabajo constante. Todos ustedes son bienvenidos a unirse a mí en este viaje a través de olas salvajes y montañas empinadas hacia aguas tranquilas y oasis y valle de amor y respeto mutuo al trabajo y la misión.
Aquí están #steemschools para todos los minnows nuevos, miembros, novatos y todos dispuestos a trabajar juntos en el movimiento más grande en Steemit
https://discord.gg/9dhp49X JOIN HERE FOR BEST STEEM SCHOOL EDUCATION
https://steemit.com/bestselfie/@grazey.jhud/selfie-fashion-selfie-model-7-days-3-sbd-challenge-day-5-at-steem-school-hosted-by-flysky
LAST CHALLENGE WINNER IS
https://steemit.com/bestselfie/@hazelicious/selfie-fashion-selfie-model-7-days-3-sbd-challenge-day-6-at-steem-school-hosted-by-flysky
some entries- very nice
https://steemit.com/bestselfie/@hierro21/selfie-en-el-parque-y-selfie-en-la-naturaleza-dia-1
https://steemit.com/trending/bestselfie check other entries