Greetings!
Here comes another story for the Behind The Photo challenge...and another lesson.
Life teaches us best but we don't need to discover the wheel or hot water again, right? We can learn from others' experience. Still, sometimes it comes after the first moment we need it. Or the second...
Here's the story:
There are things that can take us out of our tents after midnight and send us under the pouring rain. Irrational things like our passion for beauty and the desire to frame it and save it. I'll begin with a short account of a quite irrational night which was, for me, the beginning of my lightning capturing experience. After that, I will share some elementary knowledge that came afterwards and helped me improve my chances. A lot.

Aperture: 16, ISO 100, Shutter Speed: 10 seconds using Bulb Mode. Crop from a considerably wider frame.
The Hard Way:
My tent was set on BSPB (The Bulgarian Society For Protection Of Birds) camping grounds near the Burgas salt pans. An intense thunderstorm was showing off for many hours a few kilometers south of there, i.e. in the direction of the city. And moving west from there. I was out for a minute but the sight of the sky quickly convinced me into not going back to sleep under the covers and in a supposedly dry spot. I took out my tripod instead and went for a shot or two at the splendid conditions. That is to say, I had a thing to shoot at in those conditions. Rain was still pouring down. But the BSPB base had a few structures scattered across the yard and they provided some partial shelter from wind and rain here and there. I used that.
I tried and I tried capturing that lightning bolt. Three times I fell into despair and went for my tent and three times I came back to shooting when the storm grew even more beautiful. So I tried and I tried. Again and again.
I was doing it the wrong way. The only way I knew back then.
I relied mostly on chance. I set up my widest lens, an 8 mm. fish-eye which has only manual focus but after the second meter, everything feels like infinity to it. That was good. As well as the fact that it looked towards a good portion of the night sky and it was not going to miss the action based on the lack of coverage. I have to say coverage in terms of space, though. Coverage in terms of time was my problem.
I could only hope that I would hit a bolt of lightning during the 30 second period which I thought was the longest possible exposure my camera could get.
The problem is you can't start another exposure just after the previous one.
You need more or less another 30 seconds for the camera to think, to process the image, be it failed or not. So, there's a long interval between exposures.
The thing is, as if on purpose, all the cool flashes of lightning decided to rip the sky exactly while my camera was "frozen in thought". "Paralyzed".
Well, due to some stubbornness and patience I reached my goal...about 04:00 AM.
Here's my first decent-looking lightning: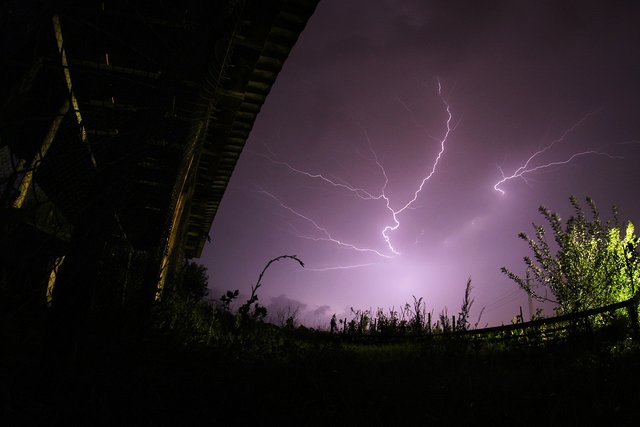 Aperture: manual, not remembered, probably F 8, ISO: 400, Shutter Speed: 30 seconds.
However, had I known how these things are done, I would have captured many, many other beautiful frames that night. And earlier than 04:00 AM.
So, here's how it's actually done:
The Bulb mode of your Shutter Speed options, right after the mark for 30 seconds, allows us to open the frame and expose until we decide to close the shutters, close the frame. It's done by pressing the trigger while trying not o shake the system, holding the trigger and releasing it right after we see our lightning flashing. We'd better use a remote trigger so that we reduce the risk of shaking the tripod and camera. And in order to avoid the ridiculous and quite uncomfortable breathless, squatting pose we otherwise have to try and assume next to the tripod.
So, with Bulb mode, we can expose for more than 30 seconds. But also for less than 30 seconds. We can release the trigger earlier than that. And if there's still daylight, we can't hold the shutters open for too long without overexposing. As soon as our bolt of lightning flashes, we're ready to close the frame.
Anyway, if we're making long exposures during the daytime, we will still need the lowest light sensitivity, like ISO 100, also the tightest possible aperture, like F 22 or more. When it's dark, we can open that aperture up with no worries. We shall hardly suffer any loss of depth of field (of things that are sharply focused) since not only the aperture should be weighed in as a factor. Our DoF depends on distance, too, and when we shoot sky phenomena, the distance is quite great. So we can also go to manual focus and choose the infinity option, too, since our autofocus will most probably have trouble finding purchase in the dark and in the lack of defined edges.
Focal distance is a matter of choice. We can start wide in order to secure the coverage needed. But as we get to learn where the storm will go, we can narrow down and focus on the frames we like, zooming in.
The rest is a matter of composition and finding a good view. That depends on when and where the storm catches us. But if you're more passionate about it, you can follow the forecasts and try to catch the storms yourselves, being more prepared and having picked the spot of your choice.
Good luck, storm hunters!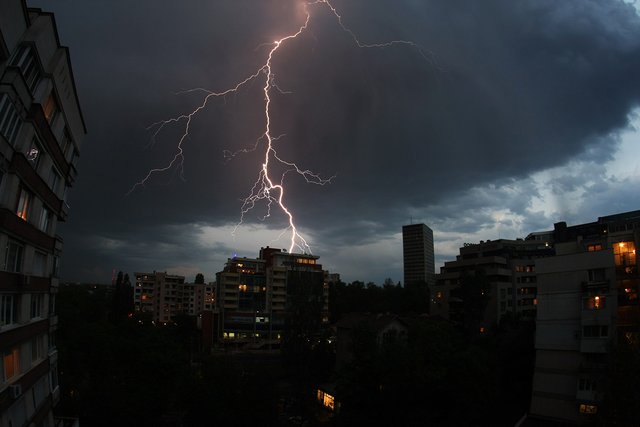 Aperture: manual, F 8 or more, ISO: 100, Shutter Speed: 2 seconds in Bulb mode.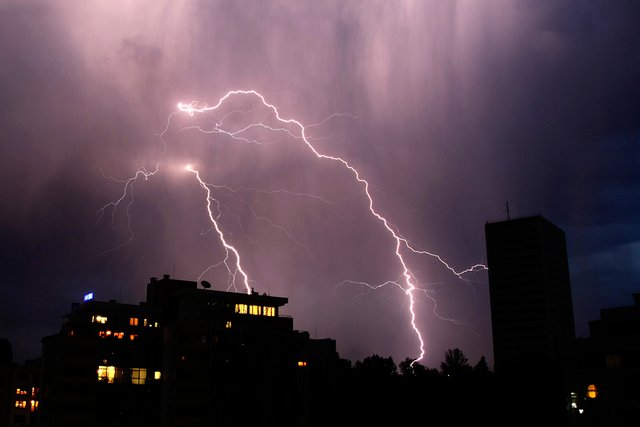 Aperture: F 11, ISO: 100, Shutter Speed: 11 seconds in Bulb mode.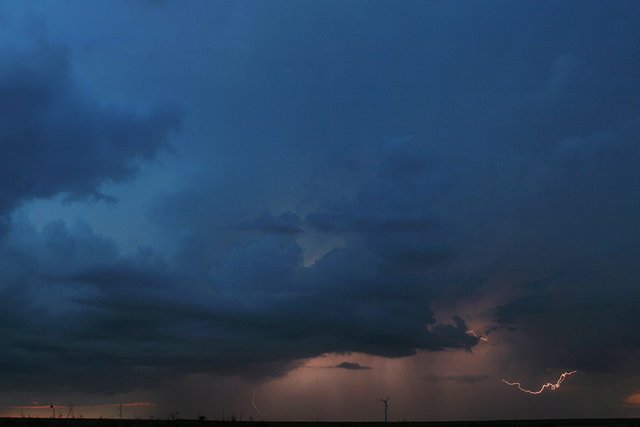 Aperture: F 8, ISO: 100, Shutter Speed: 41 seconds in Bulb mode.
---
I hope you enjoyed the story and you got the idea. That would save you some time and effort and it will bring results.
Thanks for being here!
Yours,
Manol Donchev