BeforeCoinMarketCap(BCMC) is a crypto project that give accurate information on crypto assets and rewards users
2020 is the year of Defi Protocol project that is blooming the world of crypto and there a lot of project has been made in deferent network or chain, as I saw as crypto enthusiast, trader and investor. The two best blockchain network where Defi protocol are built on Ethereum and Tron network. 90% of it was in Etheruem network an they use Tron network as alternative because it is cheaper and more faster but in interms of popularity and market volume Ethereum is the superman of it.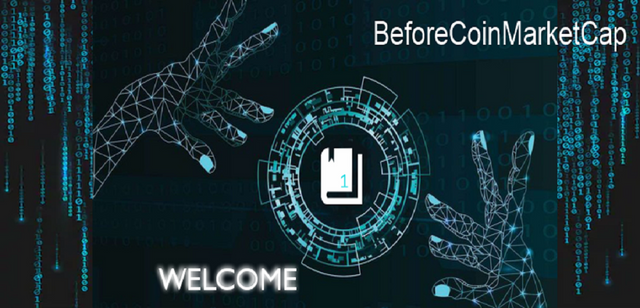 Today a new project that is Built on Ethereum network is born BeforeCoinMarketCap (BCMC) is a platform that is dealing with the information of all kind of crypto assets. They are not only giving accurate information about the crypto assets that you are holding or search on but they are also reward you with token that is use in the ecosystem the BCMC1 token.
The BCMC1 toke serve as a payment for digital and physical assets, as well as for certain actions within our platform like ads posting, paying community voting, paying bonusses, promotions, staking and referrals. This is a great platform for every one, specially to the crypto enthusiast , trader and researchers because in this platform your action will be rewarded with there token. As we know now that the only standing platform like this is Coinmarketcap and we are using it for long time and we don't get any reward for it, me personally I'm using cryptomaketcap since 2013 and I did not get any reward at all. Now for many years a project that see's the value of the users and its time for that platform also to pay back users that is patronizing their platform. To know more about the project you can visit there here. BeforeCoinMarketCap Official Site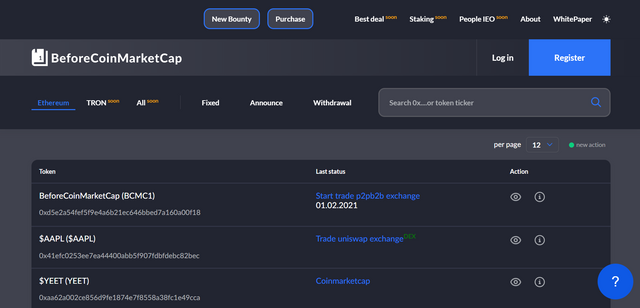 By using BeforeCoinMarketCap platform users can save there time and money because they don't need to jump in one site to another to look for the right information or exchangers that you want or look for, in BeforeCoinMarketCap all you need to do is enter you wallet address and boom! you will see your coin information and in what exchange it is traded on and its current price, In the upper side of the platform you will see the announcement button about the token that is listed or to be listed in the platform, you can also see the best deal that is coming soon, ok, I'm curious about it also. This is just starting but we can see the deferent and the comport this platform bring to the users. That is why I recommend this project for every one to support and buy BCMC1 token on there pre -sale or public sale that is now live.
You can also watch this video to know more about BeforeCoinMarketCap Project
If your an investors or crypto enthusiast this is the perfect time for you to buy BCMC1 token because you can buy it in a low price or discounted price. We all know if you want to invest in crypto project its better to buy it in the very beginning because when you buy it late , when it is already listed on exchangers the price of the token is 10 to 30 times higher that there public sale. So by doing that you are more profitable specially when it goes to the moon but not only that if you buy token early, you can stake it, in there platform so that you will earn more rewards while waiting for the price going to the moon. That's the good side of the Staking token like BCMC1 you will earn more. Not like in traditional crypto the only thing is hold and wait for the price to go up and sell it. For more information about the project you can visit there site here: BeforeCoinMarketCap Official Site
As we know also now a days there's too many new projects created specially in the Defi space and some of them are scams or shit token they just do it to make money for them selves. There's some precautions in investing crypto currency because it is volatile it is risky that is why many says don't invest what you can't afford to loss, they may be here today and gone tomorrow. Always choose the project that is legit you can see it to the people that running it and to its road map plan, see if they can follow it or its nothing but a paper and more project today are just a copy cut of other project they don't have there own plan but all they want is to scam.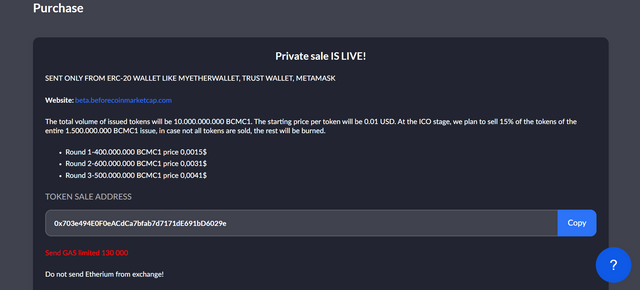 That is why I recommend this project BeforeCoinMarketCap because if you see it today the there are few project like this running online and one of it is CoinMarketCap and you see how big it is today, its a multi million industry. And I believed that BeforeCoinMarketCap will surpass it because its unique and it is built in a new generation of crypto that having its own token BCMC1 that if you buy it you can stake it to their platform to earn more token that's the beauty of the new generation project now , you can stake it while waiting for the price goes to the moon. For more information about the project you can visit there site here: BeforeCoinMarketCap Official Site
So guys don't waste this opportunity to buy BCMC1 in a very now price . Buy it now and stake it to earn more token while waiting for the price going to the moon, in that way you will earn much, much, much money. See Bitcoin and Ethereum is already mooning soon ERC-20 token and other crypto will follow.
BeforeMarketCap Token Information (BCMC1)
BCMC1 Total Token Supply: 10.000.000.000
Symble : BCMC1
Contract Address: 0xD5e2A54Fef5f9E4A6b21EC646Bbed7A160a00F18
Private sale IS LIVE!
The total volume of issued tokens will be 10.000.000.000 BCMC1. The starting price per token will be 0.01 USD. At the ICO stage, we plan to sell 15% of the tokens of the entire 1.500.000.000 BCMC1 issue, in case not all tokens are sold, the rest will be burned.


Round 1-400.000.000 BCMC1 price 0,0015$
Round 2-600.000.000 BCMC1 price 0,0031$
Round 3-500.000.000 BCMC1 price 0,0041$

TOKEN SALE ADDRESS: 0x703e494E0F0eACdCa7bfab7d7171dE691bD6029e
You can also visit there social media here:
Facebook: https://www.facebook.com/BeforeCMC
Twetter: https://twitter.com/BeforeCMC
LinkedIn: https://www.linkedin.com/company/beforecoinmarketcap/
Telegram: https://t.me/BeforeCMCgroup
Youtube: https://www.youtube.com/c/BeforeCoinmarketCap
---
---