As a Beerologist, it is all about strategy. What are the trends and how do you discover the breweries doing it right? What kind of technology and marketing are ideal for supporting and promoting those breweries? How do you manage to enjoy beer constantly and not turn into someone who should star on King of the Hill? https://en.wikipedia.org/wiki/King_of_the_Hill

Source:
https://www.pinterest.pt/goldensaintbeer/
with a little Zeke design on top.
It is that last question I am attacking and sharing my strategy with you this day.
When you drink a good amount of beer, there is a pretty simple calculation. Beer + years(age) = fat alcoholic. Perhaps that is a little harsh but it is the reality that I refuse to ignore. My grandfather apparently was an alcoholic (though I never noticed) and there are heart issues on my father's side. So, a quick recipe for the end of Zeke would be to let my love of beer become a prohibitive addiction, and too much of those fantastically delicious carbs would turn me into the guys on the left if I am not diligent and active.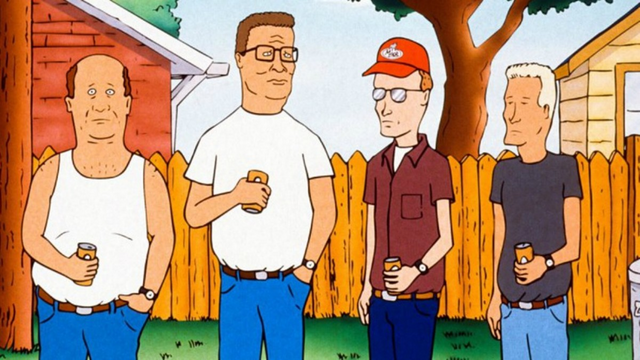 From then til now: Many moons ago, I graduated from the 342ml bottles of beer to the 500ml cans. More beer and a better price per ounce made it worth it regardless of imperial or metric persuasion. Many years later, I graduated from drinking 12 regular pints, to 3 pints that tasted like 12 because they were strong, hoppy IPAs. With pint cans in the fridge at home, I try not to control the number of pints that get in my face on a given night.
When you approach the end of a night, you have the choice or having one more or no more. When the consideration is another full pint or nothing, it is a toss up. Some of those times, you end up having that extra pint you didn't need and it makes for a bad pattern/rough morning.
Your choice is too much or not quite enough of the glorious golden goodness. What a choice...
Enter the 355ml can!
Here are a few of my favourites I like to keep in the fridge when a full pint is just too much.

Thrust an IPA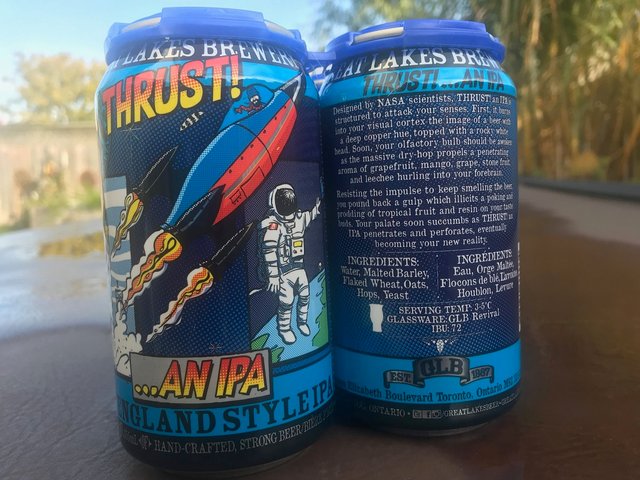 I have been enjoying this one for years from Great Lakes Brewery http://www.greatlakesbeer.com/ out of Toronto. this is the first time they have been released in the 355ml cans and I managed to snag the last 8 at the store.
It is tagged as a New England IPA for the first time as well and features the art from their newest artist. Apparently, this beer was designed by NASA scientists but I can't claim it has become my new reality as the braggadocios label claims. I really DO like the inclusion of flaked wheat and oats to give it that extra smooth texture. I am drinking one right now and love it as much as I can remember. Too bad it is such a limited run but I am glad to have managed to secure a few for my beginning or end of night beverage.

DDH Simcoe Single Hop IPA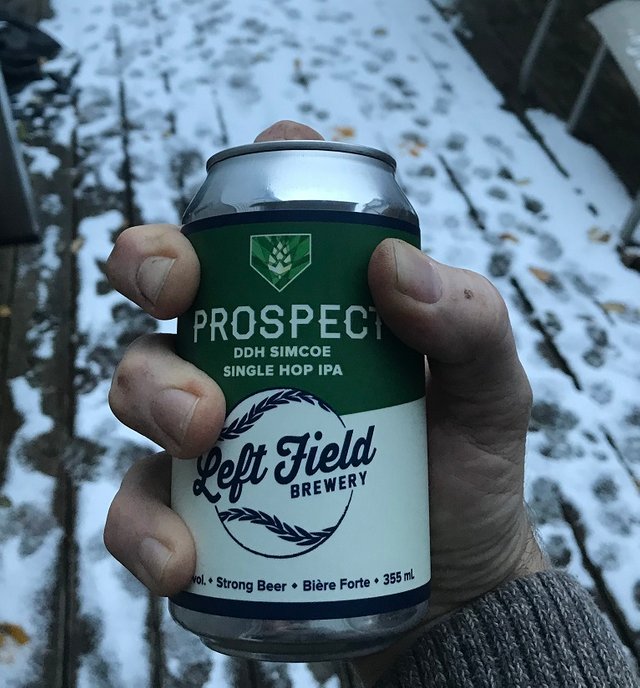 I don't post too much about Left Field Brewery https://www.leftfieldbrewery.ca/ out of Toronto because I really don't know too much about them. I do know that they have a host of varieties delivered in the 355ml cans but they rarely make it out to my neck of the woods. I remember REALLY liking this one and it not lasting long in the fridge. The last one I enjoyed, I poured into a glass for full effect and it was rather thick with particulate. Sometimes, this can negatively affect the taste and foul the experience a little. Not the case with this one and I would get it or any other Left Field brew if it appears on the shelves here again.

Anderson IPA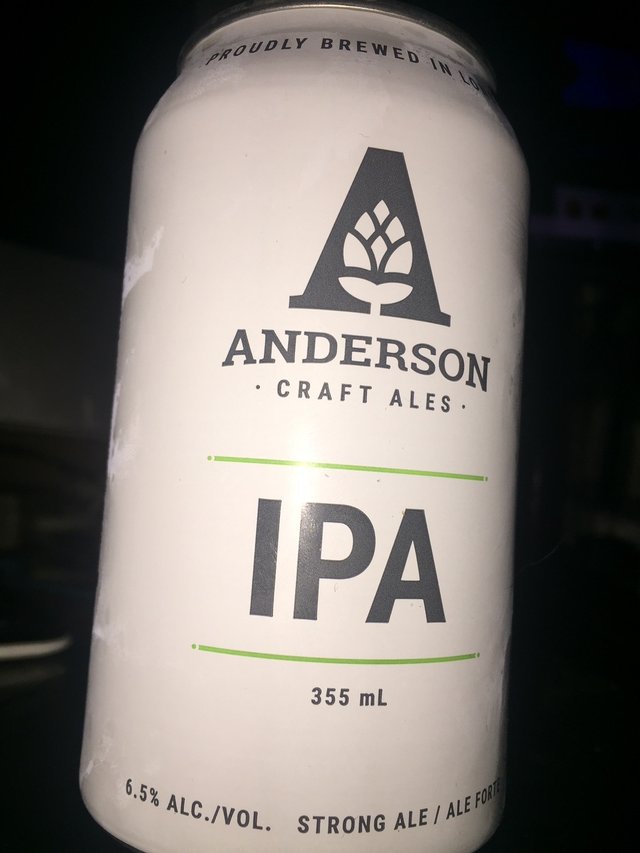 Anderson Craft Ales https://andersoncraftales.ca/ is a little closer to home than the other 2 and is my majority go-to for the small cans in the fridge. The label is plain and uninspired and the brewery not that well known. I only discovered them at a beer festival, had a taste, and really enjoyed it. Since then, I always pick up 6 of this really serious IPA. Serious hops and great body. This is one of those beers I feel I am the only one who constantly buys but I am glad they are not only on the shelf, but are in the cooler at the 2 stores I like most.

Jobsite Impact IPA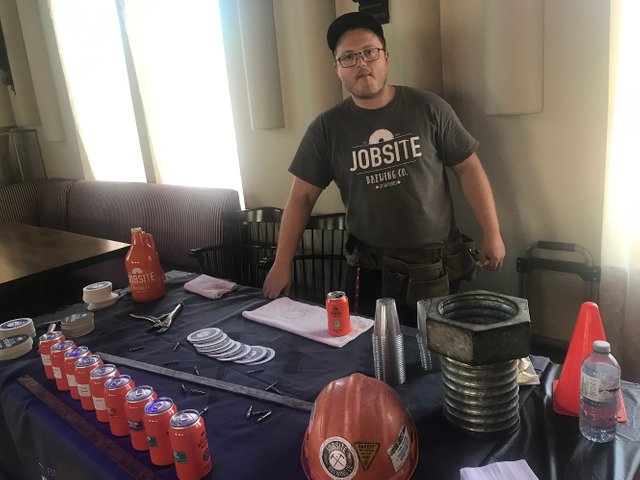 Folks with whom I have had beers with on STEEM for a while will recognize this brewery. https://jobsitebrewing.ca/ Jobsite is run by friends of mine and I love working on their technology to keep them in business. I would probably return the favour in the way of buying their beer even if it wasn't good......but it really is!
This is my buddy Deano in the picture and you can see their awesome little orange cans. I love to have a few of the Impact IPAs kicking around the fridge when it is time to a half pint. A Growler will also do (as you can pour a half pint easily) but you have to finish it within a couple days of opening to ensure you drink it before it flattens.

Well there you have it. When it is time for a half pint rather than a full one, here are a few of my go-to brands that offer the 355ml cans. Truth be told, my strategy probably evens itself out in the consumption department. As many times as it saves me from drinking another tall one, it probably gets a little more into me at the end of a night I would opt for none. I just be sure to follow it up with a pint of water so that I sleep soundly and happily.
Just be sure to match your consumption with tom foolery and physical activity!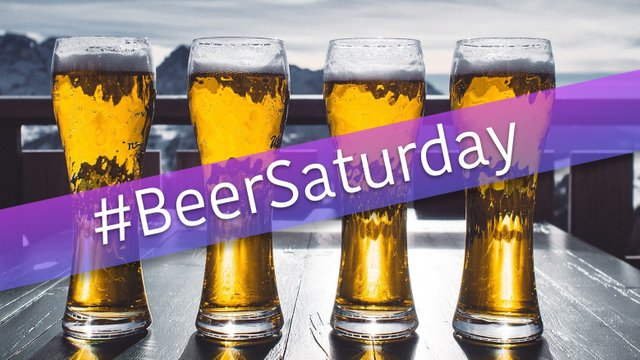 Why not make your own #beersaturday post and enter it into @detlev's weekly movement?
https://steemit.com/beersaturday/@detlev/beersaturday-week-124 Pull up a pint, tell a beer story with us. Tell em Zeke sent ya!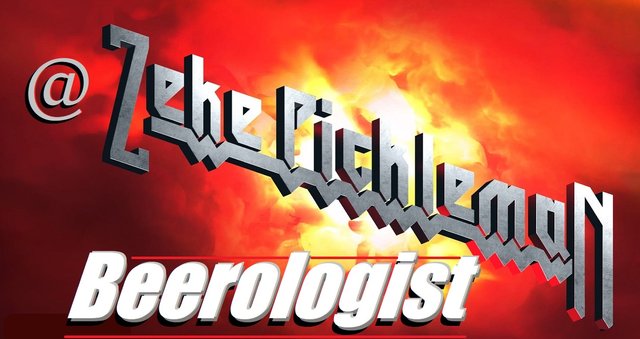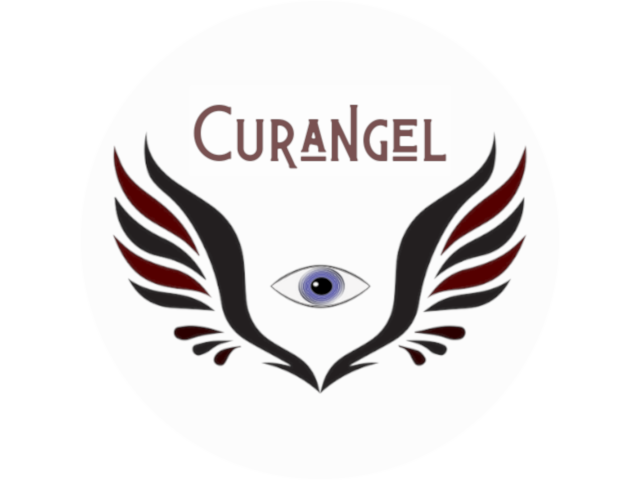 ---
Posted via Marlians.com