[BEER REVIEW] A 45-Year-Old Beer Tradition 🎄🍺
In 1854, a brewery was founded, which at the change of ownership in 1896 was named Anchor - it has since moved six times, usually due to fires or earthquakes. To this day, the brewery is still quite small-scale, and with its traditional methods and beautiful copper pans nearly an operating museum.
Every year since 1975, Anchor has brewed a distinct and unique Christmas Ale (the first holiday beer since the prohibition era). The recipe and label changes from year to year, and the ingredients are always held secret. The label is hand-drawn by local artist Jim Stitt, who has been creating it since the start, and it always features a tree. This year's tree is the western red cedar, an evergreen coniferous tree in the cypress family Cupressaceae native to western North America.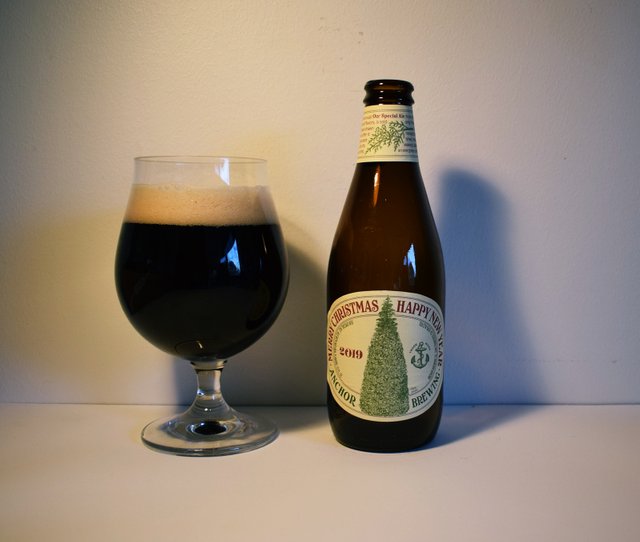 2019 Anchor Christmas Ale
Origin: San Francisco, CA
Brewery: Anchor Brewing
Style: Winter Warmer
ABV: 6.9%
Hops: Secret
Malts: Secret
355 ml bottle
Appearance: Dark red bordering on black, with a brown-beige foam. It actually looks quite Christmassy.
Nose: Burnt caramel, sweet and slightly bitter aroma of dried fruit, raisins, dark chocolate, fruitcake, syrup and nuts. Very warm, inviting and pleasant overall.
Palate: No surprises here. Again dried fruit, raisins, nuts and chocolate with a clear bitternes. It also has slight smoky and charcuterie-like notes in the background, together with cardamom, cinnamon, orange and foam banana candy. Christmas indeed! There is something about it that reminds me of coca cola.
Finish: Dry finish with a lingering bitterness.
Conclusion: I can't wait to have this with the Christmas dessert! Heck, it will fit well even with the Christmas ham. A near-perfect Christmas ale with high drinkability, well worth a score of 4.5 out of 5 evergreen trees.
I want to take the opportunity to wish you all a very merry Christmas together with your loved ones! 🎅 🦌 🎄