Australian Beer
The consumption of beer is an Australian tradition. The number of beers produced across the country is growing exponentially, particularly in the craft beer section, every year. In keeping with Aussie tradition and keeping the focus on the amber liquid, this will be the beginning of the Australian Beer Review in support of #teamaustralia members.
The aim of reviewing beer here is to share thoughts on beer types with #teamaustralia members and spread the word on the goodness that we produce in this great country of ours.
Lets begin with the most popular beer in Australia, the humble VB.
---
Beer Review - #1 - Victoria Bitter (VB)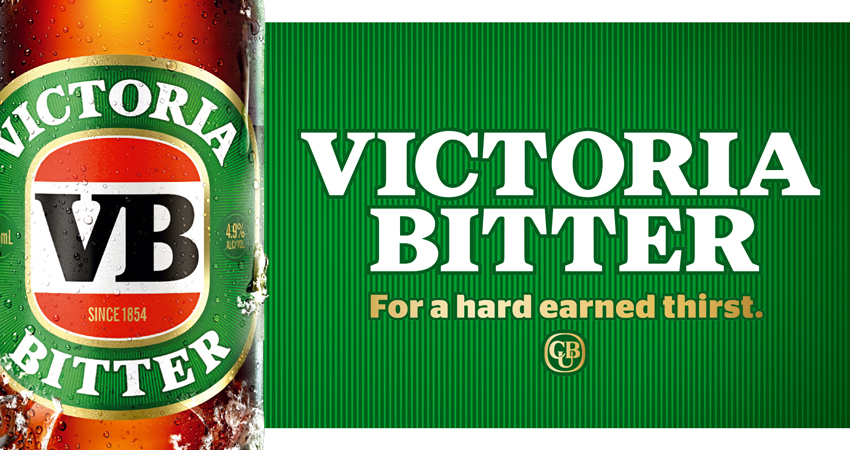 Brewed by:
Carlton & United Breweries, Australia
Alcohol Content:
4.9%
Beer Type:
Lager
History:
Victoria Bitter has been Australia's favourite full strength beer brand for many years and currently accounts for 1/3rd of all beer sales in Australia. VB, as it is widely known, was first developed in 1854 at the Victoria Brewery, in Victoria, Australia, as one of the first beers produced by the brewery. It gained huge popularity during the 1960's and 70's as a great beer with a tradition of rewarding Australians who work and play hard as depicted in the following advertisements over the years.
Victoria Bitter Advertisements - Source
Availability:
Victoria Bitter is available for purchase in:
tinnies (375 mL cans).
stubbies (short-necked 375 mL bottles).
Long Necks (750 mL bottles).
"Twisties" or "Throwies" (slang for "Throwdowns", because they are generally consumed within a short period of time) or "Grenades" (250 ml bottles).


(
Source

Drinkers Review:
VB pours a crystal clear golden colored body with a white creamy head. However, I would rather get my next drink directly from an angry Tasmanian Devil's tit than drink this swill ever again. It tastes and smells like that sewer fermentation smell you get down in Melbourne docklands in the morning, from the Vegemite factory. Almost the worst beer in the world only consumed when the end of the world is nigh and there are no other options!
Rating:
0.5 out of 5 Stars
---
If you would like to contribute and review a beer as part of this series, please drop me a line over at the Discord PAL channel: https://discord.gg/HYj4yvw or leave a comment here.
Lets collaborate and share the goodness that froths and refreshes!
Thanks for reading.