Hadouken - Shebeen Brewing Company
Beer Review
Hadouken is a 6% alcohol/volume New England Style IPA made by Shebeen Brewing Company in Wolcott, Connecticut. Shebeen Brewing Company was launched in 2013 and has built a reputation as a great contract brewery for other local beer makers. They are home to the 'Cannoli Beer' made with select European grains, cream, nutmeg, cinnamon and vanilla to create a beer that simulates the famous Italian dessert pastry. The Hadouken IPA has subtle notes of peach and apricot in the juicy New England-style beer. It's made with Simcoe, Cascade, Citra and Pacifica hops.

Check out Hadouken Reviews on Untappd: (Rated 3.88/5)
https://untappd.com/b/shebeen-brewing-hadouken-ipa/2450259
See what else Shebeen Brewing Company has to offer:
http://www.shebeenbrewing.com/

More Beers from Shebeen Brewing Company
Reviewed by @jeffjagoe

The Can
The Hadouken IPA is served in a 4-pack of full pint cans. I picked them up at a local package store. The can features a cool karate dude holding a pint of beer in his hand. Although he is a karate master and can probably kick our ass, this guy looks super friendly and happy with his beer. The background is themed like the old-school Street Fighter video game. 'Hadouken' is a special attack performed by characters in Street Fighter.

The Beer
The Hadouken was a bright hazy orange color when I poured it into a glass. The beer looked fuzzy and soft to the eyes. After a sip, the taste of peach and apricot burst into the mouth. It was juicy and extremely crushable. Overall the Hadouken was a refreshing New England-style IPA with a juicyness that will sock you right in the mouth. I look forward to trying more beer from the Shebeen Brewing Company in the future.

What are you drinking?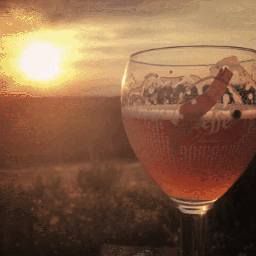 Follow @detlev and learn more about the #BeerSaturday Challenge on STEEM