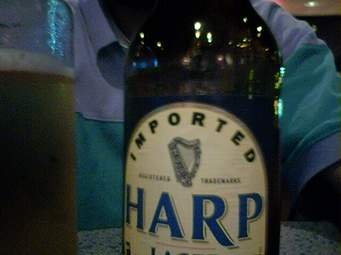 source
It supposed to be a country, but has been eaten up by corruption couple with selfish interest. We're supposed to live in harmony as brother's keepers, yet we keep destroying our future for interest. The true definition of African beauty, full of tourism and natural look is this country whenever Africa is involve.
Will be celebrating her 58 years of independence on the first of October 2018. but yet the country is still under a national strike, which the Government promise it will be resolve on the 4th of October 2018. So after our election in Osun state Nigeria, we took out some time to relax ourselves with this great beer call harp premium lager beer
It's seems boring from the moment I woke up this morning, couple with the financial crisis in the country makes it look worst. But this evening, the mind was able to get relaxation after we chose to take a walk around the neighborhood, with a flat mate of mine. Is that not Peace in that beer bar? He ask? Let's say hi I replied. Getting there, story change! Before I could know it I had three (3) bottles of harp lager beer already. The evening came with the understanding that, Harp lager beer glues existing friendship and brings friends across the globe. Sharing it refreshment alone, to some point gave us an exciting moment that I forgot how boring the day seems to be by the early hours of the day.
So I said to myself, that this exciting moment must be shared! in Harp is like sharing the relationship between brothers in a family said a colleague of mine at the early hours of today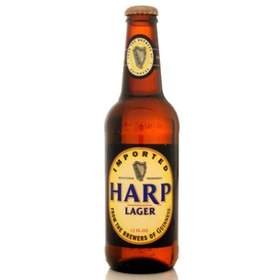 source
SPECIFICATION
Brewed by: Guinness Company (Diaego)
Style: Pale Lager
Serve in: Lager glass, Shaker and Bottle
Ingredient: Water, Barley Malt, Hops, yeast and Cereal grains
Taste. Crisp/bready/grainy. (Smooth's, wheat and decent hops)
Alcoholic content: 5.0%
Bottle size: 600 ml and 33 cl can
Color: Deep red/brown with white head
Aroma: subtle grainy Aroma (grains, malt and wheat)
Characteristics: Refreshing.
Appearance: clear deep golden, dense lasting bright head,
Palate: grainy
Flavor: Tangy (light medium bitterness/sweetness, grainy pills and dry finish)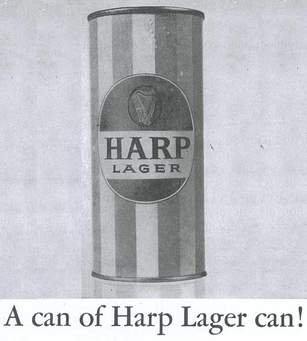 source
History
Due to the growing demand for continental beer by consumers at Britain, Africans and Ireland. In 1960 harp was incorporated by Guinness Company (Diageo) and later introduced to Nigeria in 1974, it took over market within a short period of time due to it Crisp/bready/grainy test as it left you with no handover. So most consumers of harp enjoys having it during weekends and sharing it freshness among friends and families.
Always Drink responsibly
And with Style. Not to forget yourself
special thanks to @felixxx for his constant support and advice,
If you enjoyed this post, please endeavor to vote for me in respect to my entry in the #beerSaturday contest as hosted by @detlev. Thanks for reading steemians, due upvote, resteem and comment as your comment always contribute to my next entry of the #beerSaturday challenge
pictures were captured with my phone Tecno K7
ALWAYS GRATEFUL!