Omnipollo/Buxton Yellow Belly - Review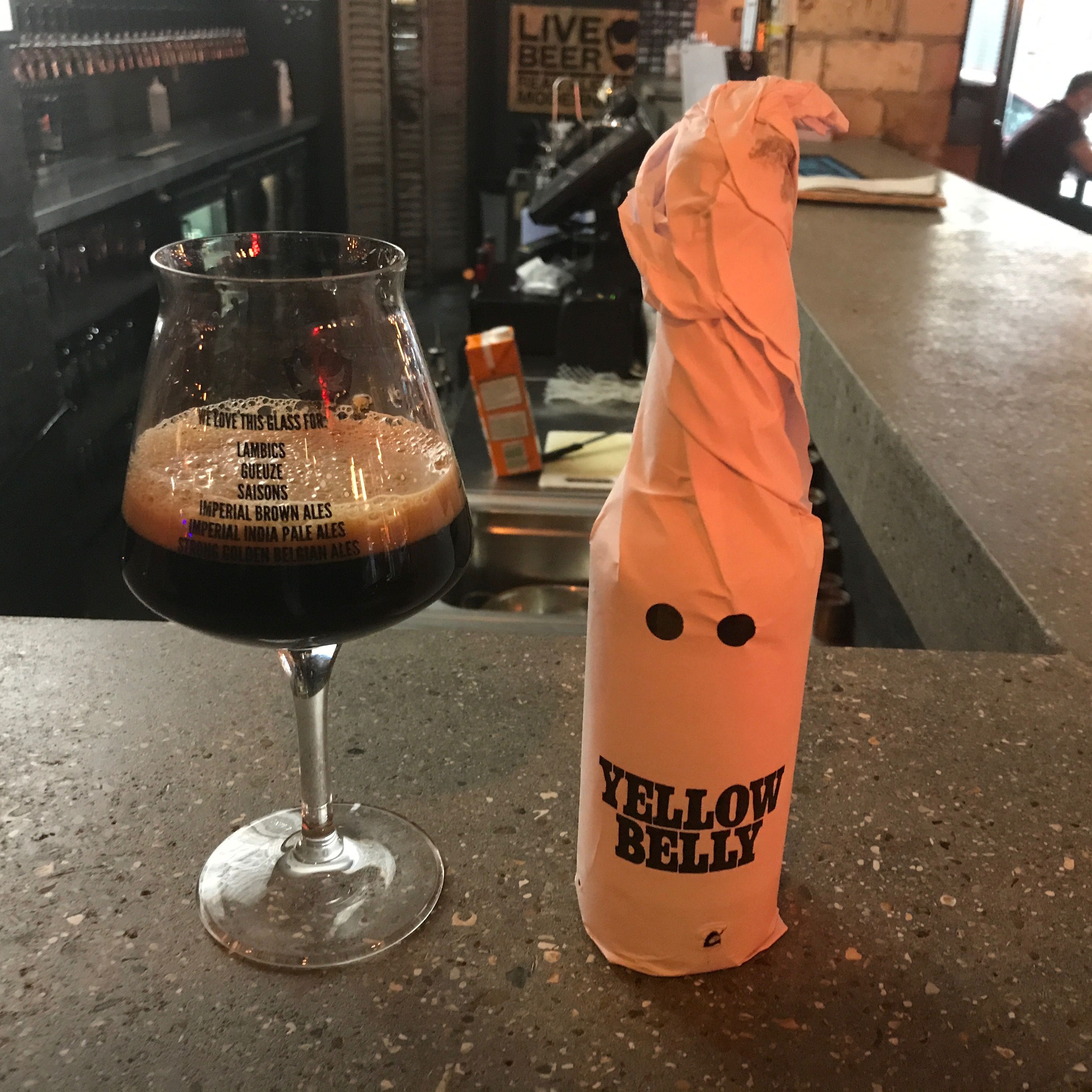 Today's post is going to be slightly controversial because I will review Yellow Belly, a collaboration between British Buxton and Swedish Omnipollo. Omnipollo is a gypsy brewery established in 2011 by Henok Fentie and Karl Grandin in Stockholm. Henok is a home brewer with a lot of experience who become professional, and at the brewery, he is responsible for actual brewing and creating recipes. Karl, on the other hand, is taking care of marketing and graphical side of the project. He is also known for his clothing brand, Cheap Monday. Both of them tend to meet very rarely since they prefer to work separately. Name of the brewery roots from an English world, Omnipotent, and Spanish Pollo, meaning chicken, eventually giving us Omnipotent Chicken Brewery, Quite an awesome name, but what else one could expect from the master of Marketing like Karl. From the very beginning brewery was aiming to make more fashionable beer, that would fit more the beer revolution in XXI century, they also focused on making extremely tasty beers, in which they definitely succeeded because just 3 years after establishing the brewery, they have been listed among top 100 breweries in the world according to the RateBerr users, however their way to the top, was different from usual.
Omnipotent Chicken is brewing extremely tasty and unique beers however not everyone agrees with methods they are using to achieve that, some even condemn them, including me. Usually when brewing beers, spices, and other additives are added either during boiling or fermentation. It is rather a difficult process because first of all one has to choose the right time to add additives, secondly, the quantity, and thirdly, being aware that an additive can negatively impact beer. For example, coconut, when added, can completely destroy foam on a beer if fats are not removed from it. Omnipollo on the other hand does not care too much about problems like that since they add natural aromatic extracts. In other words, Omnipollo is brewing a basic imperial stout with nothing added, then adds a mango extract and calls it mango imperial stout. Just like adding vanilla extract to a cheesecake. For this type of behavior, Omnipollo is heavily criticised because many people believe it is not compatible with the spirit of the craft beer, and in a way is no more than cheating. However I do have to admit that taste wise their beers are really excellent, it is also confirmed by their commercial success in more than 20 countries. Omnipollo beers disappear from the shops in hours, not even days.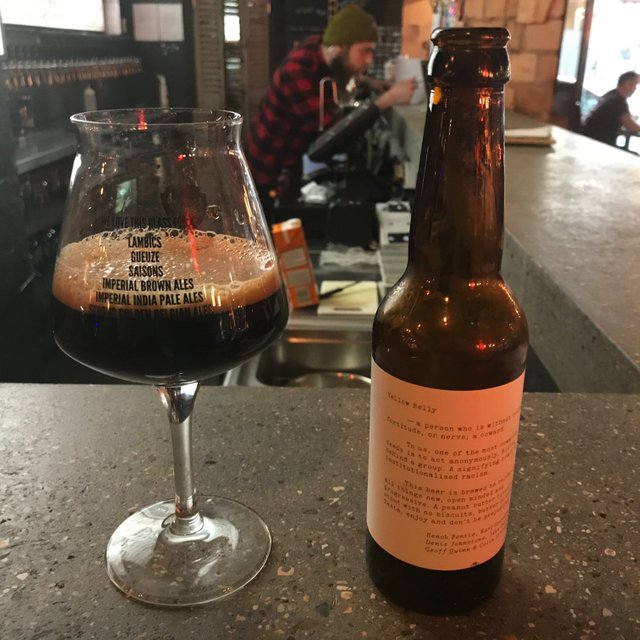 Beer reviewed today is controversial because of two things. Firstly because of added aromas, secondly due to certain political charge it carries, because we are talking about yellow belly. Let's start with an explanation of the Yellow Belly phrase.
"Yellow belly" — a person who is without courage, fortitude, or nerve; a coward.
To us, one of the most cowardly deeds is to act anonymously, hiding behind a group. A signifying trait of institutionalised racism.
This beer is brewed to celebrate all things new, open minded and progressive. A peanut butter biscuit stout with no biscuits, butter or nuts. Taste, enjoy, and don't be prejudiced.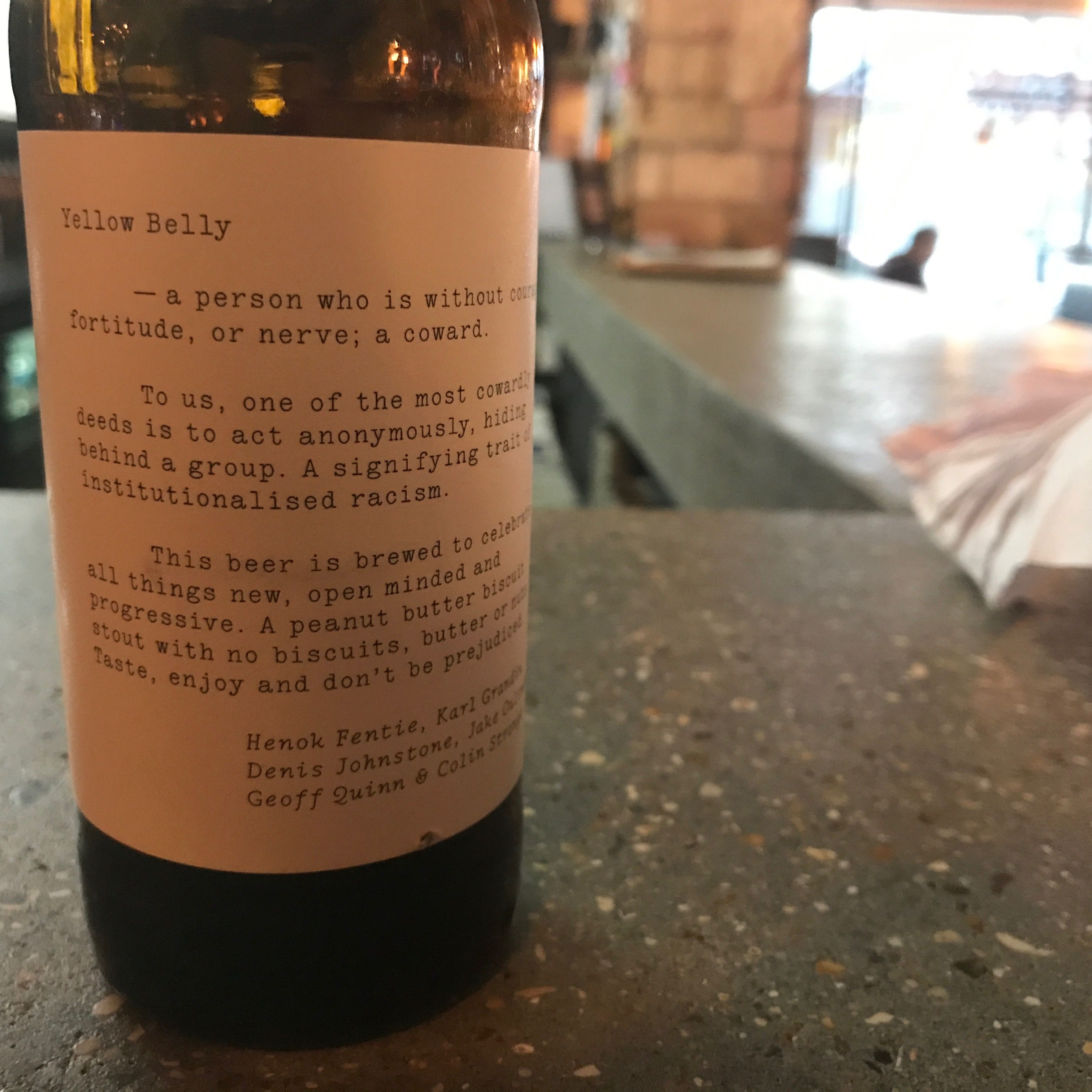 Visually beer definitely refers to Ku Klux Klan, since the bottle looks like a hoody of one of the members. It is similar to the name since it defines a cowardly person that acts anonymously hiding in a group and is a part of institutionalized racism. Later on, we learn that beer was brewed to celebrate everything that is new and progressive, in this particular case meaning a penaut butter biscuit imperial stout, that was brewed without any of it. In the end, label calls to restrain from prejudice because of its, progressiveness the same way people should not be prejudiced against people of color, therefore suggesting that anyone who contests this method of brewing, effectively is being compared to a racist! Therefore question appears whether brewery went a bit too far to compare something so ridiculous like contesting process of beer production to an institutionalized racism. It almost sounds like an Omnipotent Chicken would like to close mouths for all of its critiques once for all and put a racist badge on them. Enough politics, time for a beer.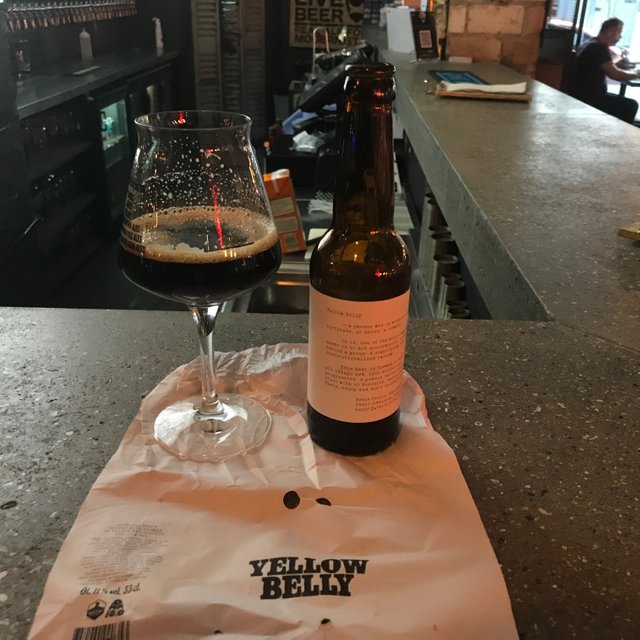 Aroma after opening a bottle is really great. Full of chocolate, peanut butter, and biscuits. It is really impressive. The liquid is pitch black and very thick. Head has an attractive beige color but it does not last too long. When it comes to taste, it is quite weird. It is sweet, definitely dominated by peanut butter, biscuits, chocolate and maybe a bit of black coffee after which blunt bitterness hits. It definitely lacks a balance. Yellow Belly significantly changes with the time. After warming up, more of the tastes described before appears as well as their artificiality. Beer also becomes even more sweet, to the point where it becomes difficult to drink. To be honest it was not easy for me to finish a bottle. Regardless of its fantastic reviews, I rate it at 2.5/5, and I will explain why. First of all, I do not appreciate this type of innovation in craft brewing. In my opinion, it is just a lie. Secondly, I don't like an embarrassing label and the notion that it is carrying suggesting that everyone who does not like aromas is almost as bad as racist. It is way too much. Please let me know, what you think about the label and aromas in a beer?