Buxton Brewery Battle Horse - Review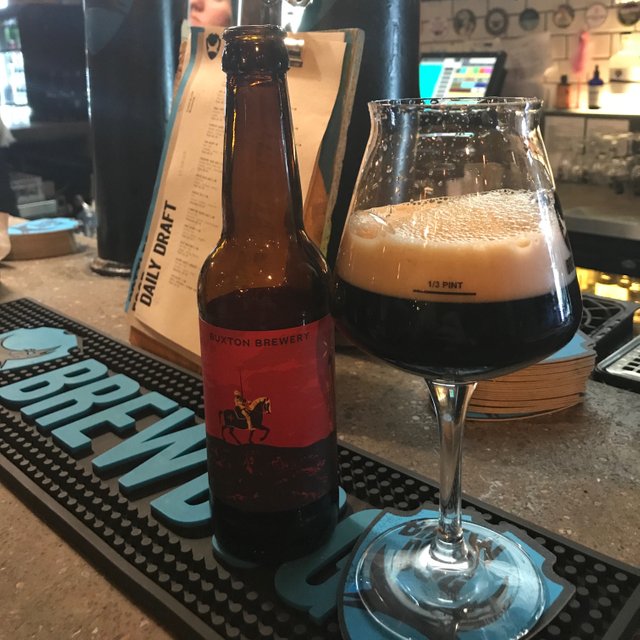 Buxton Brewery Battle Horse
Buxton Brewery, like many others, has an interesting story behind it. It started on 1st of January 2009, when the first batch was mashed in the garage of one of the founding fathers, and it had only 40 liters. As you can imagine it was far from perfect and did not meet expectations of Geoff and Rich but it still was drunk. Following months brought multiple changes in the recipe and failed poured out batches, as well as learning, research, and education. Both in library and online. After 12 month Buxton decided to contract brewing capabilities at a local brewery and soon after Geoff Acquired 800L second hand brewing equipment and started brewing full time.
Within 6 years brewery expanded to 6 people and currently is occupying 7000 square feet building on Standen Lane in Buxton. brewhouse, is able to produce 3500 liters per brew. Buxton is producing around 30 beers and its aim is quality and innovation that is proven with every batch.
Label and name are really cool, in typical for Buxton style, such bottle on the shelf would look very attractive. It is also worth to notice that the first batch of Battle Horse was commemorating 100th batch made in the new brewery.The Battle horse is a Black IPA, however, I prefer to call it Cascadian IPA, about which I wrote in one of the articles on BrewDog.
BrewDog Libertnie Black Ale - Review
Visually, the beer looks quite attractive. It is dark brown with red glimmer and has beige to brown froffy head. Aroma is very rich, besides typical aromas of roasted malts and chocolate, and some dark fruits - blackcurrants and prunes. There are also hop aromas, grapefruit and pine. Taste is rather complex, however without anything roasted contrary to what aroma was suggesting. There is a lot of dark chocolate, and butterscotch. Beer is rather sweet but the sweetness is well countered by hops. There are some dark fruits at the end. Beer is moderately bodied and it has very soft and smooth texture. Battle Horse is slightly strange as it does not fully fit the definition of Cascadian Dark Ale and has many common features with imperial stout since it has 10.5% of alcohol and a similar profile. I rate it at 3.75/5. Cheers!