It's been a long journey, lots of patient waiting, but it's finally here! Brewing kind of feels like being Doctor Frankenstein, you throw all these things together and the electric magic of yeast creates something completely magical.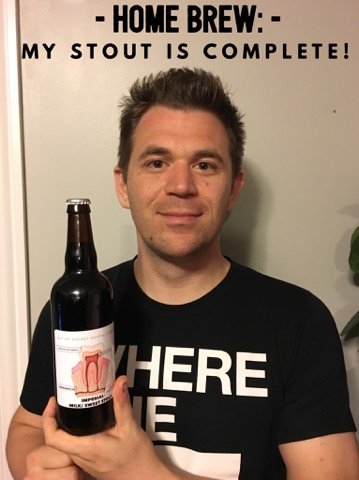 About 2 months ago, I set out to create a stout with a recipe that I never dared to touch in the past. My inspiration was a Hershey's Cookies N' Creme chocolate bar, and brewed an Imperial Milk/Sweet Stout using Ghirardelli White Chocolate, Oreos, Graham Cracker Crust, lactose, and organic cocoa. I was worried that the artificial nature in some of the ingredients would cause off-flavors. Upon bottling the stout, I was getting a little weird flavor, but now 3 weeks later, the yeast has worked its wonders, and we have a beautiful stout much like I set out to make.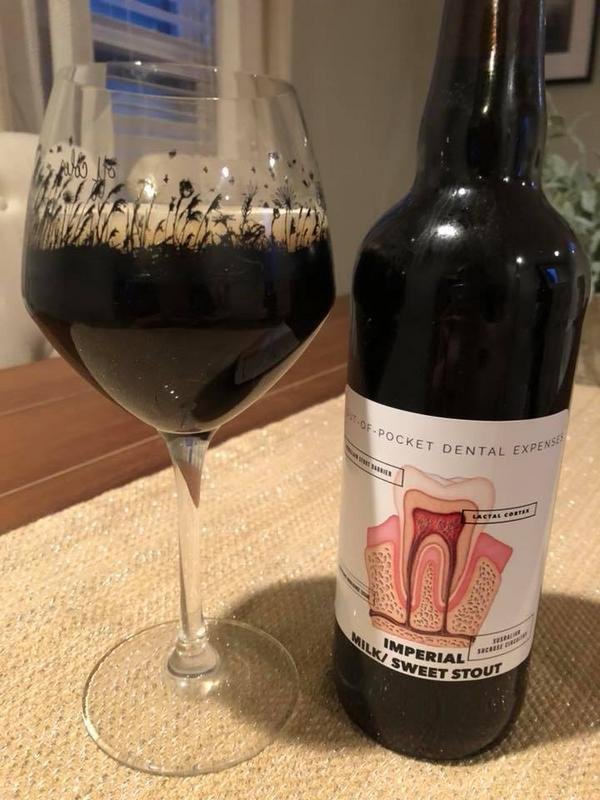 I named it "Out-of-Pocket Dental Expenses" due to the immense sweetness that was produced. I really enjoy making label art for my beer. I am not a brewery and do not sell beer, but I stare at spreadsheets most of the day, so I find it immensely rewarding to get a little creative, outside of creating the beer. I really liked the idea that tat this stout is so sweet, it will incur dental expenses. I even got a medical image of a tooth, and of course named the parts weird stuff, because this is what Brad does….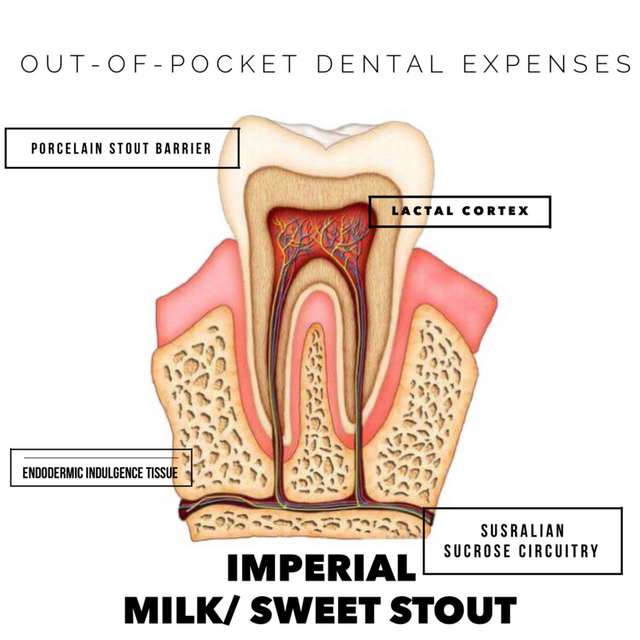 The reason it is an Imperial Milk slash Sweet stout is it has enough lactose to be considered a milk stout, but with the other adjuncts, it made it a bit too sweet to be considered a pure milk stout. It's like if you took a cake made of cookies and blended it with chocolate milk. Even after one, I feel a little woozy and a bit like I just drank an entire dessert try. It is one of the stouts to enjoy when you are in fat kid mode and want to go for a little dessert.
This was my first time brewing a stout. I have worked with roasted and chocolate malt before, brewing a dark saison, Black IPA, amongst others, but this was the first pure stout. I feel much better that I not only went for it but went big and it paid off. I will definitely want to perfect this recipe and brew more stouts going forward. You save so much on hops! This brew only gets an 1 oz of hops compared to the pound I put in for a hazy. Although, I spent quite a bit on the other adjuncts so it still invested a lot into it.
Cheers everyone! Another successful brew session in the books! Please follow and/or upvote if you enjoyed the post.