I just cooked beef broccoli for dinner. I am monitoring my healthy and balance diet but when I'm in front of food specially like this, I tend to overeating which is bad 😣. I'm guilty! I promised, I will not overeat next time. My body built is skinny, I wanted to gain additional weights but due to my high cholesterol level, I find it difficult to achieve because of many things to consider.

Anyway, I wanted to share with you HOW TO COOK BEEF BROCCOLI.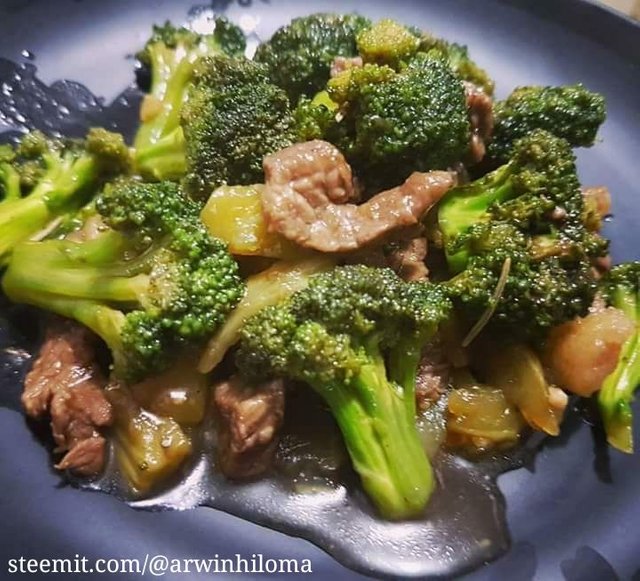 ✔Combine all marinade ingredients such as soy sauce, rice wine, corn starch and ground black pepper. Then marinate the beef for 30 minutes.
✔While waiting, combine the ingredients for the sauce such as oyster sauce, soy sauce, rice wine, and 1/2 beef cube in 1/2 cup of water in a bowl. Stir well. Set aside.
✔In a cooking pot, let the water boil and blanch the broccoli for a minute. Then remove and soak in ice water for 15 seconds, drain excess water and set aside.
✔Heat the frying pan and pour-in cooking oil. Put -in the beef. Make sure that all beef touches the pan, allow to cook for a minute, then add garlic.
✔Pour-in the sauce, let it boil until beef becomes tender.
✔Add broccoli and pineapple chunks, then cook for a minute. Stir with the dilluted cornstarch and water until the sauce thickens. 

That's all. Ready to serve.

Thank you,
Arwin