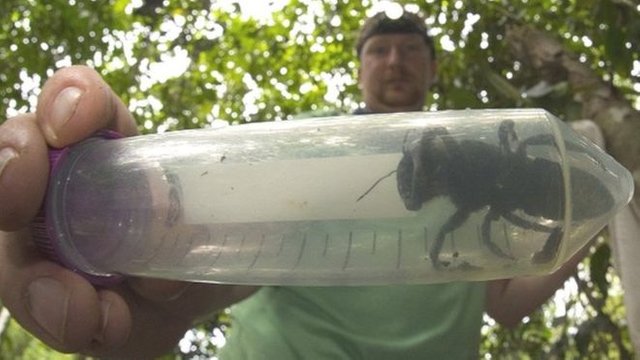 It is "a flying bulldog".
These are the words of natural history photographer Clay Bol, who after almost 40 years managed to capture images of a giant bee species that scientists considered missing.
It is the largest bee in the world, the size of the thumb of an adult person. She is female and lives in the Moluccas del Norte, little explored islands of Indonesia.
The explorers who found it after several days of searching were named Wallace, in homage to the British naturalist Alfred Russel Wallace, who described it in 1858.
In 1981 a group of scientists found several specimens of these giant bees, but they had not seen each other since.
Together with a team of researchers, Bolt toured Indonesia last January to find and photograph the bee,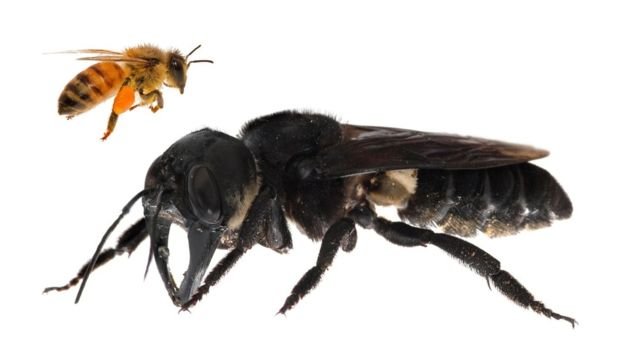 "To see really how beautiful and big it is, to hear the sound of its gigantic wings as it flew through my head, was simply incredible," says Bolt.
What is Wallace like?
It has an estimated wingspan of 6 cm. Its scientific name is Megachile Pluto.
The female makes her nest in mounds of termites, using her large jaw to collect sticky tree resin to align the nest and protect it.
The species depends on the primary forest of lowlands to obtain resin and the nests of the termites that live in the trees.
The naturalist Wallace, who co-developed the theory of evolution with Charles Darwin, described the bee as "a large black insect resembling a wasp, with huge jaws like those of a stag beetle".