Hi everyone…
I almost just found out about this Easy Mini Art Contest #3: Bees and Butterflies hosted by @jacinta.sevilla Initially I wanted to dray a butterfly mandala but I really have no time … if I want to try to make it into the contest… probably I am out of the death line… but any way I wanted to post my contribution to the cause.
Almost 40 species of butterflies are in risk of extinction as I read in an article a few time ago, all die to different causes like: planting of genetically modified crops, industries developments and climatic changes… the real cause… the lack of interest of human bean on the conservation of its planet.
With my comic… I want to call out the attention of adults, who have no coherency about the message they send to their children's, one way we can help butterflies is by planting butterfly gardens and learning more about the species that visit us in our territory... the opposity that the man in the cartoon is planing to do...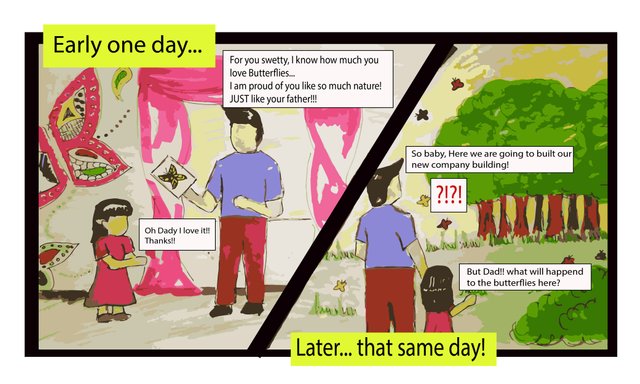 In School teachers try to encourage conservationist values, but in the other hand, those same kids see members of their family thronging out garbage to the street… is our responsibility the future… our kids must learn from us… and sometimes we need to learn from them…
A kid doesn't say one thing and do other completely different… the say what the think (wrong or not), and act according to that… that's why the need our orientation… so I am inviting people to call in coherency on their life… I cannot say that I love nature if I don't do my little part on the conservation of it… if I don't do recycling or at least teach children's around me to really value it… like watering a plant in the street that will clean oxygen for all of us…
Hope you enjoy my comic, and hope it help a little to create conscience on some of us.
Process:
First I made the drawing by hand, and the added son color with markers and crayons.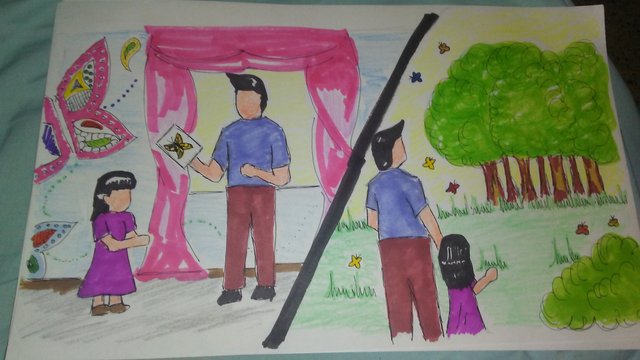 Later, I took it into Photoshop to improve the colors of the photography, and after that, I put it into Adobe Illustrator where I transformed it into a vectorial drawing and added the text vignettes.
Thanks for passing by, and support my work...
@karenthfer