Makeover Jobs Two days in a row.
Makeover Jobs Two days in a row.
It's been an exhausting and busy weekend for me for the past two days.
On last Saturday, one of the oil and gas company here had their annual dinner,so two of their did booked for my makeover service earlier in advance.
Their theme this year is P. Ramlee & Saloma,back to the 50's and early 60's era.
So everyone was all dressed up like those era that night.
So that day i did soft classic make up and hairdo for both of them but with a touch of this modern era too.
One of my client said please don't make me look like those aunty ya. 😂😂😂
I said okay don't worry about it. Hahaha.
Who doesn't want to keep looking young right?
This lady here turns out to be my high school junior, at 1st she just happens to be so familiar but i don't remember why then she said i was her senior. Small world.
Really love her red kebaya.
After the makeover for her, most of her friends keep saying that she will win best dress cause she looks like Saloma and she nodded and say nooo, i don't want to.I'm shy.
Then said, this makeup artist ah did it on purpose to make her look pretty cause she knows that my makeup skills are good. 😂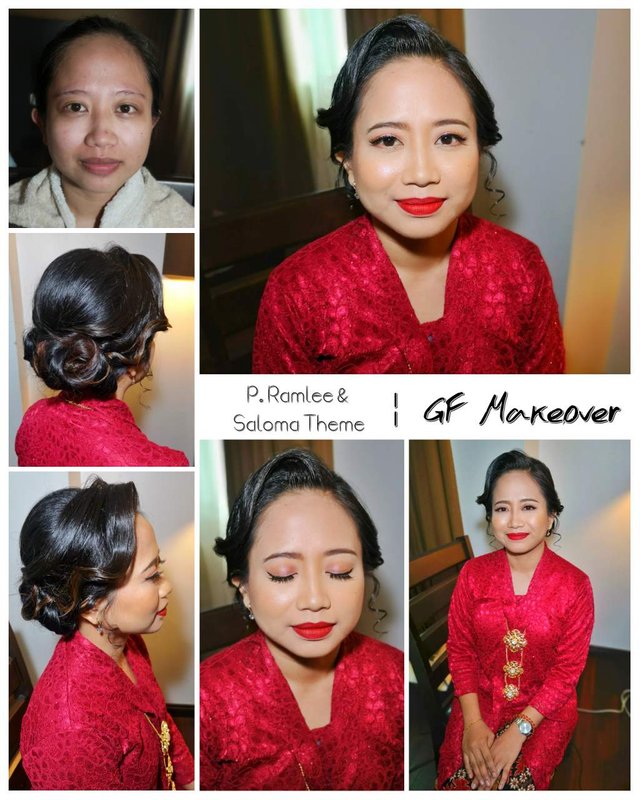 And guessed what?
She really won the best dress and Queen of the night.
She still couldn't believe it but was so happy about it.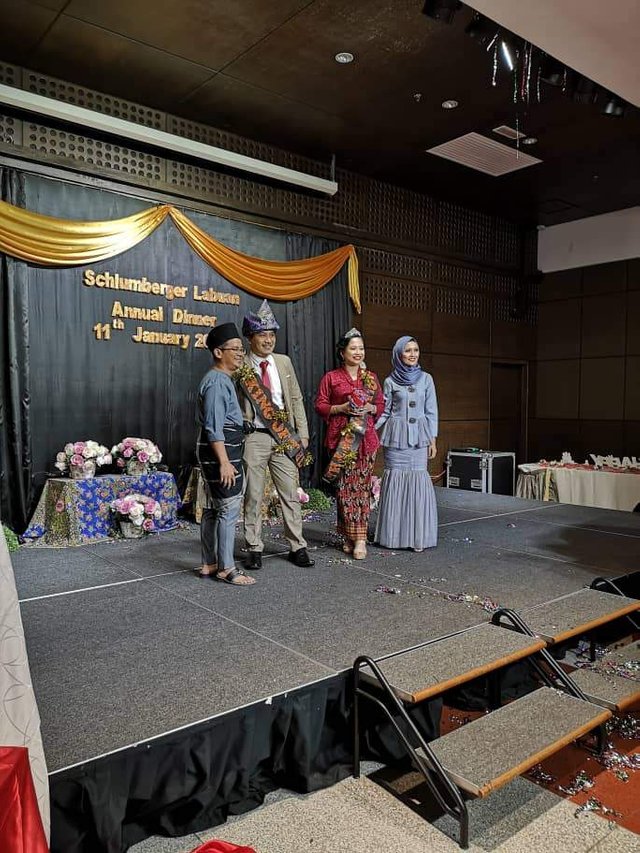 And for this client of mine, she didn't want to look too 50's or 60's,so i did for her something sexy but still preserving that touch of classic look. She said she love it and her makeup lasted throughout the night until she removes it.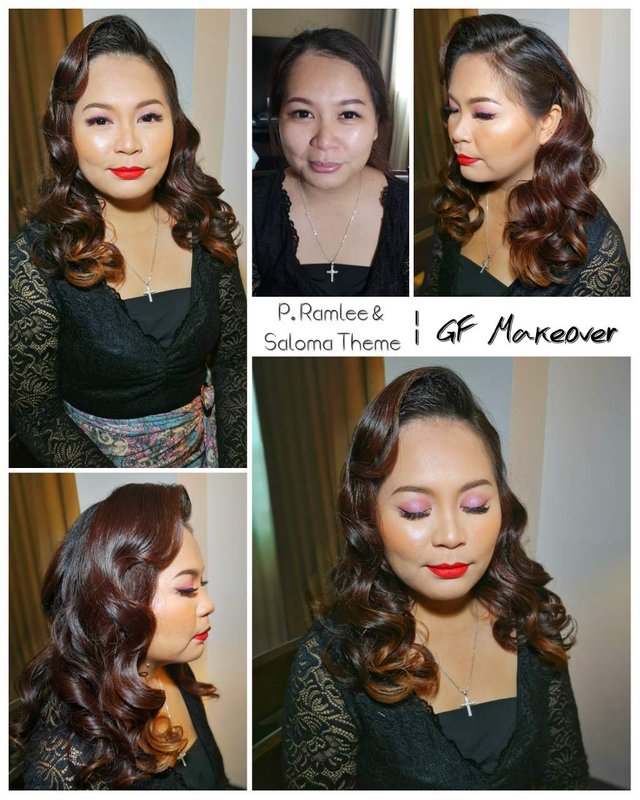 I'm really really glad and happy when my clients are happy and satisfied with their makeover. 😉
You know, when you feel that your every piece of passion and effort always pays off at the end.
So on the next day which is on last Sunday, there is a wedding held on that day so this two beautiful ladies from the groom's side(daughter and mother) also had booked for my makeover service in advance.
Both of the requested something elegant for their hairdo and also a natural soft makeup look for them.
So i did this natural and sweet makeup look for the daughter.
She naturally have very sweet features, so i just enhance it more by highlighting those features.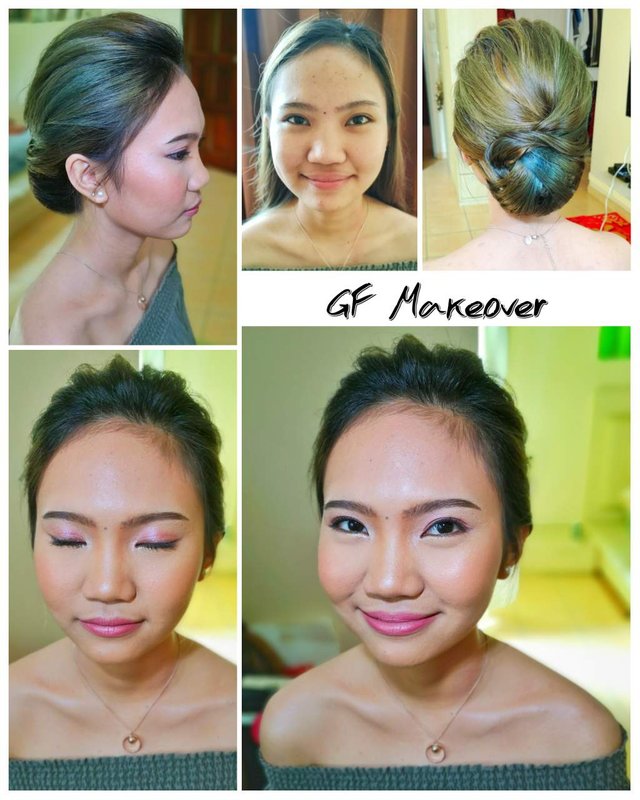 And for the mother, i did some color correction on her skin so that it will look more radiance and glowing.
I also did focus on highlighting all her features and give her eyes some drama by putting on a pair of fake lashes for her.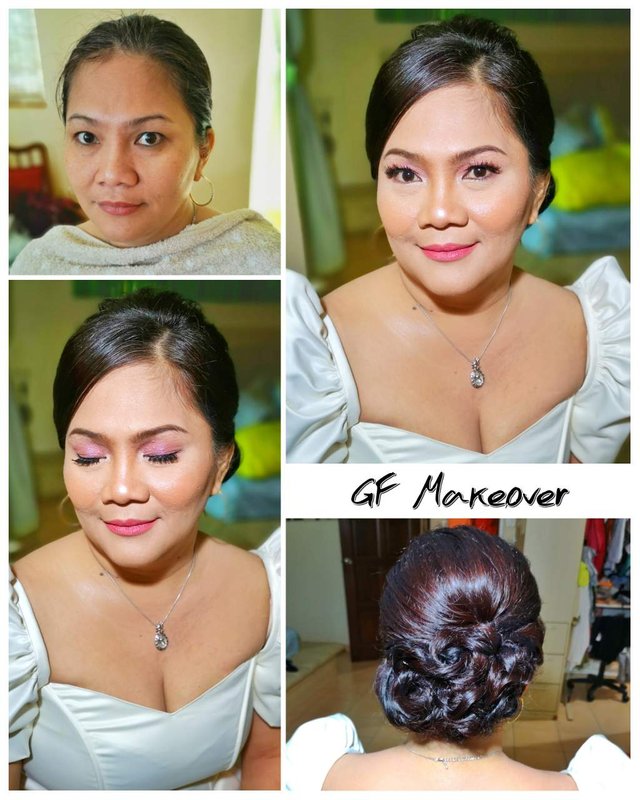 Both of them are so happy and satisfied because they looked so different and beautiful that night.
The mother and daughter keep saying themselves pretty then look at me and laugh because i keep smiling at both of them. 😂😍
I had so much fun creating those makeup look and hairdo for the past two days.
Despites on how exhausted i might feel, especially having a painful backpain after every jobs, it's quite worth it when you get to see every client's of yours satisfied and feels so confident about themselves after the makeover.
Looking forward for more makeovers to come. 😉
Cheers!
Posted using Partiko Android