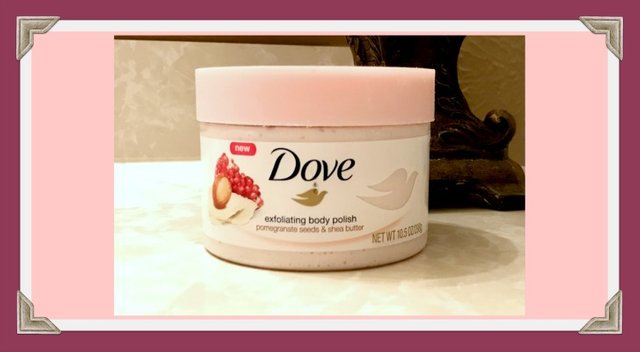 Hello and how is your Monday? Mine's been good..... The weather here in North Texas is starting to slowly cool off a bit; its been such a welcoming feeling knowing that it will be Fall season very soon. Of course they already have out the fall stuff.....um pumpkin spice lip balm anyone? Yes please!! And throw in the Halloween edition of Oreos!! :)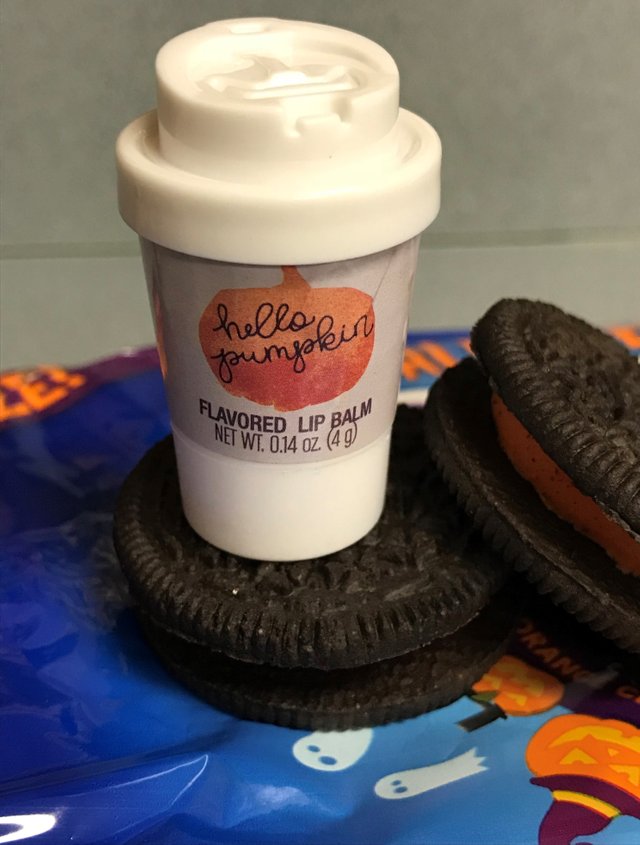 So, how was your weekend? Mine was pretty nice. I have still been working on the laundry from our camp out last week. I can't believe it takes seven days to clean the laundry and bedding for three nights at the lake. My poor washing machine is tired. LOL But I have only one more load of bedding and I will be completely done; and the trailer will be all ready to go again. Yay!!
This weekend Caleb and I went to the store to spend his allowance money and my birthday money. We spent about two hours goofing off in Target before we finally made our decision as to what we wanted to buy. I will do a haul really soon as to what I got with my birthday money....but I wanted to show you the funny picture I took of Caleb being a little goof ball. I just love spending time with this sweet little boy.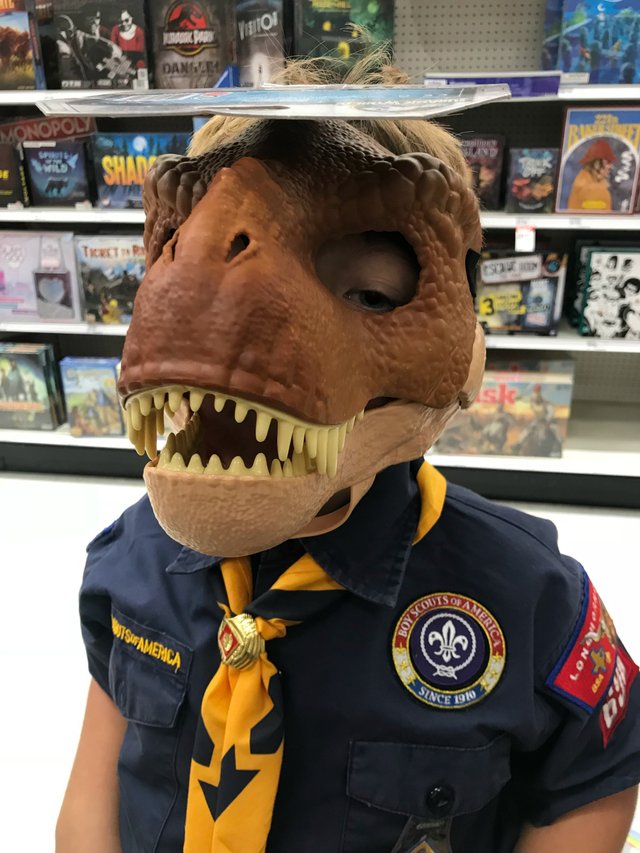 This past weekend was Caleb's first time to sell popcorn for his cubscout troop. He was so cute talking to the people and asking them if they'd like to buy popcorn from him. He is just like me, whereas he's so quiet spoken that no one can hear a word he says...so most of them walk right past him not even realizing that he's there. But it's still sweet to watch him try.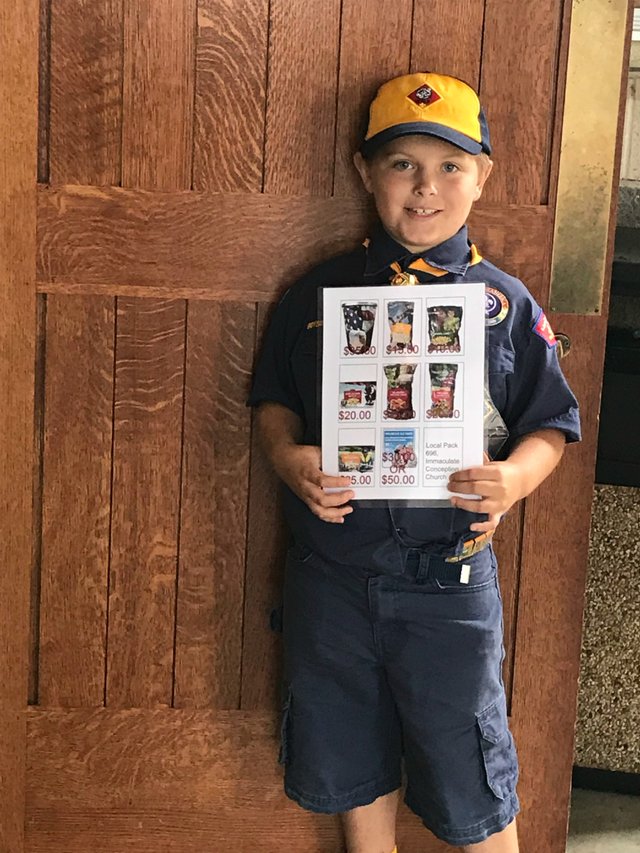 Today I wanted to share with you a review that I have been exciting to share with you. I found a product that I truly love!! As if you couldn't tell from the title, its on the Dove Exfoliating Body Polish in Pomegranate Seed and Shea Butter.
I know that there are other scents in the Dove body polish, but I love this one scent so much that I don't care to try the others. Do you ever get like that? It's like going to a restaurant that you don't get to go to frequently enough; so you order the same thing because it's that good and you don't know how long it will be until the next time to go. Well, that's how I feel about this body scrub scent....it just smells that good!!
As you can tell, I really do love this product. But, I am going to give you a full review so let's hop to it. First up is the smell....it's obvious that I love the scent. I actually think this will be a scent that a lot of people would like. It's not overly fragrant, but its enough fragrance that you will smell it still when you get out of the shower. So it's a light, soft, blanket, flower, baby skin and sweet fruit perfume all mixed in together. :) Did you get that? Seriously, that's what I get when I smell it. But as for the actual product, the scent description is a burst of fruity pomegranate smell.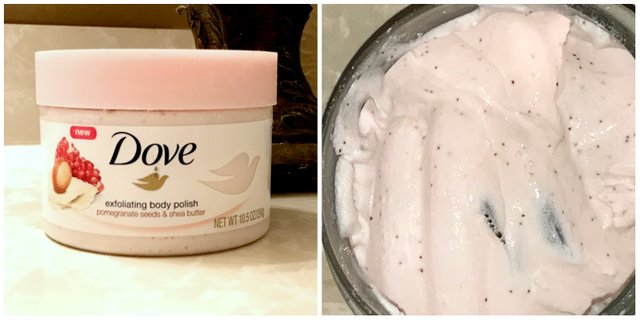 Let's talk about the product and it's claims, shall we? First up you can find this at most drugstores in the US for around $6 US. Some of Dove's claims are that:
It scrubs to remove dull skin

It nourishes to restore skin's natural nutrients

It reveals smooth, silky skin

It gives a creamy coverage from the whipped texture
Ok, I will definitely go with the first claim, it does remove dull skin. I use this product, as stated, 3-4 times per week. I find that I do get the closest shave of my legs after I used this product. So yes, I do think it does a fantastic job at removing that dull, top layer of skin.
Next up, it nourished to restore skin's natural nutrients....how do you figure out if a product actually does this? I have no clue.....so I have no idea if this is a true statement.
Since that was absolutely no help whatsoever, let's go along to the next claim....it reveals smooth, silky skin. Why yes, this just so happens to do that for me. I actually love how soft my skin is after using this scrub. It was noticeably soft right after the first time I used it.
Last claim is that it gives a creamy coverage from the whipped texture. Again, yes, this most certainly does that. What I like about the texture is the softness and yes very creamy, but the scrubs are not painful and chunky.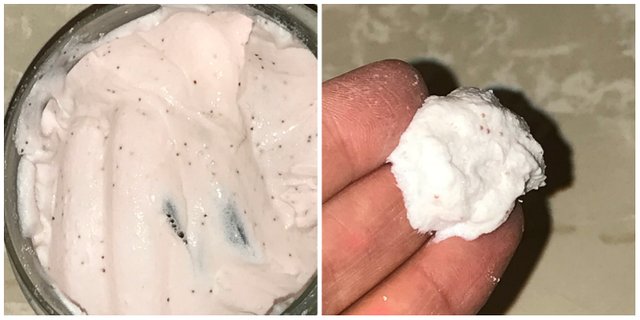 I use a very vigorous scrub once a week (along with the dove) and I have to use loofah gloves because the scrubbing ingredients in it are so chunky that it actually hurts my hand to rub it all over my body. Now, I like this because it gives a fantastic scrub, but it would be way too harsh to use more than once per week. So that's what I like about the Dove....the scrubs aren't the "chopped nut shells" type of scrub. It's enough to make a difference on your skin but not so much that it dries out your skin or is painful. I do think the creamy-ness of the texture is also what helps to make your skin soft.
So those are the claims and my thoughts. As you can see, I really do enjoy using this product. I have used about three so far and I am about to run out of the fourth container. They are good sized jars, but I do use it about 3 times per week on my whole body so it only last me right at a month. But I do recommend this, I think it is a fantastic product. And if you drugstore is like mine and has a demo one on the shelf, open it up and smell it.....the smell is so intoxicating and I feel it makes the showering experience even better when it smells that good.
While I would love to be sponsored by Dove, because I have a couple of other products that I truly love and use on the daily, this sadly is NOT sponsored. Dove has no clue I even exist. But I just wanted to let you all know that, so you can have faith that these opinions are my own and that I purchased this (any many other jars) of the scrub with my own money.
That's all I have for today. Have you tried this product out? What did you think? Tell me in the comment section. I will be back again soon with more makeup talk....until next time, take care.
-Kim