Shaheed Minar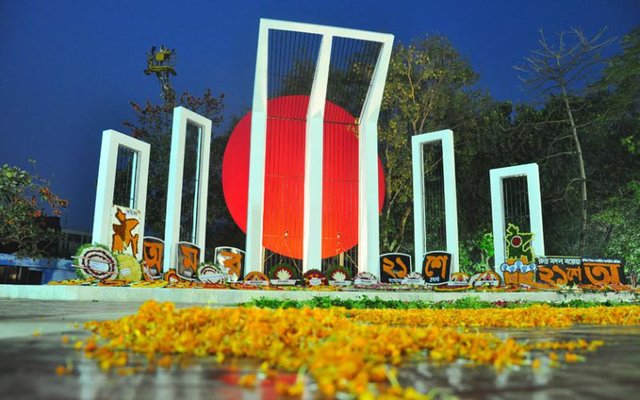 The students of Dhaka Medical College started the work on 21 and 22 of the night on February 23, 1952 to build a martyr monument in memory of the martyrs demanding the language. The minaret is made at the eastern edge of the medical student hostel (barrack) bar number shed. The work is over in the morning of February 24th.
GS Sharfuddin (known as Engineer Sharfuddin) was supervised by Badrul Alam, who designed the tower. Along with Saeed Haider. They assisted two royal masons. Cement is brought from the warehouse of brick bricks and old Dhaka's Piaru Sardar for the extension of medical college. After dawn, the minaret is covered with a cloth. On that day, the father of martyr Shafiur inaugurated the Shaheed Minar informally on February 24 morning, February 22. Azad secretary Abul Kalam Shamsuddin inaugurated the Shaheed Minar on 10th February morning. On this day the police and army camped around the hostel of the medical school and broke the first martyr monument. Then a Shaheed Minar was made in Dhaka College, which was also broken once at the government's direction.
Finally, the work of the Central Shaheed Minar in 1957 started after the recognition of Bangla as the state language of Pakistan. The construction work was completed in 1963, Vice-Chancellor of Dhaka University Professor. Under the supervision of a committee formed under the leadership of Mahmud Hossain.
In the year 1956, during the Chief Minister's rule during the tenure of the Abu Hussein government, the foundations of the central Shaheed Minar were selected and the foundation layers were established. On 21 February 1956, a minister was supposed to set up the foundation stone of 'Shaheed Minar' in the hands of a minister, but the people presently expressed his strong opposition and laid the foundation stone of this memorial with Basiran, a six-year old girl of Shaheed rickshaw driver Awal, one of the language activists. The Shaheed Minar symbolizes the struggles of the year 21 February every year the swelling of the swelling swelling.
please Upvoat this post &follow me @nspalash