My Photoshoot Gallery
Hello Steemit family, I must say it feels good to be back after a long while of absence. School work has got me on hold and mostly busy, especially with project work and stuff. This is going to be my first post in more than a month and I'll love shear with You some shots I took around school premises while I was a little bit free.
Ok firstly I'll like to say it's quite unfortunate how we go about our daily activities without even paying attention to or noticing the beauties around us, is that we are too busy or we just don't care.. This still beats my imagination. Mind you when I said the "beauties around us" I actually meant nature in general, it could be the flowers, fine laid grasses, a pond with beautiful swans in it, a nicely planed fun park, a garden, etc. Anything that radiates a natural feeling always tends to bring calm, inner peace and warmth surrounded with happiness.
Now let me take You around my photoshoot gallery, the first shot I took was from a lecture theater within my faculty. That day everyone had left after a stressful lecture day but I decided to stay behind and in that moment it hit me, that feeling of inner peace in an environment clustered with lovely trees with radiant color mixture and less noise within the environment, it felt as though I was in another dimension haha, but really that moment felt so good.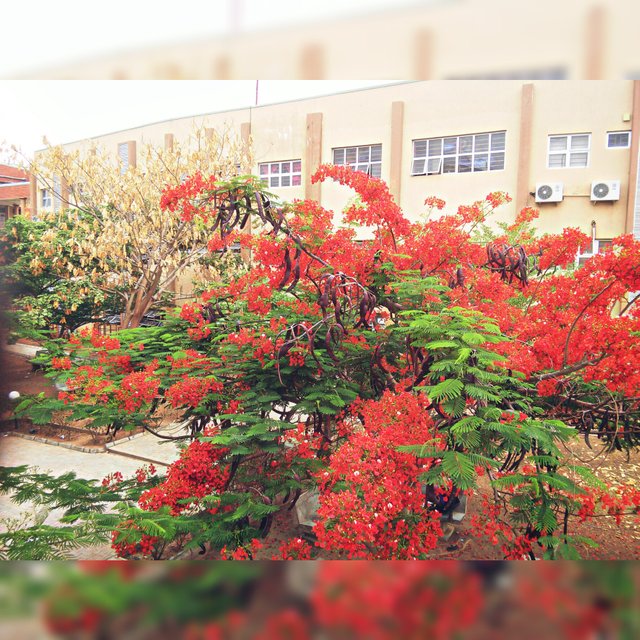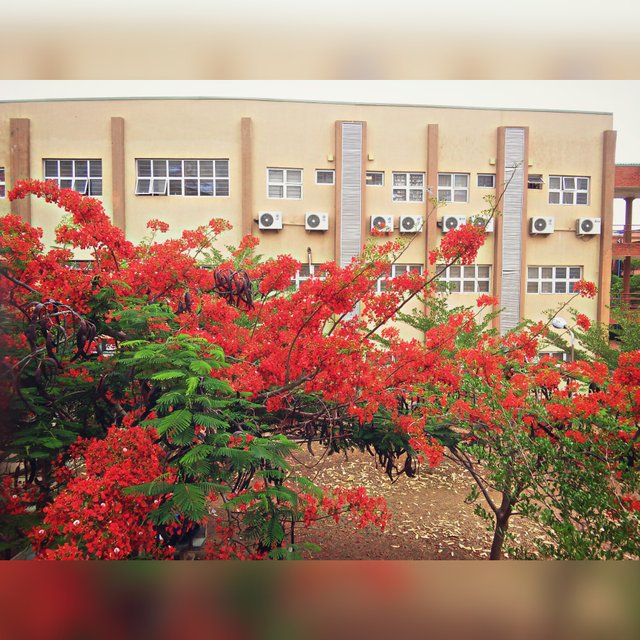 Ok the next shot was taken in a nicely green environment and just beside me is the convocation square. This is one of my favorite pictures because looking at the grasses and the line up of trees blended in green is just magnificent in every sense.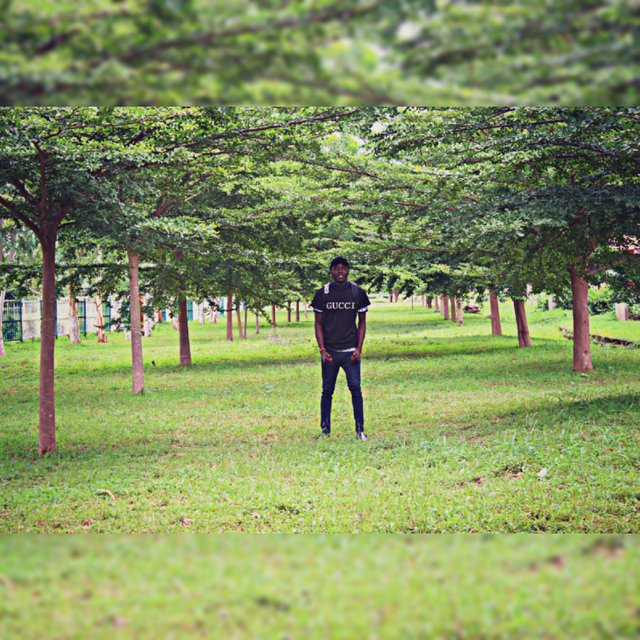 This shot was just precise and awesome, behind me is the engineering lecture theater, the largest lecture theater in my school, doesn't it look so pretty. This picture is amazing because of the angle in which it was shot from, from below as in the camera was lowered to ground level and focusing on me before taking the shot just brought out a lot of fantastic details.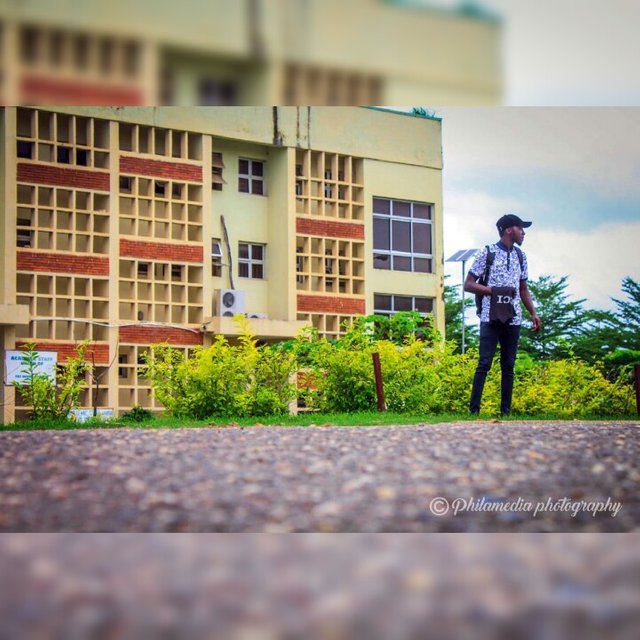 Ok next up, this particular shot was my idea. If you notice, I was walking away when the shot was taken. Now take a look at the background isn't it just flawless and you'll have to agree with that green is beautiful. Take a look at the trees and also the perfectly carpet grass also the building some distance away, all just blended right.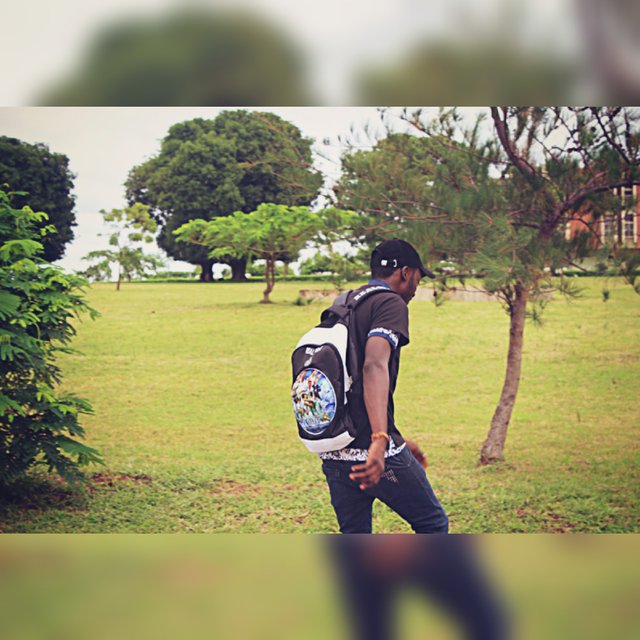 Beautiful shots so far, you'll have to agree with me. This next picture is just everything, ok this shot was taken from the second floor in my faculty. The idea was me turning my back to the camera and lookin around from the top of the second floor. Just look how beautiful the environment is, the structures, the vast array of land beautifully green with trees and grasses all looking immaculate and beautiful.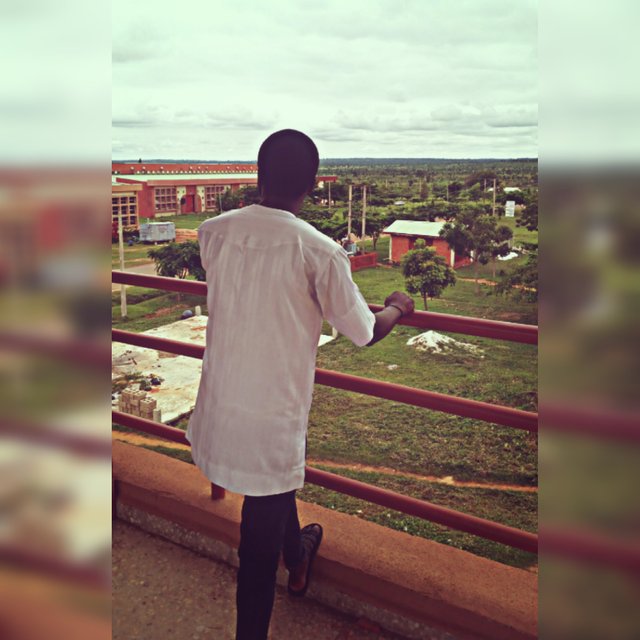 I just wanted to shear my shots with everyone on Steemit and I really hope You enjoyed my photoshoot gallery. I'll be shearing more on here soon enough. Thanks for going through my post, I'll appreciate it if You could drop a comment, thanks.