Dwarka, the place of Lord Krishna's place of worship, is situated on Jamnagar, Gujarat, on the west coast of India on the banks of the Arabian Sea. Dwarka is, however, especially known for the temple of Dwarkadhyad, but it is perhaps the fact that Dwarka is one of the seven oldest cities of India. In Dwarka considered to be the holy shrine of Hindus, Lord Vishnu slaughtered a monk named Shankhusur. This temple is also known as Jagat Mandir.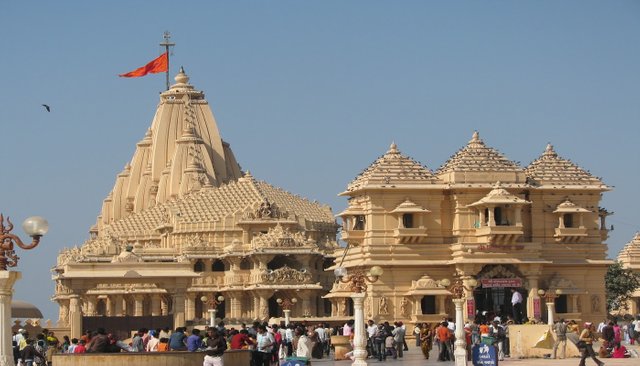 History of Dwarkadhish Temple
After the Lord Krishna killed Kishash, his father-in-law Jarasand had attacked Mathura 17 times. After which Lord Krishna left Mathura and made Dwarka his place of residence. The temple of Rukmani ji is just 3 km away from the temple. It is said about this temple that Rishi Durvas once visited Sri Krishna and Rukamani ji and expressed his desire to walk to his place of residence. Rukmini ji was thirsty on the way and asked for water from Shri Krishna. Due to lack of water, he opened a hole and brought the water of river Ganges to that place. With this Rishi Durvas got annoyed and he cursed Rukmani Ji to stay there. Therefore, this temple is outside Dwarka.

Temple texture
According to the archaeologist, the temple is about 2,200 years old. This 7-storey temple has 72 columns. A flag flows at the height of 84 feet in the temple, which is changed 5 times a day. The color of this flag, which is considered to be the symbol of the sun and the moon, is different every day. The height of the temple is 78.3 meters high. The temple is built by limestone, hence its beautiful still remains the same. There are two entrances in the temple. Heaven's door from where the devotees enter and the other is the Mokshdwar (Mukti Door) where they get out.