Blessings on a beautiful & magical day all of you magnificent humans (and any non-humans reading this). It is such an honor and a pleasure to be here now, officially announcing a vision that has been coming through for years, crystallizing & expanding, clarifying & aligning. A vision which now has a venue, dates, and a team to bring it into physical manifestation.
Today marks exactly one year until the doors open for...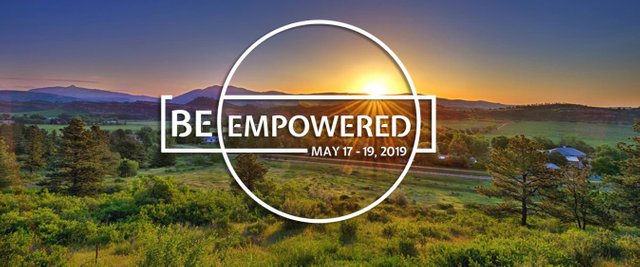 What is Be Empowered?
Be Empowered is a 3-day event, taking place May 17-19 of 2019, at the beautiful Sunrise Ranch Spiritual Retreat Center in Loveland, Colorado. Be Empowered is focused on a holistic, solutions-oriented approach to life, with respect for individual sovereignty and life. From philosophy to diet, from activism to the arts, from parenting to technology... how is the way we live supporting our own health & well-being, and that of the human race and Earth as a whole?
Each day will include sunrise & sunset yoga, a 90-minute Solsara activity to facilitate connection & presence, hours of presentations & panels, a sound healing session, and a full concert. Many of the performers & presenters will be people who are well known in the movement, while many others will be names that you probably haven't heard before, but who have powerful & important messages to share.
The first day of the event will be focused on the individual, changes we can all make within ourselves. The second day will be focused on our interpersonal lives, how we communicate, how we are present in relating with others (be they family, lovers, or neighbors). The third day will be focused on the broader spectrum, how we interact with the world at large, the systems that we operate under, and what our vision for the world of the future is.
What a ticket includes
A base ticket includes 9 meals (lunch & dinner Friday, 3 meals Saturday & Sunday, and breakfast Monday), access to all music, classes, talks, panels, and other 'Be Empowered' events, as well as being able to explore the land itself (the public spaces at least), and tokens to distribute the "profit" part of your ticket sale between the Choose-a-Cause options.
On food, from Sunrise Ranch's materials:
As part of our commitment to healthy living in mind, body and spirit, we insist on the highest quality nourishment for our guests and community members. Much of our food comes straight from our own farm and garden. Our produce is pesticide-free and GMO-free, and our pastured chickens and 100 percent grass-fed cattle always receive humane treatment. Other items come from local farms or are Certified Organic. We are sensitive to individual needs and provide satisfying options for gluten-free, vegan and dairy-free diets.
A base ticket does not include accommodations, but attendees have the option to camp on-site (extremely cheap), get on-site lodging (dorms, hotel-like rooms, suites, and full apartments, 105 capacity), as well as local hotel(s) we are working out a group deal with, and will be organizing shuttles to/from.

A not-for-profit, community supporting event
One of the key elements of Be Empowered is what we are currently calling the "Choose-A-Cause" program. At the event, there will be a lovingly curated selection of non-profit & community-based organizations/projects set up to share their work and goals with attendees. Each attendee will receive a handful of tokens, which they are free to distribute as they choose among those organizations. At the end of the weekend, those groups will turn in their collected tokens to the Be Empowered team, and this is how we will be distributing the event's "profits". So many events give back a portion of sales to a cause of some kind or another, but shouldn't the people providing that money get to choose where it goes?
Sponsored by the STEEM community
In order to help keep prices down and still take care of our presenters, performers, and staff, Be Empowered will be operating with the help of multiple sponsorships. The first of those is going to be listed on marketing materials as simply The STEEM Community, which means each and every one of you!
Over the next year, we will be posting 1-2 times per week, sharing all of the major updates for the event (tickets available, new sponsors, promotional materials, et al.), as well as an announcement & short biography of each of our presenters & performers.
We'll also be submitting a @smartcash proposal for sponsorship, as well as reaching out to Bitcoin.com and others, and each of our sponsorship packages will include tickets to be given away by the sponsor to the community. The same is true of Steemit, and over the course of this year we will be running contests to give away a handful of all-inclusive packages to aligned Steemians.

How to stay connected & up to date
The first folks to hear about everything will be those who sign up for our email updates. Those on the email list will have the first opportunity to buy tickets, before they are publicly available (and there is a hard maximum of 400 for the event).
After a short delay from the email blasts, all of our news & announcements will be released right here on Steemit, and from here we will share the Steemit articles with the more "mainstream" social media platforms.