How can I watch BBC iPlayer abroad without the annoying error message?
There are so many awesome TV series available on BBC iPlayer. This is one of the best TV networks in the world, and they produce fantastic crime series, some TV shows with crazy humor, and so much more. But, whenever you try to watch BBC iPlayer outside the UK, you will see this incredibly annoying error message that the content is unavailable at your current location. Is there anything you can do to fix this error?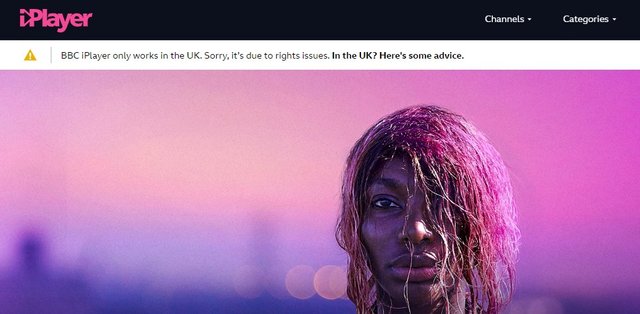 The great thing about BBC iPlayer is that it is completely free. You can watch all the TV series and live streams available without paying. That makes it way more attractive than HBO, Hulu, Netflix, and other streaming services. But, as you can see on the picture above, you will see an error telling you: "BBC iPlayer only works in the UK. Sorry, it's due to rights issues." As a result, you might have to give up on the mission to watch a program on BBC iPlayer after all... or, maybe not?
Can a VPN help you stream BBC iPlayer abroad?
Have you heard about VPN services? A VPN is an abbreviation for a Virtual Private Network. This is a service that encrypts whatever you do online. It is, first of all, meant to be a privacy measure that will secure your data and confidential information online. This is done by sending your data through a so-called VPN tunnel. Nobody can see the data sent through the tunnel as it is encrypted, and it can only be seen on the other side of the tunnel, that is, from the VPN sever you have just connected to.
That is why your IP address will change whenever you connect to a VPN server. But, can you watch BBC iPlayer without the error message by using a VPN?
VPN errors on BBC iPlayer
I have been watching programs on BBC iPlayer abroad for years, and I have a long experience when it comes to VPN services. The truth is, you can use some VPN services with BBC iPlayer, but it is easy to get fooled.
A little percentage of the VPN services available work with BBC iPlayer.
Even if you use a VPN working with BBC iPlayer, you might end up getting the error message seen on the picture above.
Doesn't that sound messy? What do I mean? If I purchase a VPN subscription, how come that BBC iPlayer still doesn't work?
Why is BBC iPlayer blocking VPN services?
BBC iPlayer doesn't want you to watch their shows outside the UK. As they write in the error message themselves, "it is due to rights issues." That is why they register and record all sorts of IP addresses used by VPN services, and then add them to a big blacklist. If you visit BBC iPlayer with such an IP address, you will still see the error message, or maybe see some other error instead.
But, then you have those VPN services that are supposed to be working with BBC. However, you still get the error message on BBC iPlayer. What is wrong?
Why do I see the error message when I am using a VPN that is supposed to be working with BBC iPlayer?
Once again, most VPN services are blocked by BBC iPlayer. But, there are a few VPN providers that still work with BBC iPlayer, and those are:
Click the links above to visit their websites. All providers have a 30-day full refund policy, and they have apps for all important platforms. SurfsharkVPN is the cheapest, PureVPN is a bit more expensive, while ExpressVPN is the most expensive solution of the three.
If you use one of those and connect to a server in the UK, but still see the error message, this is why.
BBC iPlayer stores cookies in your browser. As a result, they record information about your location before you actually connect using the VPN. So, even though you use the VPN, they have stored data about you being located somewhere else. The result is, therefore, that you will see the error message, also when connected using a VPN.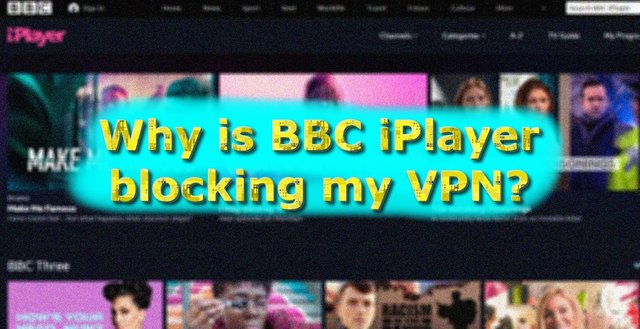 How can I get rid of the BBC iPlayer error message then and watch BBC abroad?
If you get the error message, even when using a VPN that is supposed to be working with BBC, what is the solution then?
The solution is to remain connected to a UK server with your selected VPN provider. But, when you have connected to the UK server, open your browser like you would normally do. However, this time click the options tag and open a "New Private Window", "New Incognito Window", or "New Privacy Window." The name might different between the different browsers, but you need to do that.
When you open your browser in this way, all cookies and information stored is removed. As a result, BBC iPlayer has no clue about your past or history, and thus, they believe that you are in the UK. You will have to log in with your BBC iPlayer credentials over again and accept cookies, simply because no cookies are stored when you open your browser this way.
*It is important to create a BBC iPlayer user registered with a ZIP code in the UK. It is free to register at the BBC iPlayer website. Examples of ZIP codes in the UK: N16 1EF, N16 1DZ
By now, you should be ready to watch BBC iPlayer worldwide. You will no longer see the annoying error message shown in the start of this article, but instead, you can stream all your favorite TV shows available at BBC iPlayer.
Are you ready to give it a try? Choose one of the mentioned VPN services to stream BBC abroad.
What should I watch on BBC iPlayer?
I guess we all have different taste, making it very hard to give you good and solid recommendations. Personally, I have some big favorites on BBC, so I will just share those with you. It doesn't mean that you will like them, and it might be that they will be removed by the time you visit the website, but currently, these are some great favorites of mine on BBC iPlayer.
Cuckoo (season 1)
The first season of Cuckoo was simply legendary. Adam Samberg, who later moved to Brooklyn to play Jack Peralta in Brooklyn Nine-Nine, was awesome in the first season of the show. Unfortunately, he left after the first season, and they never managed to keep the humor up in the second, third, fourth, and the fifth season. However, it is still worth a shot!
Killing Eve
This is a fantastic action series with some humor at the same time. Sandra Oh is playing the role of an agent out to catch a lethal assassin (also a girl). There is a strange relationship between the two of them, a mixture of honor, admiration, and a special tension. This is a show loved by millions, and absolutely worth streaming.

Bodyguard
A copper is out there stopping a big terrorist attack on a train. After this, he is set out to be the bodyguard of a very debated Prime Minister, and this takes much of him, not only professionally, but also personally. How far is he willing to go to protect the Prime Minister? And who are the people actually behind all the attacks and things happening in London? A fantastic action series on BBC iPlayer.
Line of Duty
Once again, a typical British Crime series dealing with an anti-corruption squad working in London. They see all sorts of strange cases, and they are not very popular as they always search for corrupt police officers and so on. This is a crime series with high pace, and it has been one of the most popular TV shows in the UK the last years.
His Dark Materials
His Dark Materials is an adventurous TV series based on the book named The Golden Compass. This series is based on the first book in the series, and we will for sure get more episodes in the future. So far, only the first season of His Dark Materials can be streamed on BBC iPlayer. We meet Lyra, a girl left in a college. This show describes a great gap between the religious leaders and the scholars of the country, and it will take you into a magical world with bears and much more.
Doctor Who
I guess this series needs no further introduction. Currently, you can stream 12 seasons of Doctor Who on BBC iPlayer in the UK. And of course, you can also stream them outside the UK if you follow the instructions given earlier in the article. The Time Lord (the Doctor) is able to travel through time in his special device, and this series has a cult status in the UK. It is also interesting to see that the Doctor is played by different actors each season. The most recent season featured Jodie Whittaker as Doctor Who, the first season ever in which the doctor was played by a woman.

Those were some recommendations for TV shows available on BBC iPlayer at the moment. I hope you have found these instructions to be useful and that you are ready to watch BBC iPlayer online in a few minutes, without the annoying error messages.
If you use an Android device, make sure to download the BBC Media Player from your local Google Play Store. You will most likely not be able to find the BBC iPlayer application in your local Google Play Store, and if that is so, simply download the application manually from apkpure.com. You will need to use a VPN also on your Android device.
If you use an iOS device (iPhone/iPad), create a brand new Apple Account in the UK. Make sure to register it with a ZIP code in the UK and address in the UK. Use this new Apple ID on your Apple device, visit the Apple Store, and download the BBC Media Player and the BBC iPlayer application. It is important to be connected to a VPN server in the UK throughout the process.

Do not forget, you can also use the mentioned VPV services to watch American Netflix, to watch the Irish TV show Normal People online, and so much more.
Are you good to go? Enjoy watching BBC iPlayer online outside the UK. Once again, if you have comments or questions, write them in the comment field below!