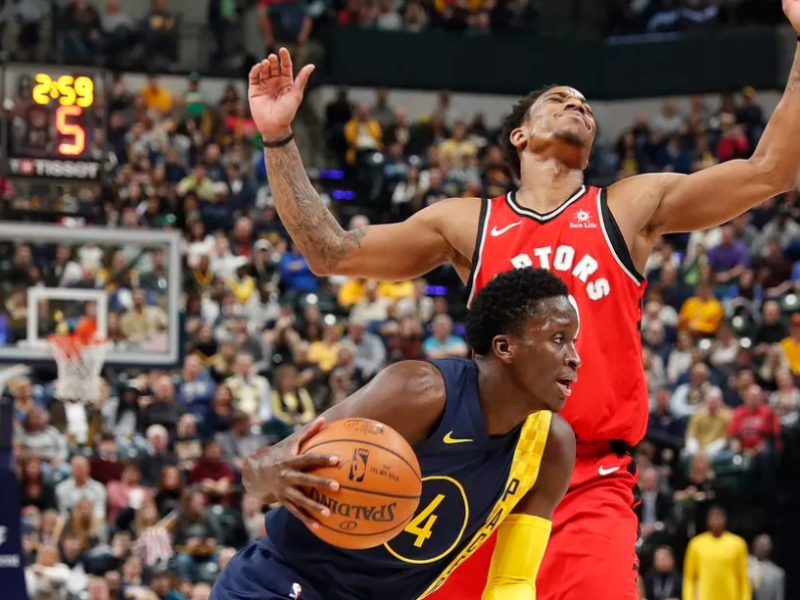 Toronto Raptors is very strong for the Indiana Pacers team. The Canadians won the 106-99 scoring. So the second place is still far away at the East Pacers Conference. De Rosa made a good showing with 24 points, while continuing positive momentum for Valanciunas, who closed with a double double with 16 points and 17 ribaunde. At the other team, the usual Olapido with 18 points scored, tried until the end to lead the team. Well Collison and Jefferson came up with 22 and 20 points. Raptors are always the first in the East.
For Cleveland Cavaliers came the next loss, this time against the Portland Trail Blazers with a score of 105-113. Not enough for the Cavs a super LeBron James, the author of a double double with 35 points and 14 ribaunde, despite that Korver scored 19 points and Green 16 points. McCollum led the Blazers in the 11th consecutive victory with 29 points, but Lillard did not stay behind with 24 points. Cleveland is fourth in the East, while Portland stands eighth in the West.
Houston continues to chair at the West Conference, thanks to Los Angeles Clippers success. It was not enough for Tobias Harris's 29 points and 20 for Rivers, as usual Harden made the difference (24 points). Capela and Paul scored 19 points, with 12 rebounds the first and 11 the second.
Chicago Bulls managed to win at Mephis against the Grizzlies with just 1 point more, 111-110. Meanwhile, San Antonio Spurs is returning to joy while they have won the second consecutive victory, this time against New Orleans Pelicans.
Results:
CLEVELAND CAVALIERS-PORTLAND TRAIL BLAZERS 105-113
TORONTO RAPTORS-INDIAN PACERS 106-99
CHARLOTTE HORNETS-ATLANTA HAWKS 129-117
PHILADELPHIA SIXERS-NEW YORK KNICKS 118-110
LOS ANGELES CLIPPERS-HOUSTON ROCKETS 96-101
CHICAGO BULLS-MEMPHIS GRIZZLIES 111-110
NEW ORLEANS PELICANS-SAN ANTONIO SPURS 93-98
DETROIT PISTONS-DENVER NUGGETS 113-120
PHOENIX SUNS-UTAH JAZZ 88-116