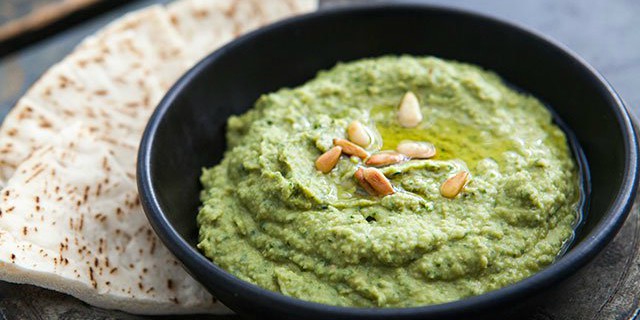 It would be a classic pesto, if not for the delicate chickpeas, the sweetness of tomato paste and the explosive taste of Tabasco.
Ingredients
100 g of chickpeas;
2 cups of green basil leaves;
¼ cup pine nuts;
3 cloves of garlic;
¼ cup olive oil;
¼ cup of lemon juice;
2 teaspoons of salt;
2-3 drops of Tabasco;
1 teaspoon of tomato paste.
Preparation
Soak the chickpeas for 6-8 hours. Drain the water and fill the new one so that it covers the pea of ​​2 centimeters. Cook over low heat until the chick peas are soft. The structure should be preserved.
Rinse the basil, peel the garlic and chop them together with chickpeas and nuts in a blender. Add lemon juice and olive oil mixed together. Blend again blender to a homogeneous consistency.
Enter tomato paste and salt, mix. Add a couple drops of Tabasco and mix again.