Steem Basic Income - Visualizing Upvotes from our Members 14 February
Steem Basic Income
Steem Basic Income is a social experiment to bring a basic income to as many Steemians as possible. Members join by sponsoring others into the program. Steem Basic Income is delivered through providing regular upvotes to member content.
Some of our members have started using the #steembasicincome tag for their contests, so check there for contests that we might not have resteemed!
Support from Members
Thank you all for your support! The upvotes that we receive from our members are an essential component to keep delivering a sustainable basic income!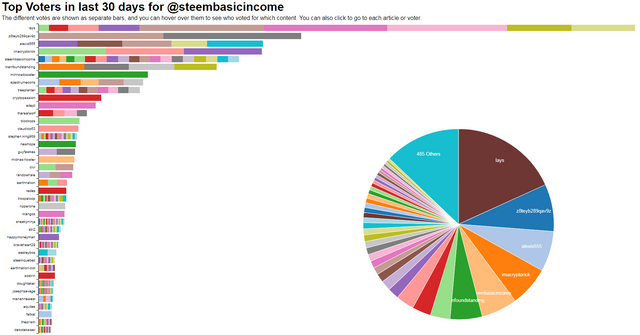 img source: http://www.steemreports.com/top-voters/@steembasicincome
All members that upvote consistently are rewarded with a bonus increase in their voting weight. To get the best benefit, we recommend using @steemvoter or something similar, so as not to not miss any update posts.
We're on Discord
@earthnation graciously invited us to create a channel within their server that we can invite our members into. Come in, introduce yourself, talk about what basic income means to you, ask for help, get to know each other. Please be respectful of @earthnation's guidelines for their other channels.

https://discord.gg/fpSnkFM
Steem Basic Income Enrollment
If you want to join Steem Basic Income... Send 1 STEEM to @steembasicincome. Include in the comments the name of a Steemian that you would like to sponsor. You and the person you sponsor will each receive 1 share in the program and receive regular Upvotes on your posts.
Questions?
We broke down the mechanics for how the program works in the complete overview. If you have any questions, ask away in the comments section!