The question of a child allowance (aka child basic income)
Here's the deal. I advocate a universal basic income of around $1,000 per adult and $350 per kid per month. That's my suggestion as a starting point, and I think the smaller additional basic income for kids is extremely important. You may think it's a bad idea or unfair. Well...
If you view a partial basic income of $350/mo per kid as a bonus for some adults, not others, and nothing for kids, you might view it as unfair.
If you view a partial basic income of $350/mo for kids as being for the kids themselves, while all adults earn $1,000, you might view it as entirely fair.
It really depends on how we look at it. I first want to make sure we understand each of these perspectives and how both can think of each other as being fair, and the other unfair, so when we debate about this in the years ahead, we can better understand each other.
Perspective A: (Fair)
Adult without child: $1,000
Adult with child: $1,000
Child: $350
Perspective B: (Fair)
Adult with child: $1,350
Adult without child: $1,350
Child: $0
Perspective A's view of B: (Unfair)
Adult with child: $1,000
Adult without child: $1,350
Child: $350
Perspective B's view of A: (Unfair)
Adult with child: $1,350
Adult without child: $1,000
Child: $0
It is hopefully apparent that both A and B both look fair, and each view's of the other doesn't.
So where's the key difference? What's the belief at the center of each perspective?
The difference I think is how one looks primarily at kids as being either a human being or a choice.
What do I mean?
Well first, let's understand that parents require more resources because kids consume more resources. They too eat. They drink water. They use electricity. They require an amount above and beyond the adult's requirement, because without it, the adult and the child both would be impoverished.
If we accept that as fair, and then give more to childless adults too, the cost of UBI jumps and it no longer eliminates poverty for larger households. So it costs more and doesn't work as well. Then, if those childless adults become parents, they lose access to resources and become worse off, which again can result in those households living in poverty, which is exactly what we don't want.
If you personally feel people should be effectively punished for having kids or rewarded for not having them, it's likely you see it as a personal choice and one to be paid for personally. It's a fair point, but to me that perspective almost views kids as pets or even objects instead of people. Like it's their own fault for adopting a dog, because dogs cost money and basic income is not meant for dog food. And I totally agree with this. Basic incomes should not be increased for pet ownership.
But kids aren't dogs.
Kids are fellow human beings who require food. And for the same reason adults should have their basic needs covered, children should too, because they too are human beings who also require their own resources to live.
I just don't think it's the same thing to say that because someone went out and got themselves a kid like they could have a pet, that their access to resources should not be sufficiently increased because it was their choice.
For one, oftentimes, there's no choice involved at all. Plenty of people get pregnant without choosing to do so. But more importantly, once a kid is born, that kid needs food, and because the parent also needs food, that parent needs more food to supply to the child who can't really supply it themselves.
Giving nothing to kids, or more to those without kids in an attempt to be more fair, does nothing for those who then have kids. They're worse off, and so are the kids. And then so are the rest of us.
The main point to understand here is that kids cost money... lots of money.
It will cost an estimated $241,080 for a middle-income couple to raise a child born last year for 18 years, according to a U.S. Department of Agriculture report released Wednesday. That's up almost 3% from 2011 and doesn't even include the cost of college.
The biggest price tag is for families in the urban Northeast earning $105,360 or more. They will spend $446,100, much more than the national average, according to the report. Meanwhile, families earning less than $61,590 a year in rural areas will spend the least, at $143,160.
This means that even families spending the least, are spending $8,000 per year per kid. Since a partial basic income for kids of almost $4,000 would be about half this, that means such an amount would in no way make kids suddenly profitable to have. Kids would still involve a net loss of income. We would just be eliminating child poverty.
In addition we know that poorer families prioritize their spending more on their kids than more affluent families, so concerns that the money will be wasted are unsupported.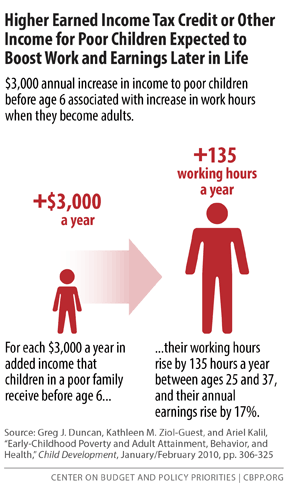 We already know from programs like the Earned Income Tax Credit (EITC) that for every $3,000 in cash provided to kids increases their earnings as adults by 17%. That's a smart investment. Other observed effects of child tax credits include: improved infant health, better school performance, higher college enrollment rates, and lower rates of poverty as seniors.
Canada has estimated that for every one dollar they spend on kids in the form of cash to raise their parents' incomes, they save three to nine dollars on those same kids as adults. That's money no longer spent on trials and prisons. That's money no longer spent on Medicaid/Medicare and higher private health insurance premiums.
Why would we not make this kind of investment in the future of our country when it so clearly pays off?
We also know from cash transfer programs all over the world, that giving money to parents for each kid, does not actually result in the fears of welfare queen baby factories that an unfortunate percentage of people hold.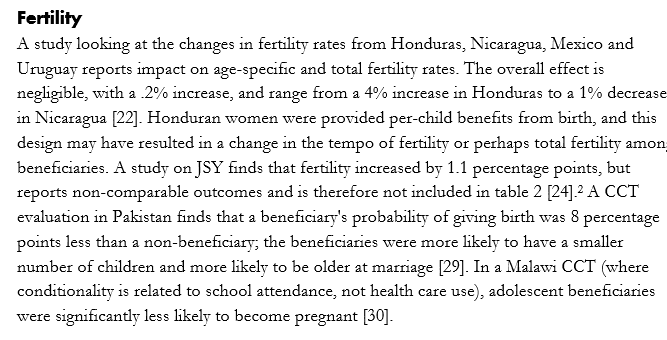 Source: Center for Global Development
If we are to accept this evidence, would we in any way wish 99.8% of our fellow citizens to suffer by not providing an additional partial basic income for kids so that 0.2% of our fellow citizens don't have an extra kid? Is that where our priorities should lie?
But that's not even where the evidence trail ends. According to the WHO, there's also evidence basic income could reduce long-term fertility rates.
So here we are worried about an explosion of kids, and not only does the evidence contradict this, it also supports the possibility of fewer kids over time, and especially reduced teenage pregnancy.
In fact, the existing system creates a greater incentive to have kids than a basic income system would, because right now the only way to really get any assistance is to have a kid. Think of it this way. Right now you get nothing unless you have a kid, then you get $16,000. Under basic income, you'd get $12,000 no matter what, and then an additional $4,000 for a kid. That's a reduced incentive because adults without kids no longer get nothing.
Finally, the idea of not providing an additional amount for kids such that parents are effectively punished for having them and childless adults are effectively rewarded, is something that would be extremely less likely to pass as policy. Why?
Because again, look at all of our current policies and our rhetoric. It's all about families. There's just no seemingly conceivable way a basic income guarantee is going to be passed into law that steps on families in favor of single adults and childless couples. That would only be possible if suddenly everyone started demonizing "hard-working families", and we all started elevating the idea of "virtuous singles" and "childless champions" or something. How likely is that?
And also, is it something we even want? Because apparently having a kid greatly decreases climate change denialism. It's almost as if raising little humans leads to caring more about the kind of world that will be handed over to them as adults.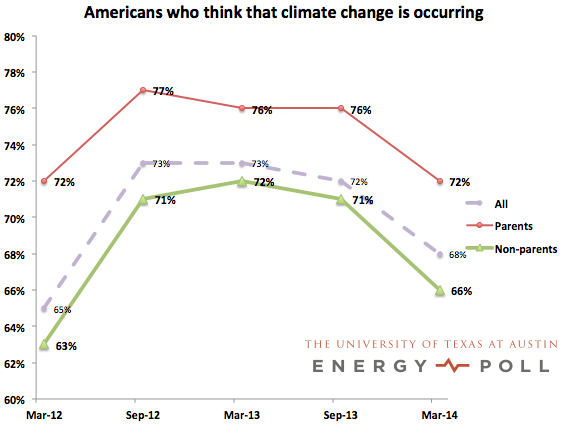 Source: Having Kids Probably Won't Destroy the Planet
But in the end, the simple fact of the matter is that making basic income fully universal so that even kids get it, is what's required to start every household above the poverty line each month. And if you're worried about everyone suddenly having kids for cash, the scientific evidence does not point in that direction.
---
Interested in doing more to grow the basic income movement than you can through social media alone? Filling out this survey from the Universal Income Project would be helpful. You can also sign the Economic Security Project's belief statement, join the Basic Income Slack channel, Basic Income Action, and the U.S. Basic Income Guarantee Network.
---

---
---
---
---
---
---
Interested in reading an entire book about basic income? Here's a BIG list of what's available out there.
---