Can universal basic income funded by taxes be considered stealing from those who earned their money?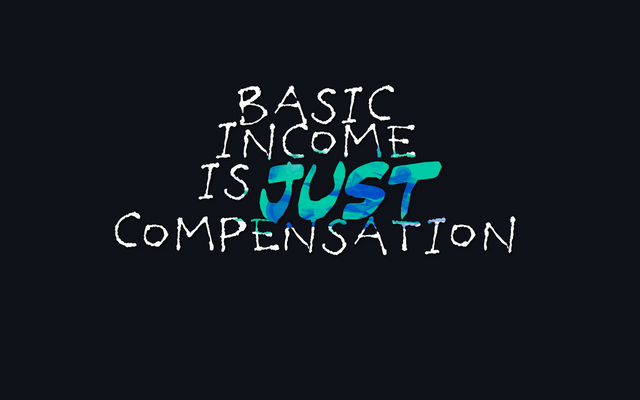 This kind of question is built on the assumption that all money earned is earned fairly and justly, and that all money taxed is both unfair and unjust.
Here's the thing though, that idea of private property we take for granted as the foundation of just about everything? Perhaps we shouldn't take it for granted.
What do I mean by that? Well, I'm not suggesting the idea that private property shouldn't exist or that it shouldn't be enforced. I am suggesting that by enforcing it as we do, we create a situation that wouldn't exist naturally, and therefore perhaps ethically requires that we compensate for our creation and enforcement of it in some way.
Think of it this way. 3... 2... 1... I now own everything.
This is fair, because I called dibs, just like our ancestors did long ago. Because I now control access to all resources on Earth, you are no longer allowed to live on it without my permission. Oh sure, if I didn't own everything, you could just pick an apple off a tree, or plant some vegetables, or hunt some deer, or even eat food out of trash cans, but too bad. I own everything. It is all my property.
You are not allowed to live without my permission.
In order to live, you will need to prove your worth to me. Don't worry, as long as you pull your weight (according to my judgment), I will give you enough access to my resources to survive.
What's that? It's not fair that I own everything? But I called dibs. That's totally fair.
What's that? I didn't create the planet so why should I own it? I should only own the added improvements I make using the natural resources no one made?
Hmmm, actually, that's a good point. I suppose we should adjust our rules to acknowledge that shouldn't we?
If you build a chair out of a tree, until that moment in time that tree was available to everyone else. People could sit under it, or eat fruit from it. It cleaned the air by taking in carbon dioxide and putting out oxygen. It would have continued to grow and maybe in another decade it could have been more than a chair. Or maybe someone else could have used it along with other trees to build a house?
Wow, come to think of it, that tree had a lot of potential uses by a lot of potential people, all born on the same planet, none of whom made the tree. And yet, you felt that tree was yours when it wasn't. It was really all of ours or even none of ours. So what's that called when you take something that doesn't belong to you?
Oh right... stealing.
But shoot, I want a nice chair, and I want people to be able to make nice chairs. Don't you? The ability to add value to something by transforming it is a good idea. So how do we get around this moral quandary?
Well, we could compensate everyone else who lost access to the tree when you turned it into a chair, by slightly increasing their access to all remaining resources. That sounds fair doesn't it?
But shoot, how do we do that? Hmmm, maybe we could tax the chair, and acknowledge this tax not as theft, but as compensation for the theft from all of us that we allowed to occur in order for the tree to become a chair, and then split that tax revenue among everyone equally?
Or maybe instead of taxation after the fact, we could charge a fee up front for the tree instead of letting anyone just take it for free, and then we could share that fee among everyone? I hear that's actually exactly what they do in Alaska with the oil there, and why everyone in Alaska has received on average about $1,000 per year since 1982 for nothing but being a resident of Alaska.
Either way, great idea!
Let's call it universal basic income.
---
This post was inspired by the book, "Independence, Propertylessness, and Basic Income: A Theory of Freedom as the Power to Say No" by Karl Widerquist.
For those familiar with the "Lockean Proviso", this argument for basic income may also sound familiar. For those not familiar with John Locke, his proviso states that property cannot be appropriated unless there is enough left in common for others.
---
---
---
---
---
---
Interested in reading an entire book about basic income? Here's a BIG list of what's available out there.
---