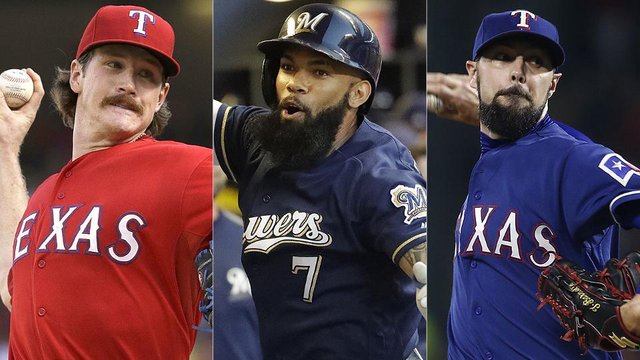 Spring training is one of my favorite times of the sports year. North America's baseball teams gather in sunny climates for a few weeks. They train, play practice games, and get back into shape for the long season that approaches. For fans, it is a time of unlimited potential. Even the worst team is undefeated until the season begins in earnest. In any given year, anything seems possible.
Regardless of how busy I am during the month of March, I allot some time to watch a few Spring Training games. The games don't count, and half the players are minor leaguers I've never heard of before, but I cannot pass up the chance to see baseball again and to watch some of the prospects. These practice games also provide an early look at each team and serve as a flawed predictor of how they are shaping up for the upcoming regular season.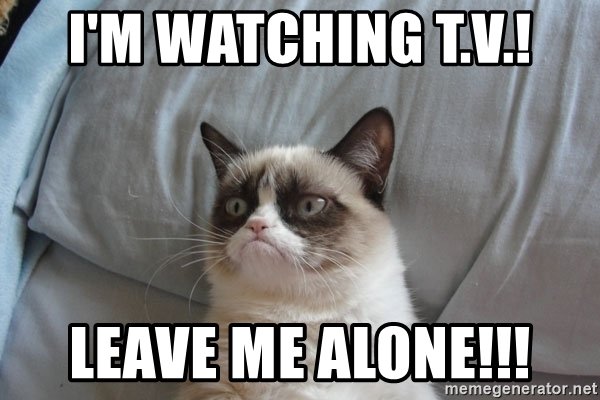 So I happily settled down for a few hours last week to watch a game. The starting pitcher for the team in red and white had come from Japan, where he excelled in recent years with an impressive win-loss record and earned run average (ERA). The team in red and white took a chance on him, signing him to a multi-year contract on the heels of his performance in Japan. While questions remain about how well he will do against Major League Baseball (MLB) competition, he could settle in and have a great year.
By now, any baseball fan who reads this will believe I am discussing Shohei Ohtani. I wrote about the Japanese two-way phenom some months ago, just before he signed to play in the U.S. with the team formerly known as the Anaheim Angels. Their uniforms are red and white. And they signed him to a multi-year contract to bring his skills from Japan to the United States.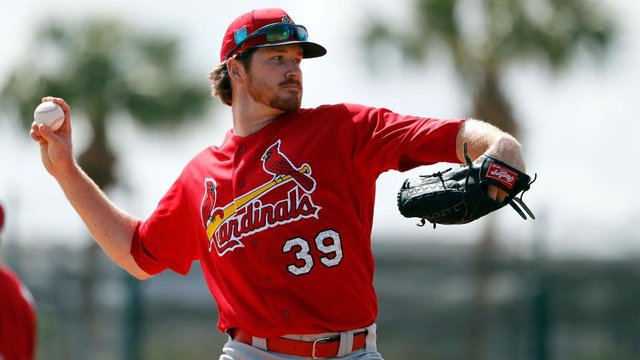 Source: MLB.com
Who is Miles Mikolas?
But no, I was not discussing Shohei Ohtani. I actually have not watched him play yet. The game I watched was between the St. Louis Cardinals (another red and white team) and the Atlanta Braves. And the Cards' starting pitcher was someone I had not watched before; his name was Miles Mikolas and he recently signed on a multi-year contract after playing in Japan. Though I wasn't too familiar with Mikolas, I came away from that game extremely impressed with his pitching (though many of the hitters he faced in this Spring Training game were not true major leaguers).
A few years ago, Miles Mikolas began his career in the U.S. with the San Diego Padres and Texas Rangers, washing out with a high ERA. Pitching wise, he had good stuff: a live, four-seam fastball and a number of breaking pitches, including a wide curveball. The problem was that he left the ball out over the plate too often and hitters were crushing it.
With the prospects for his professional career dimming, Mikolas decided to jump over to Japan, where he could make some money and get regular playing time. He signed with the Yomiuri Giants of Tokyo. And in his debut season in Japan, Mikolas pitched to an impressive record of 13-3 (wins-losses). He stayed in Japan for three years, during which he posted a very low ERA of 2.18.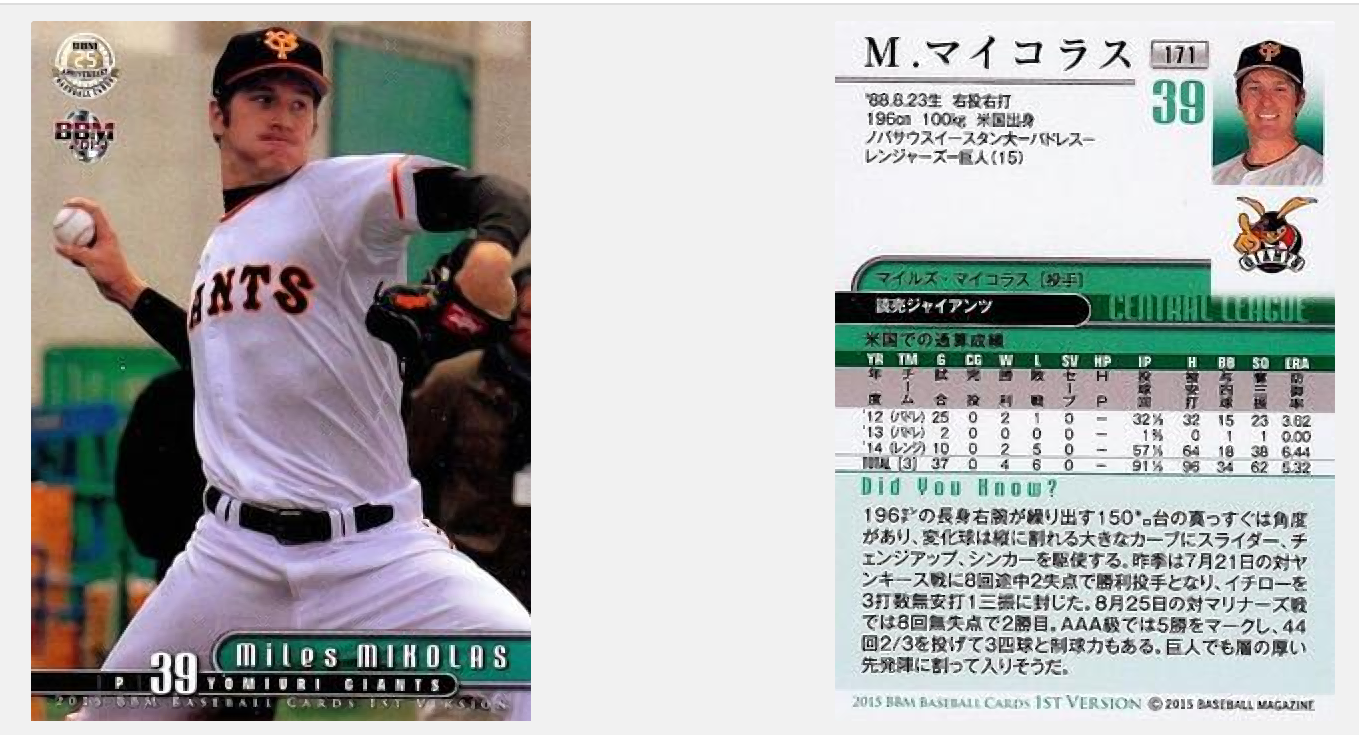 A Mikolas baseball card from Japan.
His performance in Japan turned enough heads. While the Nippon Professional Baseball League (NPB) is widely considered to be of slightly less competitive quality than Major League Baseball (MLB) in the U.S. and Canada, Japan has plenty of good hitting. A 2.18 ERA is not cheap and it will earn some well-deserved attention. Beyond the numbers, scouts noticed that Mikolas had refined his pitching repertoire and was locating his breaking pitches well – something he had not been able to do consistently before.
Last winter, the St. Louis Cardinals had seen enough to offer Miles Mikolas $15.5 million over two years to return to the major leagues. In the game that I watched, he completely fooled the opposing team (though this was only Spring Training and they had a number of minor leaguers in the lineup). I saw his fastball top out around 95-96 miles per hour, his breaking pitches painting the corners of the plate, and his off-speed pitch coming in as low as 78 mph.
That is a steep variation in velocity (which can fool hitters) and he has Mike Maddux as his pitching coach. During his last three Spring Training starts, Mikolas was close to lights-out and he deservedly earned a spot in the Cardinals' starting rotation. If this pitcher can keep the ball down and off the center of the plate, he could be one of the season's biggest surprises. But then again, this was Spring Training, and we never know how success will translate until the regular season games arrive.
How Did He Turn Things Around?
So how did Miles Mikolas turn his career around? How did a 29-year old journeyman pitcher end up on the cusp of an impressive career resurgence after basically failing in the Major Leagues a few short years ago? Like a few others, he went to a foreign professional league, made some adjustments to his pitching, probably had some very good coaching there, put in some solid innings, and came away with a much better understanding of how to get guys out.
Maybe it helped that he spent three years in Japan rather than just one. He developed into a better pitcher during that time. And it probably did not hurt that his wife was the real celebrity while he was pitching in Japan. She became an entertainer and social media sensation while they lived in Tokyo, more famous than her husband. So staying abroad for three years may not have been as difficult for them as it would be for some others.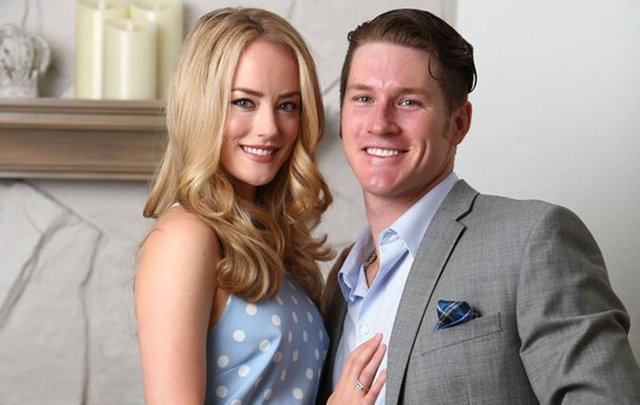 Miles and Lauren Mikolas. Source: Palm Beach Post.

Lauren Mikolas in Japan. Source: SoraNews24.
Miles Mikolas is not the first American player to turn his career around in a foreign league. MLB scouts keep an eye on the talent level in foreign leagues and once in a while, they notice a former U.S. player who has (re-)discovered the fountain of youth. Blame it on Julio Franco, who may have been the first great "reclamation project" from the Japanese, Korean, and Mexican baseball leagues.
The Ageless Julio Franco Showed Them How It Was Done
Julio Franco was an ageless anomaly who played professional baseball for more than three decades. In 1978, the Dominican player was signed by the Philadelphia Phillies and began playing in their minor league system, and his last year in MLB was 2007. He reached the major leagues in 1982, which began a storied career. With the Cleveland Indians and Texas Rangers, Franco was a three-time All Star and five-time Silver Slugger. In 1991, he was the American League batting champion. He was still playing at a high level in 1994 when there was a labor strike that cancelled the MLB season; Franco signed to play in Japan for a year and then returned to the U.S. with the Cleveland Indians.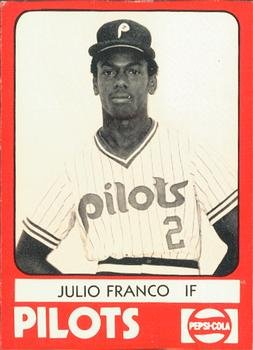 Julio Franco, minor league baseball card from 1980.
In 1997, Franco's career appeared to be spiraling downwards. His batting average had dropped by more than 50 points. He was not hitting well and his team released him. When Franco left to sign with Japan's Chiba Lions, most American baseball fans believed that would be the end of his MLB career. That was the pattern then: when a player could not handle the MLB anymore, he might look to play for a year or two in another country and earn a little more money there before retiring; most observers assumed that was Franco's plan also.
In 1998, he was in Japan. In 1999, Franco was playing in the Mexican League. On the strength of his impressive .423 average there, a U.S. team brought him in for a short time, but he only had one at bat, striking out for the Tampa Bay Rays. In 2000, Franco went to Korea to play for the Samsung Lions. And in 2001, he re-joined the Mexican League with the Angelopolis Tigers.
In 2001, the Atlanta Braves needed some hitting help and were desperate enough to take a gamble on a 43-year-old former major leaguer. Even at age 43, he was still playing good defense and in Japan, Korea, and Mexico, he was getting hits against left handed pitching. In 25 games for Atlanta that year, Franco hit .300 and he was re-signed to play for the next year. And again. And again.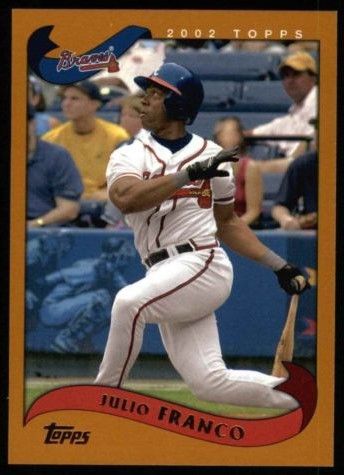 Julio Franco, baseball card from 2002.
Franco played for Atlanta from 2001-2005, after which the New York Mets offered him a 2-year contract at age 47. From 2004-2007, he became the oldest active player in major leagues. He went on to set additional geezer records, including the oldest player to hit a home run and to hit a grand slam. Even after his MLB career was over, into his 50s, he continued playing in Mexico and for independent professional league teams in the U.S. and Japan.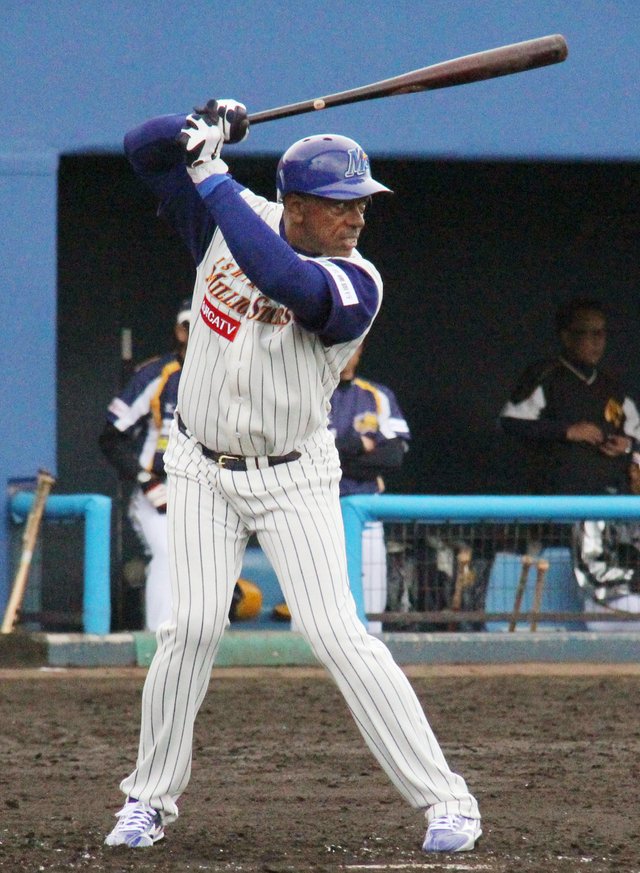 Julio Franco, still playing in an independent league in Japan at age 57. Source: Japan Times.
This short video goes through some of the stages in Franco's career.
Julio Franco was truly ageless. And as a former All Star and batting champion, he was not exactly an unknown player to U.S. teams, even when he was playing in Japan, Korea, or Mexico. But since Julio Franco's resurgence in the second part of his career, MLB teams seem to have paid more attention to gringos who end up in foreign leagues. They might just make some adjustment in their throwing or hitting and gain the confidence needed to succeed where they were failing before.
The Thames Miracle
If you need one more example of a resurgent success story, consider Eric Thames. Early in his career, he bounced around, going between the Toronto Blue Jays, Seattle Mariners, Baltimore Orioles, and Houston Astros, mostly in their minor league systems and mostly not impressing anyone with his hitting. However, a Korean team noticed him playing in the Venezuelan Winter League and they thought he might be a fit for them; Thames signed with the NC Dinos to play in Korea for the 2014 season.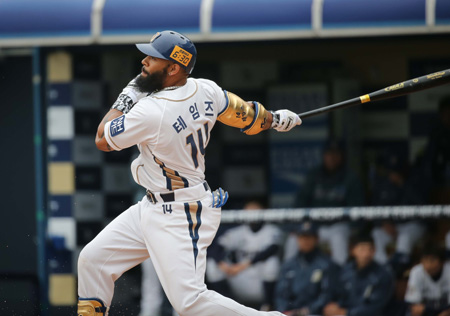 Eric Thames in Korea. Source: Korea Times.
In Korea, Thames exceeded everyone's expectations by hitting .343 with 37 home runs that year. The next year, he hit 47 home runs with 40 stolen bases, the first person ever to have a 40-40 year in the Korean league, en route to becoming the league's Most Valuable Player (MVP). He did almost as well the next year, after which he scored a three-year MLB contract with the Milwaukee Brewers, who paid him $16 million. And in his first year back in the U.S., Thames proved that his time in Korea was no fluke, banging out 31 home runs against MLB pitchers.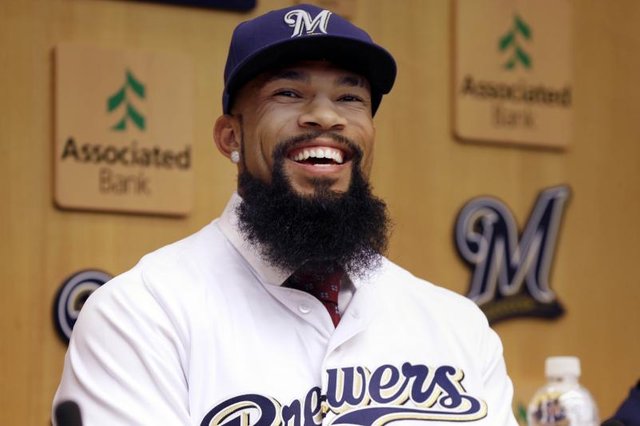 A new contract and 16 million reasons to smile. Source: Milwaukee Journal-Sentinel.
Aside from underdog teams winning championships, there's no better story in sports than the washed-up athlete who finds a way to rise again to new heights. And sometimes, playing in a foreign league gives them a chance to make adjustments and discover something new that leads to a career resurgence back home. Somewhere, some place, Kevin Costner must be itching to star in a new movie.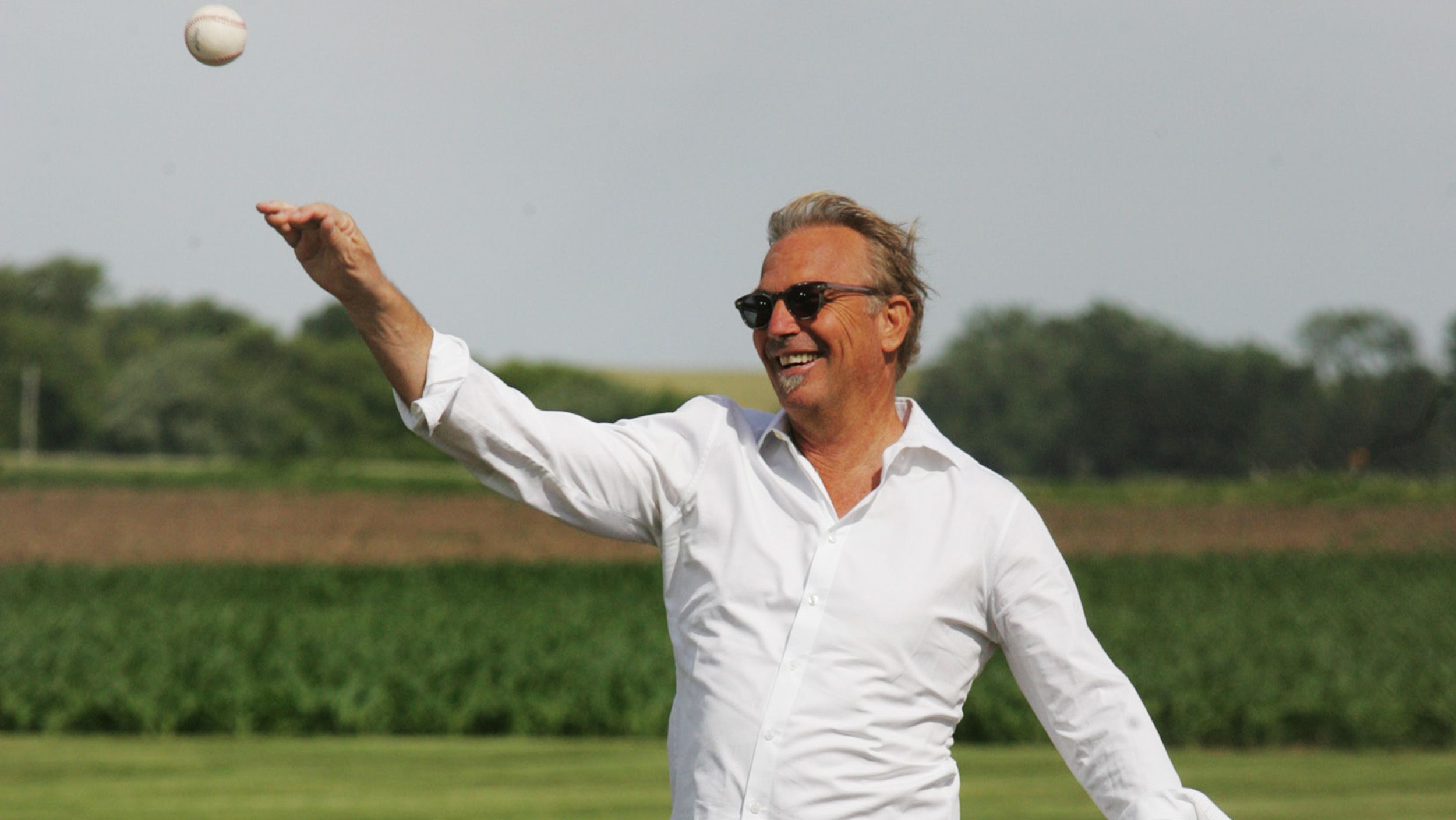 Costner at the Field of Dreams anniversary. Source: NBCnews.com.
References
https://www.japantimes.co.jp/sports/2017/12/06/baseball/japanese-baseball/former-yomiuri-pitcher-miles-mikolas-signs-mlbs-cardinals/#.Wrk6N5ch2Uk
https://soranews24.com/2015/06/17/u-s-baseball-player-joins-tokyos-yomiuri-giants-but-its-his-wife-thats-getting-the-attention/
https://en.wikipedia.org/wiki/Julio_Franco
https://www.baseball-reference.com/players/f/francju01.shtml
http://abcnews.go.com/Sports/57-julio-franco-quit-playing-baseball/story?id=33771294
https://www.mlb.com/news/mikolas-thames-revive-mlb-careers-in-asia/c-264294704
https://en.wikipedia.org/wiki/Eric_Thames
https://www.baseball-reference.com/players/t/thameer01.shtml
Top image shows Mikolas, Thames, and Tony Barnette, who also revived his career overseas. Source: MLB.com.