Barcelona are getting ready for one more star. After Ansu Fati has a meteoric rise and at age 16 is already important in the first team, another youngster can gain space in the Catalan club: Ilaix Moriba.
At 16, the young man stands out for his physical strength in the midfield of the Blaugranas. Acting in the club's base category, he also draws attention by the way he carries and controls the ball. According to the newspaper El Confidencial, many already compare it with Paul Pogba, Manchester United's midfielder.
This season, in the classic against Real Madrid, scored three times. The young man's achievements are already exalted, which imagine Moriba in the professional.
Harassment even came from other teams. When Manchester City were preparing to make a proposal to the player, Barcelona decided to act and renew the contract.
"Big People" Contract
It is not very common for a 16 year old to have the values ​​of Ilaix Moriba. In the renovation agreed in 2019, the clause to remove it from Barça reaches 100 million euros (R $ 450 million). The even more incredible salary: 500 thousand euros per year (about R $ 187 thousand per month).
Its agent is Jonathan Barnett, the same as Gareth Bale of Real Madrid. He received more than 2 million euros (over $ 9 million) in the operation.
Pivot Until Idol Resignation
Victor Valdés was fired from his job as Barcelona's junior coach this weekend. After several disagreements with Patrick Kluivert, director of the base, the former goalkeeper was dismissed.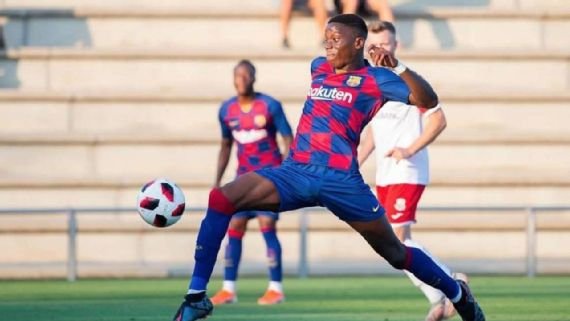 One of the big reasons for this choice was the low use of Moriba and also not playing in the 4-3-3 formation of the entire club base. In addition, the withdrawal of the Otten Cup team, as they found it dangerous for injury, the request to play more often at Johan Cruyff stadium, were other factors that helped Valdés's resignation.
Using Moriba as the possible star could be one of the goals for the new coach. Kluivert has already made that clear.
Moriba, like Ansu Fati, catches the eye. After a long time, 'La Masía' begins to bear new fruit for Barcelona.