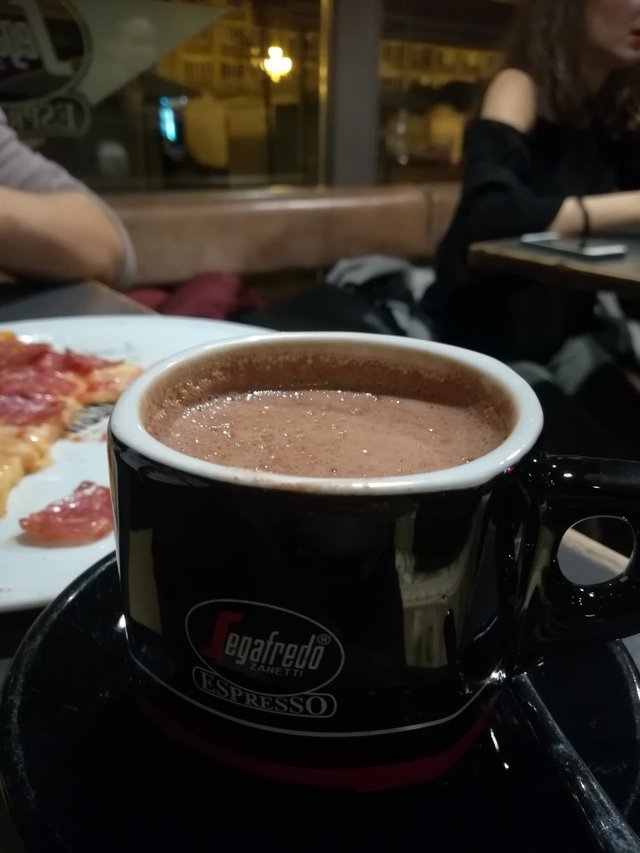 This photo is taken in Massimo caffe in Timisoara, Romania. Hot chocolate and fresh pizza are the best combination in this cold days.
Would you like the recipe for this rich and creamy cup of hot chocolate?
There it is:
Heat up the milk in a saucepan ( optional: add a smidge of sugar and vanilla extract)
Bring it to a scalding temperature, which is about 180 ° C. (be careful to not let the milk come to a boil)
When the milk is properly hot just add melted chocolate straight into the milk, stirring all the time
And that's it! You can also add marshmallows or whipped cream.
Serbian translation:
Ova fotka je nastala u caffe Massimo u Temisvaru, Rumunija. Topla cokolada i sveza pizza su najbolja kombinacija u ovim hladnim danima.
Da li zelite recept za ovu preukusnu toplu cokoladu?
Iii evo ga:
Zagrejite mleko u jednu serpicu (mozete dodati i malo secera ili vanillu)
Mleko treba da dostigne do 180 ° C (ne sme da dodje do kljucanja)
Dok je mleko vrelo postepeno dodajte rastopljenu cokoladu, stalno mesajuci.
I to je to! Mozete dodati i marshmallows po zelji ili malo slaga.
Spanish translation:
Esta foto fue tomada en Massimo Cafe en Timisoara, Rumania. El chocolate caliente y la pizza fresca son la mejor combinación en estos días fríos.
¿Quieres una receta para este chocolate caliente?
Aquí está:
Calentar la leche en una cacerola (opcional: agregar una pizca de azúcar y extracto de vainilla)
Llévelo a una temperatura de escalada, que es aproximadamente 180 ° C (tenga cuidado de no dejar que la leche hierva)
Cuando la leche esté bien caliente, simplemente agregue el chocolate derretido directamente a la leche, revolviendo todo el tiempo.
Y eso es todo! También puede agregar malvaviscos o crema batida.
Romanian translation:
Aceasta poza este facuta in caffe Massimo in orasul Timisoara, Romania. Ciocolata calda si pizza este cea mai buna combinatie in zilele astea friguroase.
Doriti receta pentru aceasta ciocolata calda si delicioasa?
Siii iata-l:
încălziți laptele într-o cratiță (opțional: adăugați puțin zahăr sau extract de vanilie)
Laptele ar trebui sa ajunga aproximativ la 180 ° C (aveți grijă să nu lăsați laptele să fiarbă)
Când laptele este fierbinte, adăugați ciocolată topită direct în lapte, amestecând tot timpul
Si asta e tot! Puteți adăuga, de asemenea, marshmallows sau frisca.
German translation:
Dieses Foto ist eingelassenes Massimo Caffe in Timisoara, Rumänien. Heiße Schokolade und frische Pizza sind die beste Kombination in diesen kalten Tagen.
Möchten Sie das Rezept für diese reichhaltige und cremige Tasse heiße Schokolade?
Da ist es:
Erhitzen Sie die Milch in einem Topf (optional: Fügen Sie einen Hauch Zucker und Vanilleextrakt hinzu).
Brühen Sie es auf eine Brühtemperatur von ca. 180 ° C (achten Sie darauf, dass die Milch nicht zum Kochen kommt)
Wenn die Milch richtig heiß ist, einfach geschmolzene Schokolade direkt unter die Milch geben und dabei ständig umrühren
Und das ist es! Sie können auch Marshmallows oder Schlagsahne hinzufügen.
Swedish translation:
Detta foto är taget i Massimo caffe i Timisoara, Rumänien. Varm choklad och färsk pizza är den bästa kombinationen i dessa kalla dagar.
Vill du ha receptet på denna rika och krämiga kopp varm choklad?
Där är det:
Värm upp mjölken i en kastrull (tillval: lägg till en smidge av socker och vanilj extrakt)
Ta det till en vattentemperatur som är ca 180 C. (var försiktig så att inte mjölken koka)
När mjölken är ordentligt hett, tillsätt smält choklad direkt i mjölken och rör om hela tiden
Och det är allt! Du kan också lägga till marshmallows eller vispgrädde.