5 Reasons Why Bamboo Can Take Charge of Your Health on the Blockchain
Hey there peeps! How's your day today? I hope you all are having a great day ahead!
Of course, we all know how essential our health is in our daily lives. It really matters because health is much more expensive than the bank accounts, properties or any other assets we have. 
However, one of the problems that we have nowadays is that not all of the foods we eat are safe.
We may not know where exactly these farmed and processed foods came from. Even if we ask about their origins, it's hard to believe nowadays. You know why? It's because they can mislead their consumers by giving them wrong info about the origins of both farmed and processed foods in the market. It's difficult to keep track of them as consumers.
As a result, more and more people are having serious health problems (especially degenerative ones) if they keep eating those without realizing their true origin. Once they're suffering degenerative diseases, it'll force them to spend a lot of money for medicines, hospital, etc. Worse is that most of them cannot afford to spend on health insurance. This problem continued for decades. 
Right now, there's a solution that would finally end the issues that we are experiencing in terms of tracking goods from its origin to the other with the implementation of #blockchain technology.
It's called Bamboo! You can watch the video here to see how it works:
Before we begin, I would like to give you a brief info about Bamboo. When it comes to their project, Bamboo is combining artificial intelligence (AI), internet of things (IoT) and the disruptive blockchain technology where we can keep track of our health progress and get rewarded for doing so in their platform. 
To be honest, I have never seen anything like this before. Getting rewarded for creating a healthy lifestyle? Sounds to me that it'll motivate a lot of people to stay healthy in the long run. 
Without further ado, I would like to share five reasons why this project alone can take our healthcare to the next level with the implementation of the disruptive blockchain technology:
1 - Tamper-proof tracking and monitoring of both farmed and processed foods
One of the problems that we have nowadays is about the true origin of both processed and farmed foods in our respective local areas. Most of us are just ignoring this kind of issue, especially if we buy them in supermarkets, public markets and so on. We can't track them for good. Even if we ask, their answers would not be accurate or true.
But with Bamboo, transparency is already there. With the power of blockchain, artificial intelligence and internet of things, it provides better tracking and monitoring of the origins of both farmed and processed foods. Not by means of traditional tracking and monitoring system, but by the use of blockchain technology. It's a public distributed ledger where all activities are recorded and cannot be tampered. 
This is the beauty of Bamboo's project. With their tamper-proof tracking and monitoring feature of processed and farmed foods, Bamboo ensures that our status will remain in good health. 
2 - Forget about cure. Prevention is better. Get rewarded.
I remembered last time about joining a health-related network marketing company. When I was first presented with their company and products, the presenter would say, "Prevention is better than cure." To be honest, it's a sad reality for those who are already suffering from degenerative diseases like diabetes, arthritis and so on. 
But for those who are still "healthy", it's much better to think and act than doing it later. 
The good thing about Bamboo is that not only you will take charge of your health, but you will get rewarded as well. As what I have said earlier, I would love getting rewarded with anything, especially when it comes to living a healthy lifestyle. Bamboo has a state-of-the-art platform where you can get rewarded for keeping yourself healthy. 
Bamboo will be having both web and mobile application to take charge of your health. One of the interesting features that I liked to be honest is the diary itself. With Bamboo's diary feature, it'll help you get motivated to stay healthy every day. Not only that, it can also be integrated later on with wearable devices as well. 
As for the rewards, it's something that interests me the most. If I maintain living a healthy lifestyle, I might get rewarded with low insurance premiums, gift vouchers, gym pass and so on. 
3 - Backed by an established firm named Archipelago
I've got to be honest with all of you guys! Only a handful of blockchain and #cryptocurrency projects that are backed by established and stable firms. To my surprise, Bamboo is one of them. Once a project is backed by a legit and stable firm, I have no doubts that they're going to be successful in the long run. It's safe to say that we can take charge of our health on the blockchain through their strong support, as their priority is to connect and give top-notch service to consumers like me.
Bamboo is currently backed by Archipelago, which started in 2005 as an intermediary house for international insurances. However, in 2012, they've grown into an established insurance firm and has established a footprint in the ASEAN market. 
They're not just like any other insurances out there in the market. For the past 5 years, they've considered themselves as a well-funded company generating approximately $205.7 million in total revenue. Not only that, their management team is well-experienced with over 100 years combined in operating Archipelago. 
With Archipelago backing up the Bamboo project, I had no doubts that they would be an ultimate game-changer in the health and wellness industry. 
4 - Over 25 partners on board, including healthcare providers
This year alone, Bamboo has secured around 25 partners to help them accelerate their health and wellness ecosystem. Not only that, they have an outstanding 2 million consumers on the first day alone. All I can say is that there's something in this project that intrigued a lot of people, especially firms and healthcare companies who have partnered with them.
I wouldn't want to mention each of them, but I would like to mention a few only. These names of the healthcare firms are huge and well-known, which would accelerate the development of their product and decentralized ecosystem in the form of the disruptive blockchain technology.
Some of the biggest names who partnered with Bamboo are Technovative Group, Joget Workflow, Dexafit, HealthSapiens, Pathlab, Fullerton, CGCX.io and a lot more.
I have no doubts that with their ongoing strong partnerships, there's no stopping Bamboo from growing and improving their product and services in many years to come. 
5 - It increases our motivation to stay healthy by earning passive income as a BBM token holder
This is one of the reasons why I liked Bamboo a lot. As we get rewarded for staying on course on being healthy, there's also an opportunity for us to earn passive income as well. How? By being a BBM token holder.
If you're a BBM token holder, they would pay 15% dividends to you on an annual basis, and the distribution is transparent because of the blockchain technology. In that way, it would motivate us even more to earn some passive income while managing our health using the Bamboo platform. As I appreciate the rewards that the platform has given to us, getting annual dividends in BBM tokens as a long term holder would be even sweeter!
I understand that only a handful of cryptocurrency projects are doing this to their holders. I would not name though, but I'm experiencing that from them and I'm thankful. Passive income is something that I'm looking forward these days, and Bamboo can do that for me and the rest who strongly believed in this project.
You just simply buy BBM tokens from their official website. No matter what amount of BBM tokens that you're holding, Bamboo would be very generous enough for you to be included in their dividend rewards. 
It's much better to buy and hold BBMs for dividends than joining in fake and scammish #Bitcoin and crypto ponzi programs For sure, you won't get stressed enough.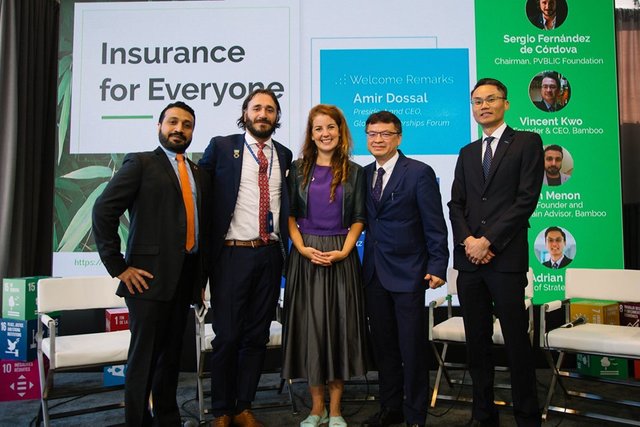 My conclusion about Bamboo
All I can say is that I'm very impressed with their project concept. I honestly think that the team are doing an amazing job in taking Bamboo to the next level. They are doing whatever it takes to make a difference to their customers with the state-of-the-art Bamboo ecosystem for the ASEAN wellness industry. 
I also checked their roadmap and I was so blown away on this one. I'm very impressed about their past accomplishments and future plans. I honestly think that they're doing well by sticking to their plans in the roadmap. No doubts that they're on the right track to ultimately change the health and wellness landscape. 
Bamboo's a new thing in the box for me, and I'm sure others would also see that too!
Anyways, thank you so much for taking your time in reading my blog post about Bamboo. I hope that this project alone would ultimately make a difference in the healthcare and health insurance industry. For those of you who are having health problems or being health-conscious, I can say that Bamboo would be the right choice. 
By implementing the blockchain technology in their ecosystem, there is no doubt that Bamboo would be ahead and on the right track to become a long-term solution in the healthcare industry in many years to come. If you think that my post regarding Bamboo is helpful for you, kindly do not think twice in sharing this to your friends, especially those who are in health and crypto industry.
If you want to find out more about Bamboo, just go to their official website right here. I'm also inviting you to take time going over their whitepaper as well. I know that their website can give you a brief explanation and info, but their whitepaper can give you deeper knowledge on how everything works in their ecosystem.
And one last thing cryptomaniacs! I would encourage you to subscribe me on Steemit to stay updated with my latest blog posts about cryptocurrencies and blockchain technology. On top of that, you can follow me on my other social media channels on Youtube, Facebook, Twitter and Telegram!  
To your future success, Bamboo!
My Bitcointalk profile link:  https://bitcointalk.org/index.php?action=profile;u=254229