"Ballcano" Service Match Numbers Game Play and Burn STEEM!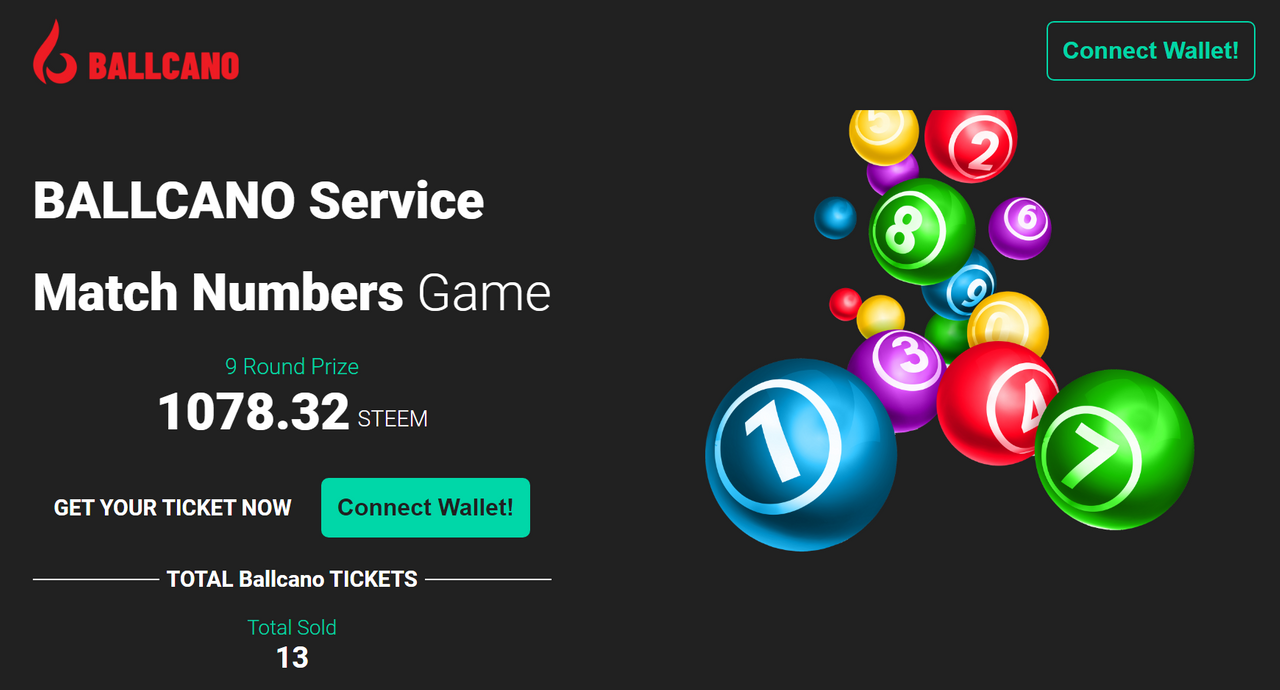 Introducing a new service, Match Numbers Game Ballcano, for the development of the STEEM ecosystem.
Ballcano service is a Web3 game service that allows anyone to participate in simple games and receive rewards. Ballcano services can be participated using STEEM coins and can be rewarded with STEEM.
Ballcano is a compound word of ball and volcano. Ballcano is a STEEM-based dApp with a mechanism to burn STEEM. As the number of game players increases, more STEEM can be burned.
STEEM of 20% of Ballcano's prize money will be burned to the @null account.
Ballcano contributes to vitalizing the Steem ecosystem and increasing the value of STEEM.
Ballcano is a fair service using blockchain.
Ballcano is a service using cross-chain technology that operates using STEEM and BSC networks. Also, since the winning numbers are generated using the Chainlink VRF smart contract, this is fair and no cheating is allowed.
Ballcano contract: https://bscscan.com/address/0x9f2c401d28f449a6a9d4739600498f59d87f53bf#code
*chainlink VRF (Verifiable Random Function)
How to play "Ballcano"
Ballcano starts on April 18 at 12:00 UTC and ends 24 hours later. A new round starts every 24 hours, and users can purchase a ticket to participate in a round at any time.
When you visit the Ballcano website, link your STEEM wallet and purchase a Ballcano ticket, you are automatically entered into the Match Number Game round.
** Ballcano website: https://ballcano.blokfield.io/
** Wallet connection requires STEEM KeyCahin. (We recommend using Chrome.)
** It is still in the service development stage and you can only participate with automatically generated numbers. (A manual system is under development.)
Ballcano Match number game rules
This is a game to win a prize if you match 3 or more winning numbers using your ticket within the round time.
Round Time Daily 12:00 (UTC)
Announcement of winning numbers: 12:01 (UTC) after the end of each round
Prize Pickup Time: After round ends
You can claim the prize as soon as the prize distribution ends
Buy a Ballcano ticket with 10 STEEM.

Select a 5-digit number between 0 and 9 per ticket to participate in the corresponding round. (Manual/auto selectable)

If the number and position match at the same time, it is judged as 1 Match.
ex) Winning numbers 2, 3, 6, 9, 1
1 Match for my number 7, 3, 5, 7, 9 (match number 3 )
3 Match for my number 6, 3, 5, 9, 1 (match number 3, 9, 1 )
4 Match for my number 2, 3, 5, 9, 1 (match number 2, 3, 9, 1 )
If it is 3 or more matches, you will receive a prize.
** You can purchase multiple tickets regardless of round.
** Multiple Tickets can be used in one round.
** Tickets cannot be traded.
Match Numbers Prize
How to claim Prize : Claim button on the Ballcano Match Numbers page
Prize: 1,000 STEEM first round + carried over (no winner in the previous round)
How the Prizes are distributed:
The default 1,000 STEEM is distributed to First Match, and the Prize from Matches with no winners in the previous round are carried over to the same Match and accumulated.
1/n if there are multiple winners of the same Match
---
---
Website: https://ballcano.blokfield.io/
Keychain : https://chrome.google.com/webstore/detail/steemkeychain/jhgnbkkipaallpehbohjmkbjofjdmeid
If anyone has a team that would like to run and develop the "Ballcano" service together, please contact to us. We are always open.
Discord : Blokfield - Nia#7036