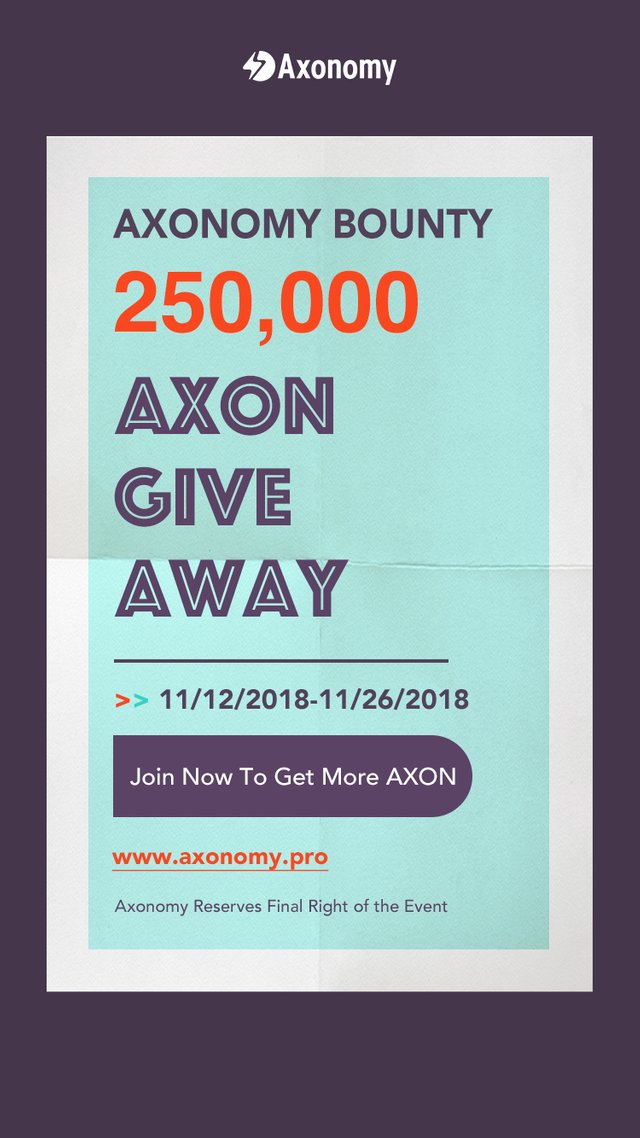 Axonomy Global Content-Based Competition
Axonomy has been hosting a global content-based competition. We are looking for people who:
know/use cryptocurrency tools
familiar with white papers
like to discuss/share ideas
and all the rest of you! …Do not miss it if you are one of the above
Nota bene: this activity is the maiden one of the Axonomy bounty series. Stay tuned and win more AXONS!
Honor Incentive
The most active participants will become a DBA Honor Member
How to Join
Register your DBA account if you haven't got one
Visit Axonomy website (https://www.axonomy.pro).
Sign up with your email address.
Submit the verification code received to your mail and complete the registration.
Complete your KYC.
Join our Telegram group (https://t.me/Axonomy).
Follow us on Twitter (https://twitter.com/Axonomy1).
Next steps
Choose which content type you would like to create. For more information see sections Themes Of Content and Types Of Content
Create new thread/post (Steemit/Reddit are recommended) and post your content
Submit your work via the following link https://docs.google.com/forms/d/1Cj6ASj9qSPyjb9R0LhZ5G3oGJF2C4zQbKve5A-3AULo/edit
Details
Post must constist #Axonomy tag.
All posts have no less than 140 words and comments have no less than 100 words will be deemed QUALIFIED. You need to add #axonomy in the article, then post the link in the comment section to be QUALIFIED.
SPAM/BOTs/meaningless comments such as "thumbs up" "retweet" "repost" and alike will not receive a reward.
As soon as you join the discussion, you will follow the writer on the Axonomy product page (www.axonomy.pro)
Nota bene: if we feel there is a lot of spam posts, you will be withdrawn from the campaign and receive no payment.
All quality-related discussion/ engaged communication will be rewarded with AXON.
You will receive reward in your DBA account.
Themes Of Content
Within the current hottest blockchain content project, Axonomy have selected few of them as the proposition of this competition. They are as follows:
PIVOT:
https://www.pivot.one/
Steemit
https://steemit.com/
Unetwork:
https://u.network/
Decent:
https://decent.ch/
Based on the above projects, analyze the current use of the product, or design another way to use it which would be suitable for content provided and trigger discussion among community users.
Types Of Content
In-depth articles
Analysis and comparison based on the method for using the existing product.
Design Article
A pre-release product design.
Timeline
GMT+8 2018.11.12 20:00 - 2018.11.26 14 :00
Result Announcement: GMT+8 2018.11.28 19:00
Reward Date: No later than GMT+8 2018.11.30 19:00
Bounty Budget & Reward
Total Reward: **250,000+ Axon **
A total of 0.025% (250000 AXON) tokens will be reserved for Bounty Campaign.
The reward will be as follows
1-- Most highest of reposts/forwarded posts reward
#1 receives 10000 Axon
#2-5 receives 3000 Axon
#6-10receives 1000 Axon
2—Popular Reward: author with most engaged replies
#1 receives 10000 Axon
#2-5 receives 3000 Axon
#6-10receives 1000 Axon
3— Best Translator: translate from Chinese into English or vice versa and start a discussion; Axonomy Team will evaluate the quantity and quality and assess each author's performance.
#1 receives 5000 Axon
#2-5 receives 1000 Axon
Chinese blog link: https://steemit.com/axonomy/@kevin427/6e7kne-axonomy-token-design-campaign
4—Participation Reward: for all participated users.
All authors (reach word limit, quality content) split 80,000 Axon
All authors (reach word limit, quality content) reply audience split 60000 Axon
All authors (reach word limit, accurate translation) split 50000 Axon
5 —Participation and award: participating users can be rewarded with effective interaction:
User forwarding/sharing, for article author +4 AXON, 400 AXON caps; forwarder himself +1 AXON, 40 AXON caps;
Quality replies, author and engaged users both receive +1 AXON, no cap;
Targeted discussion on a problem to draw conclusions/discovery issues, all participants +10 AXON per person, no cap;
Proposing a viable solution for a service which can be optimized, with all participants contributing +10 AXON per scenario;
SPAM/ bots/ replies each deduct 1Axon no caps.
About the Axonomy
Axonomy, the first project of the DBA foundation, is a core component of the Wanxiang Blockchain ecosystem developed to support a distributed business economy, which transforms traditional financing of a project to a community-driven venture system based on voting. Through autonomous voting and incubation of outstanding projects, Axonomy looks forward to bring maximum mutual benefits to users, project owners and investors.
DBA Foundation have raised $20M+ in investment fund with a portfolio of 20+ projects.
While conscious of certain weaknesses of a decentralized nature of blockchain, Axonomy implements a hybrid centralized blockchain deployment model to reach out a wider set of users who are more mainstream and non-technical. Monthly voting campaigns gather global startup projects, with community voting being decentralized and final investment decision being centralized. The investment team, at the end of each round, chooses to invest in the most valuable and promising projects.
AXON tokens cannot be bought but only earned through community contribution and voting rewards. New users get AXON and tokens from invested project through voting at zero costs with triple rewards.
Current Milestones as of November:
100k+ Registered Users
36k+ KYC Users
5 rounds of voting, 37 participating projects
6 winning projects received investment from DBA Foundation in the amount ranging from 50K to 300K USD
175K+ in cumulative voters, 10 Million+ AXONs voted during 5 rounds
Official Social Network Website
Project Website:
https://www.axonomy.pro
Telegram Chat:
https://t.me/Axonomy
Telegram Announcements:
https://t.me/Axonomychannel
Reddit:
https://www.reddit.com/r/Axonomy/
Medium:
https://medium.com/@Axonomy
Twitter:
https://twitter.com/Axonomy1
LinkedIn:
https://www.linkedin.com/company/axonomy/
• Axonomy reserves the right to final interpretation of the event.