Axie Infinity - Start your Kingdom
I've been saying for a couple years now that blockchain gaming is going to get big some time in the near future. Every so often I take some time off of Steem and other things to take a dive into what exists out there right now. The barrier of entry into blockchain will be much easier through gaming as gamers easier switch games and check test out new ones compared to social media platforms. This is also why I believe games such as Steem Monsters are so popular here on Steem and why Cryptokitties bottlenecked the Ethereum blockchain.
A couple months ago I stumbled onto Axie Infinity, at first glance I found the monsters called Axie's to be really cute and thought that this could be a fun breeding game that could take off. I started reading more about what it is all about and boy did I get massively surprised at what exists in this game's ecosystem. The creators of this game compare it to Pokémon and Tamagotchi but it is so much more than just that and soon there will be even more. I am super excited about this game and wanted to share today how it works, what you can do and why it is so much better than other games and how blockchain gives the players the advantage.
First off, watch this short trailer of Axie Infinity.
As I mentioned, at first glance I thought it was just a breeding game as I hadn't checked out the trailer yet. Shortly after purchasing my first few Axies from their marketplace where any player can sell Axies, I started to realize that there is so much more to them than just that. The way they breed might be similar to other games such as Cryptokitties, but here you get something special where depending on what kind of feature your Axie has such as a horn or a hat or a tail that is different from other Axies, they will get special moves and abilities that go with them. They also have different stats such as HP, Skill, Speed and Morale which affects the battles.
The battle system is really cool, the arena is created in a way that randomizes the stats a little bit extra depending on which spot your Axie's are standing on and then the rest depends on the Speed of Axies, the order of which they are placed in and a bit of luck. The game system works in the same manner as Steem Monsters so Steemians should be used to it.
For those wanting to get started with Axie Infinity now and want to get up to speed on how everything works to dive right into it, I found this Guide from youtuber "Joshbaked":
So you have breeding, battling and a trustless system that gives players true ownership of the Axie's, what more could you possibly add to this game? Well, it seems Axie Infinity are quite busy with developing the game further and making big steps and fast.
Very recently the presale of Axie Land started and in one day one quarter of the hardcap of Q1 was filled. I'm guessing players have been itching to get some land in the game for a long time. The presale of land will consist of four phases where they sell part of it each quarter of 2019 but over time it will become more expensive. Here is an image of the different land sections you can purchase and their costs.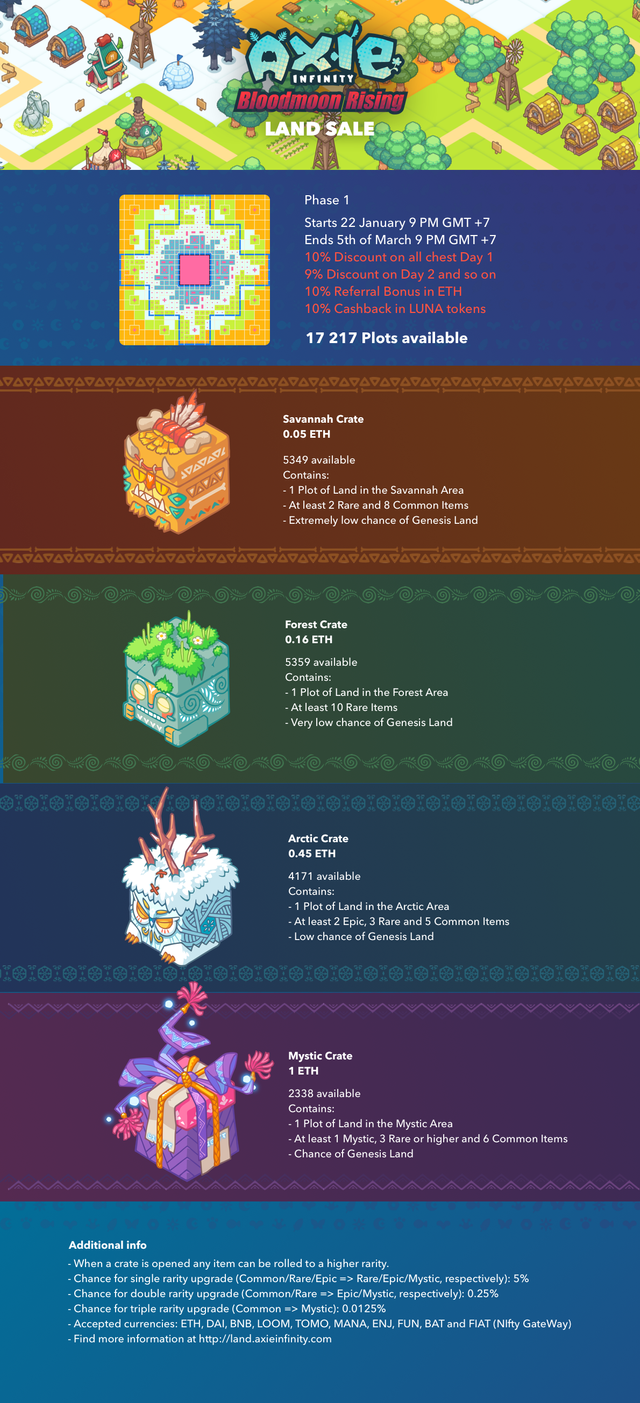 The land will look like this, where the center consists of Genesis blocks which are much harder to attain from purchasing the chests. The land will also be tradable between players a bit further into the year. With this new expansion there will also be PvE (player vs environment), meaning you will be able to fight monsters that can drop blueprints which allow you to build things on your plot of land. If other players come to your land and use your services you will be able to earn a cut out of each transaction. This reminds me a bit about what Decentraland are striving to do and I think it fits the Axie Infinity game really, really well. For more information about what you can do with land, how it will be distributed and odds of getting the expensive genesis land, read this lengthy Axie Infinity article. There will also be an ERC-20 token that will be used called Luna which can be earned by players and will be used for certain ingame purchases and fees. The most exciting part here is that 3rd party developers will be able to create their own minigames on their parts of land.
I am really excited about the future of this game and how well it is being developed, props to the team and I wish them luck with everything they have planned for this year.
If you are interested in buying Axie Land then I would appreciate you using my referral link if you liked this post.
If you want to check out the game and test breeding some Axies, selling them on the marketplace or having them battle against other player's Axies, then go to Axie Infinity
PS. You will need MetaMask (use chrome for best experience) and have an Ethereum address to interact with the website, here is a full guide of it. It's basically the same as KeyChain for Steem.
---
Thanks for reading and see you in the next post about future blockchain games showing potential!

Sources:
https://medium.com/axie-infinity/land-gameplay-in-axie-infinity-65b17334e337
https://medium.com/axie-infinity/everything-you-need-to-know-about-the-axie-infinity-land-sale-in-one-place-2e0a876b4512