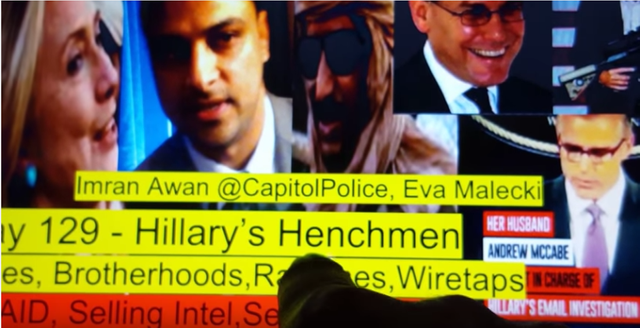 Investigating the Awans

After the arrest of Debbie Wasserman Schultz's "trusted" IT staffer, Imran Awan, the mainstream media has finally picked up the story.
Unfortunately, if you are getting your information from the msm , they're omitting fundamental elements to the investigation.
George Webb has been exposing the story of the Awan Brothers and believe they're at the center of a spy ring involving anywhere from 30 up to 150 congressional staffers over the last ten years.
Webb believes that the Awan Brothers are responsible for stealing highly sensitive information and intelligence from the US governmental by supplying compromised devices to congressional members, by hacking blackberries and routers and setting up an illegal external server which syncs-up with the devices to retrieve the intel.
Furthermore, Webb believes that the Awan Brothers are part of Pakistani ISI spy agency.

Very suspicious activity includes:
Awans are Pakistani Nationals (suspected Pakistani ISI)
Awans received 2x the average IT staffer salary ($160,000 a year)
Awan Brothers own 12 houses
Awans own dozens of businesses while working in congress: a car dealership (Cars International), Nanoset technologies (satellite/IT company), Awan Brothers LLC, Awan Brothers Inc., Awan Brothers Pharma, Awan Brothers shipping, etc.
Received numerous bank loans for millions of dollars from congressional credit union
George Webb Day 281.1
In this video George Webb breaks down the case against the Awan Brothers


---
Mainstream Omissions

Something that has not been talked about in the mainstream press since his arrest is that Imran Awan threatened to kidnap the relatives of his step mother if she didn't sign over inheritance after the death of Imran's father, Muhammad Shah.
A former congressional information technology (IT) aide allegedly threatened to have his stepmother's Pakistani relatives kidnapped if she talked to U.S. law enforcement authorities, according to court documents obtained by The Daily Caller News Foundation's (TheDCNF) Investigative Group.
"Imran Awan threatened that he is very powerful and if I ever call the police again, [he] will … kidnap my family members back in Pakistan," Awan's stepmother, Samina Gilani, claimed in the documents filed April 14 in Fairfax County, Va., in the case of Americo Financial Life and Annuity Insurance Company v. Abid A. Awan and Samina Ashraf Gilani.
The significance of the police report is that it demonstrates that Imran has a history of fraud (or attempted fraud) and of issuing threats.
Americo said Muhammad Shah took out a $50,000 life insurance policy in 2012, naming Gilani as beneficiary.
...
She said in the court documents that the children barred her from leaving the house, saying "telephone conversations were taped and some other recording devices were also installed/planted in my house … I was directed by [Shah's] children not to go out or visit [him] without the children's permission."
Gilani also said it was "worth mentioning here that Mr. Shahid Imran Awan introduces himself someone from U.S. Congress or someone from federal agencies," and travels with a VIP police escort in Pakistan based on his representations about his political power in the U.S.
Imran additionally demanded that Gilani sign a Pakistani power-of-attorney enabling the brothers to take possession of valuables owned by their father there, Gilani said.
---
Jason Goodman Calls Imran Awan's Lawyer
The Press release from the law firm representing Imran Awan in the bank fraud case states that:
"The attacks on Mr. Awan and on his family began as part of a frenzy of anti-Muslim bigotry in the literal heart of our democracy."
"For months we have utterly unsupported, outlandish and slanderous statements targeting Mr. Awan coming not just from the ultra-right-wing "pizzagate" media but from sitting members of congress."
---
The "Pizzagate" Reference
---
This is a clear instance of an attempt to dismiss any investigation into Imran Awan and his brothers by attempting to associate the charges against him with extreme right conspiracy theories.


Many people in the PG investigative community attacked GW for his refusal to investigate Pizzagate in the early stages of his investigations even when there was obvious overlap. Yet, here is where GW showed some foresight and excellent judgement as he has kept a steadfast focus on the congressional spy ring, the DNC fraud and the Clinton criminal network.

I think Webb correctly identified the pitfalls of the pizzagate community who are more easily ridiculed and dismissed by the legacy media. In fact, I think that Webb is very conscious of the child trafficking and child abuse but understands how unbelievable the truth is in the eyes of the general public.

Don't get me wrong, I believe that PG is real and that there are many sick and deprave individuals roaming the corridors of power in Washington DC and across the country but I also believe that the case is much harder to prove and more difficult for the average citizen to digest.

Taking down the corrupt criminal networks that are deep rooted in the system, including those engaged in child abuse and sex trafficking, may perhaps only be possible indirectly and by dismantling the apparatus piece by piece.

---